REVIEWED by Cindy and Jen B.
TITLE: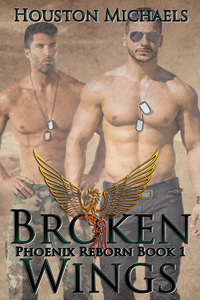 Broken Wings
SERIES: Phoenix Reborn #1
AUTHOR: Houston Michaels
PUBLISHER: Unleashed Ink
LENGTH:   104 Pages
RELEASE DATE: May 16, 2017
BLURB: 
Proud to have served his country, Gabriel O'Roarke returned from war unable to recognize the man he had become. While war was hell, it was the aftereffects that were slowly eating away at his soul. Returning to civilian life after surviving events that should have killed him, he struggles to adjust and find himself again. Suffering from PTSD, he is without hope, until a chance encounter with one of the men who saved his life changes things.
Gabriel never imagined Nickolas Tanner would be into the lifestyle, so running into him at a BDSM club is a surprise. The patient and caring Dom is exactly what Gabriel needs, but everything he fears. After suffering captivity, Gabriel struggles to let himself go, to submit to another man. He craves regaining that part of himself, but worries it is forever lost. Nickolas' steady domination gives him something he has thought lost long ago – hope.
Can a broken submissive, damaged by captivity and torture, learn to fly again?
CINDY'S REVIEW:
Let me start by saying Gabriel and Nick push just about every button I have. I love a good story that just happens to be set in the BDSM world and a broken ex-military man is a character I just can't resist.Gabriel is a man who's almost living between two worlds. He's no longer in the military but the experiences he suffered through while in service to his country have left him feeling like he doesn't belong at home either. When he finds himself feeling lost in a place that used to be somewhere he was more than comfortable, he finds himself self dangling at the end of his figurative rope.
Nick is someone who help saved Gabriel's life physically and now he wants to help him find the peace he so obviously deserves and longs for. As a Dom it's in his nature to care for people and no one needs more care than Gabriel.
The author did a great job here with the BDSM side of the story. I love the time the two men spend talking about what they both need and expect from each other and a lot of it rang true for me.
I did have an issue with how fast Gabriel seemed to overcome his reservations about trust in general as I think someone who survived what he did would be a much harder nut to crack but I also accept that in this genre there is only so much time an author can give to overcoming those kinds of issues.
I also love how the author approached the subject of therapy and how it was a very necessary part of Gabriel's healing. I appreciate that there was no magical "sexual healing" for Gabriel and that Nick understood that he couldn't be Gabriel's savior, only his supporter.
The BSDM scenes and the sex are very hot and well written. It didn't overpower the rest of the story and I liked that they weren't falling into bed in every chapter.
I know that the stories of the other men in the therapy group are going to be the basis for more books in this series and I have to admit I'm looking forward to them.
This was a book that I couldn't put down once I started it as it swept me along for a fascinating ride. It wasn't perfect but I have no problem recommending it to just about anyone even if you aren't a big BDSM fan. It's on the softer side of the spectrum and honestly a great starting point if you are a little wary of that lifestyle.
RATING: 
JEN B'S REVIEW:
Gabriel is a guy who is recovering from his time as a POW where he was tortured and the only one of this team to survive.  He is trying to put his life back together while dealing with PTSD issues.  He lost a lot while in the military, but the one thing that is hurting him the most is his inability to handle any sort of BDSM.  He has a deep need to submit, but is unable to endure any activities, such as being bound or hit, without triggering his PTSD.  His last attempt to go back to the club he used to love backfires, but also brings him to the attention of Nick.
Nick was the medic who pulled Gabriel out and kept him alive on his return to safety.  Although he saved him physically, he now wants to do more and believes he can provide Gabriel with what he needs while also being a Dom he can safely trust.  Knowing everything Gabriel has gone through, having seen all his injuries up close, he is fully aware of what Gabriel must have endured and is therefore very cognizant of what might trigger him or how far to go to help him push through.
Gabriel is dealing with a lot of issues.  Aside from what is mentioned above, he has a lot of guilt over being the sole survivor and the irony of being the one who begged to be killed doesn't help.  But, Nick didn't listen to him that day on the helicopter, and he doesn't shy away from helping Gabriel see things differently.  He was extremely supportive and made certain Gabriel only moved forward with the help of actual therapy.
I loved these guys.  I loved how Nick found ways to help Gabriel meet his needs and make progress, no matter how big or small.  He was so understanding, and in being so, was the perfect fit for Gabriel.  The BDSM scenes are pretty light due to Gabriel's many issues, but I loved watching him find peace and the pieces of himself he thought he had lost forever.
This is a very promising start to a new series that I am really looking forward to continuing.  This book was very well written, kept me turning pages and caring about these guys to the very end.  Things were not glossed over, but they weren't dragged out too long either.  I definitely recommend this if you love watching a damaged character come back to life, as this one fits that bill perfectly.
RATING: 
BUY LINK: