Reviewed by Amber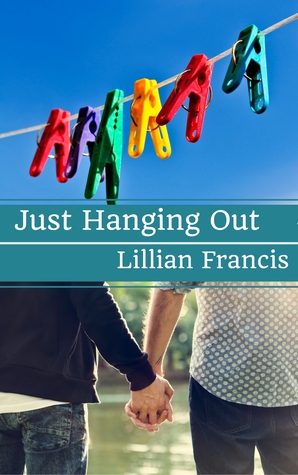 TITLE: Just Hanging Out
AUTHOR: Lillian Francis
PUBLISHER: Finally Love Press
LENGTH: 72 Pages
RELEASE DATE: June 19th, 2017
BLURB:
"Come and honour the Oak King."
The countdown to the company solstice picnic is one of Shawn's favourite times of the year. The scents of sage, mint, basil, sunflower, and lavender fill the air as the workshop mixes up the final batch of Litha, their solstice soap. It's celebration time! This year, Shawn has an extra spring in his step, and it's all for the new buyer, Tim. Shawn's fine having a crush on the gorgeous new straight guy. Until he isn't.
As the clock ticks down to Picnic-Day, Shawn's confidence and Tim's sexuality become mired in doubt and second guesses. It's a minefield of embarrassed glances and missed opportunities. Seems like they'll never get together…
To cap it all, Shawn's drawn Tim in the secret solstice gifting. What to get for the quiet man who turns Shawn's legs to jelly and has the best underwear hanging from the washing line in his garden? And will that tempting rainbow of colour be forever seared onto Shawn's brain?
REVIEW:
When I finished this novella I actually had to take time to think about whether or not I liked it. With short stories like this I know going in not to expect much back story on the characters and sometimes that hurts a story. I didn't find that to be true with, Just Hanging Out. I thought Lillian Francis did a great job in making these two men likeable and endearing which I appreciated. The cat and mouse game between Tim and Shawn was super cute but also a bit strange. I think for me the lines blurred on "just trying to get your attention vs. stalker." But again I think the way this author told the story really helped it not be so weird and cuter.
Shawn is having a hard time hiding his crush on his new "straight" co-worker, Tim. It doesn't help that Tim is sending some crazy mixed signals.
Shawn and Tim study each other and it was adorable to see the mating dance come to life between these two men. Both of them adorably clueless it was sweet to see them iron out their misunderstanding and start working towards their HEA.
I liked this story. Was this one of my most favorite novellas of all time, no. But it was uniquely told and I'm a huge sucker for unrequited love coming to fruition.
Overall, super sweet, cute, and funny story…recommend.
RATING: 
BUY LINK: