Reviewed by Jen B.

TITLE: Trust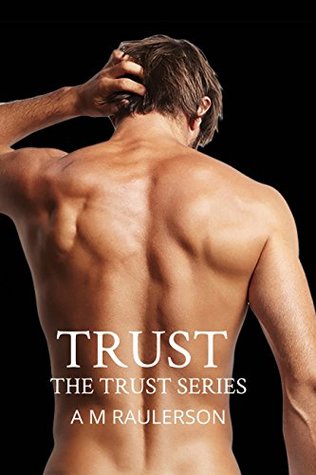 SERIES: Trust Series #1

AUTHOR: Amanda Marie Raulerson

PUBLISHER: Self-Published

LENGTH: 197 pages 
RELEASE DATE: November 2, 2016 
BLURB: 
David and Charlie are the perfect couple with a near perfect Dom/sub relationship and an ideal life… almost. There is something missing. A third person to make their lives complete. Charlie thinks he's found the ideal candidate, and David sets off to bring him into their family. When he finds Justin he is hungry, homeless, and broken. Justin is carrying the weight of the world on his weary shoulders and he is fragile from a lifetime of severe childhood trauma, abuse, and hardship. David and Charlie feel so strongly for this broken young man and believe he is the missing piece of their family puzzle. They have no choice but to embark on a long, devastatingly emotional journey to try and fix Justin. The outcome is by no means certain. Join them in their often heartbreaking journey of love and sexual healing. Discover what love truly means and what it can achieve.

REVIEW:
Per the blurb, David and Charlie are in a d/s relationship, which works for the most part.  David is enlisted in the military and is on leave 6 months out of the year.  So, they have an open relationship.  Also, Charlie is a switch, both sub and dom, but David is strictly a dom.  Charlie noticed Justin a while back when he began feeding the homeless guy scraps from his restaurant.  When David returns from his latest deployment, he sets his sights on bringing Justin into their relationship, saving him in the process.
One thing I didn't quite understand was David's complete focus on Justin.  I was under the impression that Justin would fulfill Charlie's needs more than David's, so it seemed odd that Charlie was not in the picture for most of the story.  I really would have liked to have seen more of Charlie and his dual roles at play.  David is clearly the dominant in this relationship with the overall say, but if you like your menage partnerships to be on more of an equal footing, this was definitely not the case here.
Justin was born a crack baby, abused and sold as a toddler, brought up in the sex trade, foster home to foster home, kicked out and now living and trying to survive on the streets, etc.    It a was a little difficult to believe how easily Justin came on board with things given his current circumstances and past abuse/experience.
As a personal preference, I am not generally a fan of first person, present tense narrative.  It pulls me from the story and distances me from the characters, unless it is done very well.  This book is written in a combination of ways that I just couldn't understand or I simply couldn't make sense of.  There were various points of views, first person, jumping to third person, which totally threw me off.  Further, David called Charlie "One," as in his number one.  Justin then became "Two."  And David often referred to himself in third person as "Master."   If the nicknames weren't enough to make me struggle, the dialog did the job.  "Master loves One."  "One loves Two," etc.
This story had a lot of potential, but it had quite a few plot holes, and the unusual format/dialog/tense just didn't work for me.  If you don't share those niggles, you might find this to be an enjoyable afternoon distraction.
BUY LINK: