Reviewed by Donna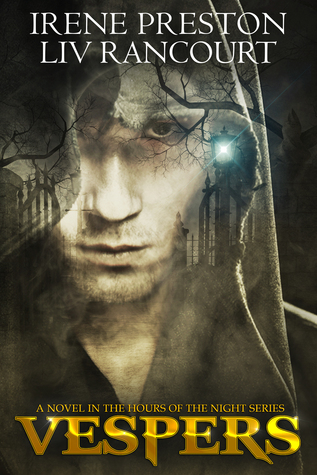 TITLE: Vespers
SERIES: Hours of the Night #1
AUTHOR: Irene Preston & Liv Rancourt
PUBLISHER: Prescourt Books
LENGTH: 295 Pages
RELEASE DATE: September 13, 2016
BLURB:
Thaddeus Dupont has had over eighty years to forget…
The vampire spends his nights chanting the Liturgy of the Hours and ruthlessly disciplines those unnatural urges he's vowed never again to indulge. He is at the command of the White Monks, who summon him at will to destroy demons. In return, the monks provide for his sustenance and promise the return of his immortal soul.
Sarasija Mishra's most compelling job qualification might be his type O blood…
The 22-year-old college grad just moved across the country to work for some recluse he can't even find on the internet. Sounds sketchy, but the salary is awesome and he can't afford to be picky. On arrival he discovers a few details his contract neglected to mention, like the alligator-infested swamp, the demon attacks, and the nature of his employer's "special diet". A smart guy would leave, but after one look into Dupont's mesmerizing eyes, Sarasija can't seem to walk away. Too bad his boss expected "Sara" to be a girl.
Falling in love is hard at any age…
The vampire can't fight his hungers forever, especially since Sara's brought him light, laughter and a very masculine heat. After yielding to temptation, Thaddeus must make a choice. Killing demons may save his soul, but keeping the faith will cost him his heart.
REVIEW:
A self-flagellating, demon-hunting, vampire-monk…need I say more??
Going in I didn't realize just how much of a role religion would play in this story. Okay, so some of you are probably rolling your eyes right now and thinking – hello…Vespers…Monks…Liturgy of the Hours…but if like me you've never heard of these things before (ok, I know monks), then you have no idea that these are religious phrases. I figured a vesper was going to be some kind of demon. Huh, guess I was wrong on that one.
So as the blurb states, Thaddeus works for the White Monks, who the book describe as Church black ops. And honestly, that's the most perfect description! Thaddeus' whole life is fighting demons, praying the hours, and confessing to a bigoted, pious, asshole who likes to ensure that Thaddeus knows he'll probably end up in hell. Basically it doesn't matter how much penance the poor guy does, as a gay vampire the fiery depths have a pit with his name on it. The bonus to working for the Monks is the job perk of having a contracted blood donor at his beck and call. Enter, Sara…
Thank god for Sara. He was the one source of light and laughter in such a heavy feeling story. And I don't mean heavy as in loaded with angst, it was simply weighed down by Thaddeus' guilt and what felt like religious oppression. In contrast Sara burst onto the pages with life and personality, and I think that the authors did a great job of using that to maximum effect. His determinedly upbeat personality and witty remarks kept me from feeling depressed about the whole tale.
Although I'm harping on about the somber mood of it all, I can't deny that I truly enjoyed this story. In a market drowning in vampire books, Vespers stands out to me as something different and I can't wait to see where these authors choose to take the series as it continues. Hopefully Thaddy will lighten the hell up a bit, though I can't see that happening anytime soon. And thankfully the ending left me feeling hopeful that the church might also get with this century and back off of the whole gay issue. Thaddeus has more than enough to deal with already. The fight scenes were well done and I'm assuming that we'll also see some more action in the next book.
So as a first book? Vespers sets the bar pretty high for the rest of the series. I think most paranormal lovers will enjoy this one.
RATING: 
BUY LINKS: