Reviewed by Chris
TITLE:  Out on a Limb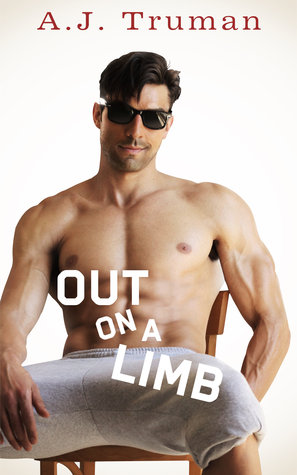 SERIES:  Browerton University #2
AUTHOR:  A.J. Truman
PUBLISHER:  Self-Published
LENGTH:  358 pages
RELEASE DATE:  April 16, 2016
BLURB:  
No looking back.
That's the motto of college senior Cameron Buckley, whether he's kicking his latest hookup out of bed or plotting out his future as a hit screenwriter. With only a few weeks until graduation, he's ready to put Browerton University in his rearview mirror and start the life he's been dreaming of ever since he was a kid. But a chance meeting with a sexy stranger in a bar throws a wrench into his Hollywood plans.
For Walker Reed, no looking back is hard to do when you work minutes away from your alma mater and share child custody with your college sweetheart. Almost fifteen years after graduating from Browerton, he can't stop wondering how he got here. He has an ex who can't stand him, a five-year-old son he can't connect with, and a dead-end job he can't escape.
When Cameron and Walker first meet, they know the rules. They know their friendship has an expiration date, yet it begins changing them in ways they never expected. As graduation looms, they both know things can't go anywhere, but they can't keep denying the feelings pulling them closer, even as an offer from Hollywood threatens to tear them apart forever.
REVIEW:  
Cameron is less than six months from graduation and he can't wait till those six months are up. Not a big believer in sentimentality, he just wants to get to the next step in his life. Yeah, he'll miss his friends, but that is just part of life, right? He is also not big on relationships. Especially when he will be moving across country after he is out of school, and there is no reason to start something that has a firm and clear deadline.
Walker is stuck in a job he hates, at odds with an ex-husband that cheated on him, and unsure when his young son started to hate him. Being a grown up sucks, in his opinion, and he can't help but fondly remember a time when he had dreams and plans and some sense of what to do with his life. But that was years ago and he might as well accept that is not how the real world works, right?
Cameron and Walker could not be at two more different points in their lives, and yet there is something that draws them together, even as they know it can't ever come to anything. But as their friendship grows they begin to question what they know about how the world works. Or how it should work. Because they may not want to admit it, but sometimes plans change, and dreams come true, just not the ones you ever expected to have.
Out on a Limb is all about taking that next step, about changes and moving on from one point in life to another. But it also is a reminder that that next step may not be in a direction that you've ever thought to take. I think this book did a really great job of showing both Cameron and Walker at points in their lives where big changes are about to occur. Granted, Walker has no clue that those changes are coming, but come they must and come they will. Mostly in the form of Cameron. A man much younger than Walker, who is only just starting to enter the adult phase of his life, but who also reminds Walker of what he lost over the years when he learned to settle for enough. These two push and pull each other in ways they never intended, but almost always together–even when they are trying to push each other further apart.
The age difference is probably what got me interested in this book, since it is something I love, but the way it was handled is what kept me around. Cameron and Walker clearly don't fit easily in each other's sphere. Walker sticks out amongst Cameron's college-age friends, and Cameron doesn't know what the fuck to do when surrounded by the parents and co-workers that make up Walker's social life. And yet they seem to settle into something workable, together. Not perfect, and not without a few missteps (like showing up semi-smashed to pick up Walker's kid), but it is not something that drives them apart. Mostly.
If I were to have one issue with this book, it would be the back and forth they go thru near the end of the story. Mostly I just wanted them to realize they were made for each other a lot sooner, but I came to get why they needed to walk different paths for a bit. It made for a bit of frustration…but I guess I can live with it because it had a purpose.
However, for the most part I really enjoyed this book. Even the kid. Which is a bit of a shocker. The slow build-up made the story all the more fun, and I liked seeing the different viewpoints of the world thru these two MCs. I can only hope that they can find happiness in this new path they have taken together–even if it is one they never saw coming.
RATING:  
BUY LINKS: