Book of the Week Poll
Welcome to the Love Bytes Book of the Week Poll!
Here are the books which achieved a 4.5 or 5.0 review last week from our reviewers. 
As a reminder, the top two books from each week's poll will roll into our Book of the Month poll at month's end. Happy Voting!
Please scroll to the very bottom for the voting section.
POLL SCHEDULE:
This poll will remain open until at least 6PM, Amsterdam time next Friday. The actual closing time will vary depending on blog staff schedules…
============================================================================
New Release Review: In Wild Lemon Groves by Selina Kray
Reviewed by Louisa
TITLE: In Wild Lemon Groves 
AUTHOR: Selina Kray
PUBLISHER: Self Published
LENGTH: 212 Pages
RELEASE DATE:  8th February 2018
BLURB:
A telltale knock on a quiet winter night is a sound no husband wants to hear.
Sébastien Osaki has spent the past three years surviving the loss of his beloved Henry. When Seb lands in Amalfi, Italy, for their would-have-been tenth-anniversary trip, he's haunted by the memory of the man he loved. Following Henry's notebook leads him to some breathtaking coastal views but also right back to his despair. Seb's there to get his groove back, not let the past wrong-foot him at every turn.
Enter Andrea Sorrentino, chauffeur, part-time pet whisperer, a Bernini statue in a soccer tee and tight shorts. From the moment Andrea picks Seb up from the airport, he knows just how to soothe Seb's case of the sulks. But Seb isn't sure he's ready for Mr. Right Now, let alone a potential Mr. Right, in a part of the world where all roads lead back to Henry.
Can sun, sea, and eating your weight in pasta mend a tragedy-stricken heart? Will wine-soaked Amalfi nights and long walks through lemon groves work their magic on Seb's wounded soul? Or will he slink back into the shell of his grief once his grand Italian adventure is over?
==================================================================
Book Review: The Devils Cum in His Eye by James Cox
Reviewed by Dan
TITLE: The Devil's Cum in His Eye
SERIES: A Cox Club Story Book 1
AUTHOR: James Cox
PUBLISHER: Evernight Publishing
LENGTH: 89 Pages
RELEASE DATE:  January 9, 2018
BLURB:
Cop by day, erotic writer by night, stripper on the weekends, and Tomkin Coburn just found a dead body in his bedroom. But which occupation lead to murder?
Coburn has his teenage son in tow and a detective that seems to be interested in his butt as well as his innocence. He'll do anything to protect his kid and the intense feelings he has for Detective Luke Early. The evidence quickly mounts against Coburn—murder weapon, body fluids, and oh yeah, no one in the world seems to know who the dead guy is.
Together, Coburn and Luke find themselves in the path of a killer, but can they unravel the mystery before it's too late?
=================================================================
Recent Release Review: No Shame (No Shame #4) by Nora Phoenix
Reviewed by Kat
TITLE: No Shame
SERIES: No Shame #4
AUTHOR: Nora Phoenix
PUBLISHER: Self Published
LENGTH: 308 Pages
RELEASE DATE: January 26, 2018
BLURB:
(This is NOT a stand alone novel. See end of this description for details)
Brad feels nothing but shame about himself. Shame about his sexual needs, about his reputation, about his medical problem no one knows about. No one, except his best friend Charlie, but no matter what feelings Brad may have for him, he's not going there. Charlie deserves so much better, and Brad desperately needs something not even Charlie can provide.
Charlie has loved Brad forever, but he's never acted on his feelings, unsure of where he stood. Plus, there was the complication of his boyfriend. But when his boyfriend's abuse gets too much for Charlie, it's Brad who helps him escape and recover.
Miles ends up severely wounded in the line of duty as an FBI agent. He's floored when the man he was protecting, Indy, opens his home to him so he can recover. Indy also sets him up with Brad, who turns out to be a perfect solution for Miles' sexual issues…until Miles wants more than sex from him, and a developing friendship between Miles and Charlie complicates things even more.
Bit by bit Charlie and Miles break through Brad's defenses, until they come crumbling down. Miles will have to prove he can provide what Brad needs, and Charlie's sweet love will be put to the test. But when Brad finally finds the courage to break free of his shame, will the fragile love that has blossomed between the three of them survive?
No Shame is a steamy M/M/M romance that ends with a happy ever after for all characters, including those from the previous books in the series. It's the fourth book in the No Shame Series, and is NOT a stand alone novel, so make sure to read the first three books first (No Filter, No Limits, and No Fear). It contains hot sex, a ménage, a little daddy kink, more hot sex, and a poly-amorous relationship that transcends labels. Also: trigger warning for mentions of domestic abuse, sexual abuse, and rape
================================================================
Book Review: The Mistletoe Kiss by Ruby Moone
Reviewed by Becca
TITLE: The Mistletoe Kiss
AUTHOR: Ruby Moone
PUBLISHER: JMS Books LLC
LENGTH: 89 pages
RELEASE DATE: December 9, 2017
BLURB:
Widowed bookseller Lawrence Fenton has spent a lonely lifetime hiding who he is. He has convinced himself his feelings for his far too young, gorgeous, but troubled assistant Christy Shaw are nothing more than pride in his protégé and concern for his plight.
Christy's life involves walking fine lines: one between his mother and his abusive stepfather, one where he must keep his needs hidden, and hardest of all, one where he must keep his feelings for his serious employer to himself.
Lame since birth, Lawrence cannot imagine anyone wanting him, least of all Christy. But when Christy's life threatens to spiral out of control, Lawrence steps in. Then Christy's emotions spill over into a kiss under the mistletoe at Christmas. Will Lawrence be able to face the long-buried truth about himself and keep Christy by his side?
===============================================================
Series Review: Wytch Kings by Jaye McKenna
Reviewed by Dan
This is a Series Review of Wytch King Series (Books 1 – 4)
AUTHOR:  Jaye McKenna
PUBLISHER:  Mythe Weaver Press 
SERIES REVIEW:
I read and reviewed the first book listed below, Burn the Sky, back in 2015 here at Love Bytes. I've included a slightly edited version below for continuity. This is one of those series that I hoped would appear at some point. I loved the first book and wanted more, but in the course of events, got so sidetracked that I never got around to looking for them. I was delighted to find that there are now a total of four books, all of which I've included individual reviews for below. It is obvious that there will be at least one more, based on the ending of book four, but no spoilers! If you are a fantasy, good versus evil, heroes and villains, and most importantly dragon shifter fan, you will love this series! 
SERIES RATING:  
================================================================
Book Review: Tailor-Made by Yolanda Wallace
Reviewed by Jess
TITLE: Tailor-Made
AUTHOR: Yolanda Wallace
PUBLISHER: Bold Strokes Books
LENGTH: 240 pages
RELEASE DATE:  December 1, 2017
BLURB:
Before Grace Henderson began working as a tailor in her father's bespoke suit shop in Wiliamsburg, Brooklyn, she established a hard and fast rule about not dating clients. The edict is an easy one for her to follow, considering the overwhelming majority of the shop's clients are men. But when Dakota Lane contacts her to commission a suit to wear to her sister's wedding, Grace finds herself tempted to throw all the rules out the window.
Dakota Lane works as a bicycle messenger by day and moonlights as a male model. Her high-profile career, gender-bending looks, and hard-partying ways garner her plenty of romantic attention, but she would rather play the field than settle down. When she meets sexy tailor Grace Henderson, however, she suddenly finds herself in the market for much more than a custom suit.
=========================================================
Release Day Review: Bobby Green (Johnnies #5) by Amy Lane
Reviewed by Tori (Vicki)
TITLE: Bobby Green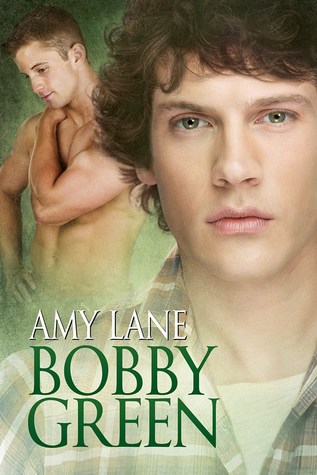 SERIES: Johnnies #5
AUTHOR: Amy Lane
PUBLISHER: Dreamspinner Press
LENGTH: 350 pages
RELEASE DATE: February 6, 2018
BLURB:
Vern Roberts couldn't wait to turn eighteen and get the hell out of Dogpatch, California. But city living is expensive, and he's damned desperate when Dex from Johnnies spots him bussing tables.
As "Bobby," he's a natural at gay porn. Soon he's surrounded by hot guys and sex for the taking, but it's not just his girlfriend back in Dogpatch—or her blackmailing brother—that keeps him from taking it. It's the sweet guy who held the lights for his first solo scene, who showed him decency, kindness, and a smile.
Reg Williams likes to think he's too stupid to realize what a shitty hand life dealt him, but Bobby knows better. What Reg lacks in family, opportunity, education, and money, he makes up for in heart. One fumbling step at a time, they connect, not just in their hearts but in their bodies, where sex that's not on camera, casual, or meaningless, becomes the most important thing in the world.
But Reg is hampered by an inescapable family burden, and he and Bobby will never fly unless he can find a way to manage it. Can he break the painful link to his unrealized childhood and grow into the love Bobby wants to give?
============================================================
Release Day Review: Chasing Thunderbird (Sifter U #2) by J. Leigh Bailey
Reviewed by PizzyGirl
T
ITLE: Chasing Thunderbird
SERIES: Shifter U #2, Dreamspun Beyond #13
AUTHOR: J. Leigh Bailey
PUBLISHER: Dreamspinner Press
LENGTH: 223 pages
RELEASE DATE: February 6, 2018
BLURB:
A Shifter U Tale
A legendary love.
Ornithology professor Simon Coleman's reputation is at risk, and the only way to save his name is to prove thunderbirds are more than creatures of Native American myth. Grad student and part-time barista Ford Whitney has a lot on his plate, but it's also his duty to make sure the resident bird nerd doesn't discover shape-shifters—like himself—live on campus.
When a series of incidents related to Simon's search put him in harm's way, Ford's instincts kick in, and they become closer than is strictly proper for student and teacher. Ford is forced to reveal his secrets to Simon, and their relationship is put to the test—Simon must choose between salvaging his reputation and protecting the man who protected him….
===========================================================
Book Review: Rudy (Rudy #1, Shifting Through the Snow #2) by Terry Poole
Reviewed by Becca
TITLE: Rudy
SERIES: Rudy #1, Shifting Through the Snow #2
AUTHOR: Terry Poole
PUBLISHER: MLR Press
LENGTH: 158 pages
RELEASE DATE: December 1, 2017
BLURB:
Hated by his family for being a living reminder of his father's infidelity, Rudy never expected that a blind date mix-up would change his life in this modern retelling of Rudolph the red-nosed reindeer.
Clay, an engineer fresh out of the military, is the answer to Rudy's dreams, becoming Rudy's co-worker, protector, and lover all rolled into one gorgeous package.
Not only do they mesh well together to bring Rudy's vision to life, neither can deny the overwhelming attraction that sizzles between them. An attraction that almost ends before it can begin because of a misunderstanding that leads to Clay being in jail for assault.
Filled with hate, Donny, Rudy's older half-brother, tries to destroy him and stop Rudy from saving his grandfather's toy factory.
Only Clay can save Rudy's life and the toy factory, if he's not too late.
=======================================================
Release Day Review: Going Overboard (Anchor Point #5) by L.A. Witt
Reviewed by Chris
TITLE:  Going Overboard
SERIES:  Anchor Point #5
AUTHOR:  L.A. Witt
PUBLISHER:  Riptide Publishing
LENGTH:  287 pages
RELEASE DATE:  February 5, 2018
BLURB:  
Second-class petty officers Dalton Taylor and Chris Ingram have been best friends since coxswain's school. Now they're stationed together in the harbor patrol unit of NAS Adams. They're content as friends, but secretly, they both ache for more. Neither makes a move, though; while Dalton is out and proud, Chris is closeted—even from his best friend.
Then another coxswain's negligence nearly drowns Dalton. After a taste of how easily they could lose each other, neither man can keep his feelings hidden anymore, and it turns out love and sex come easy when you're falling for your best friend.
Things aren't just heating up between the friends-turned-lovers, though. The Navy is investigating the accident, and the harbor patrol chief isn't going to let his star coxswain go down for dereliction of duty, even if saving him means throwing Dalton under the bus.
As the threats and gaslighting pile up, Chris and Dalton need each other more than ever—as shipmates, friends, and lovers. But if their chief prevails, the only way they can save their careers is to let each other go.
==========================================================
Book Review: Barricade by Lindsey Black
Reviewed by Donna
TITLE: Barricade
AUTHOR: Lindsey Black
PUBLISHER: Netherwood Press
LENGTH: 358 Pages
RELEASE DATE: December 27, 2017
BLURB:
The Barricade is all that separates the Northern Russian Empire from what remains of the world's plague-decimated population. Snaking 8921 kilometres across Eurasia, the Barricade is crafted from the New World's nanotechnologies. Breathing, thinking, constantly regenerating, it sustains those charged with defending its districts from those desperate to find refuge in the north.
Atop the battlements of District 666, Sasha Stepanova and his team ruthlessly suppress heavy insurgencies, but at a cost. With the loss of one of his men, Sasha feels isolated and adrift. The bitter snows are a harbinger of winter's early arrival and the town on his southern perimeter is swelling with foreboding shadows.
Transferred from a black operations testing facility, Jett Ioane is not the replacement Sasha is expecting. He's short, sheltered and untested in battle—a poor replacement for the friend Sasha has lost. But Sasha finds him impossibly alluring. A lifetime of alienation and scrutiny has hardened Jett to the friendship and camaraderie necessary for survival. Struggling to find his feet while Sasha sweeps them out from under him, Jett hesitates to entrust the team with his truth.
Will Jett's secrets be the key to their salvation, or annihilation?
===============================================