Reviewed by Dan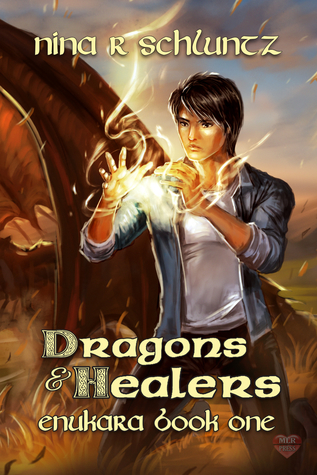 TITLE: Dragons & Healers
SERIES: Enukara Book One
AUTHOR: Nina R. Schluntz
PUBLISHER: MLR Press
LENGTH: 311 Pages
RELEASE DATE:  January 12, 2018
BLURB:
A simple act of kindness from a human toward a dragon triggered the Enukara–giving the human the ability to heal the wounds of others. The dragon bonded to him was granted immortality. The price for this gift was simple. The dragon's life was bound to the human.
The greed of dragons and humans was underestimated. For if an Enukara's life was taken by another, they would inherit the immortality blessed to the dragon. Both human and dragon could steal this gift. The slaughter of all Enukaras quickly ensued, until one dragon killed his own Enukara.
The power he inherited was unfathomable. He hunted and killed every immortal who had slain an Enukara.
A new Enukara emerges who challenges the mindset of the immortal dragon and the Enukara hopes to alter the fate of humanity, by showing the dragon how to love once again.
REVIEW:
I'm going to keep this one honest and tell you what my impressions were. I'm not going to do a book report. If you're looking for storyline details, you won't find them here.
This was one of those stories that I liked a lot of, but I had some serious questions with it as well. I never really figured out the whole alien dragons thing. I think the story is supposed to be set on Earth, but not necessarily? And the lack of background except for one huge info dump before Chapter 1, was perplexing. I just now went back and reread the info dump and it doesn't really help me much with the overall story. I personally think the story suffered from a lack of world building. With more details, it would have allowed me to further immerse myself in the story.
Let's start with what I liked. I liked some of the characters. The character I focused on as the main character, while an annoying stereotype of a gay man, did keep the story moving forward. The side and background characters were well enough written that you came to care for them as well.
What I didn't like. Two of the main supporting cast were killed off midstream.
What I really didn't like was the wide-open cliffhanger ending.  The story didn't have any sort of wrap-up, obviously leaving the way open for further expansion of the tale. I'm not really fond of a story that doesn't at least have a HFN, but that's just me, some folks love them.
I will definitely read the next installment when it comes out. I'm curious where the author is going to go with the story. I really like where the author seems to be going with the big bad dragon character. We'll see how it all ties together.
RATING:
BUY LINKS: