Book of the Week Winners!
Here are the winners of this week's Book of the Week Poll.
Both will go through to the Book of the Month Poll!
---
The winners are:
FIRST PLACE:
Reviewed by Caroline
TITLE: Take A Chance On Me
SERIES: Firsts and Forever Book 15
AUTHOR: Alexa Land
PUBLISHER: Self Published
LENGTH: 369 Pages
RELEASE DATE: October 29, 2017
BLURB:
Free-spirited ballet dancer Quinn is sure he made a terrible mistake by agreeing to be Duke's roommate. The big cop is the most uptight person Quinn's ever met, and both men begin driving each other crazy from day one.
Before long though, an undeniable spark of attraction ignites between them. But do opposites really attract? Or will their differences prove to be more than either of them can handle?
This gay romance is the fifteenth book in Alexa Land's best-selling Firsts and Forever Series, but each novel is written to stand alone, so jump in anywhere. Note: contains adult language and graphic sex and is only intended for adults. Read More »
---
SECOND PLACE: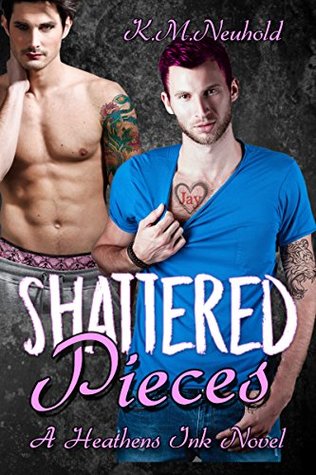 Reviewed by Caroline
TITLE: Shattered Pieces
SERIES: Heathens Ink Book 4
AUTHOR: K M Neuhold
PUBLISHER: Self Published
LENGTH: 181 Pages
RELEASE DATE: October 31, 2017
BLURB:
"I was sure my heart had withered away years ago, but then you smiled at me, and I felt it beat again." ~Gage
Years ago, I fell in love with my best friend's little brother. Then, he took his own life, leaving me shattered and unable to piece my heart back together. I've been a zombie for nine long years. Until a crazy, gorgeous man walked into Heathens Ink and injected color back into my world of gray. No matter how hard I try to resist Beck, he just won't give up on me. I would need steel willpower to withstand his gorgeous long legs in those high heels and his drawer full of lacy lingerie. But is this just a kinky hook up or does it have the possibility for more?
"We're both broken, but our jagged edges fit together well" ~ Beck
When you're half of a whole you never contemplate what life would be like without your matching piece. Since my twin sister, Brianna, died last year, nothing I do seems to quiet my soul. I know there has to be some way for me to feel happy and whole again. And, when I look into the pained eyes of the tattoo artist at Heathens Ink, I feel like I have a purpose. I can't explain it, but I feel like I have to find a way to put him back together. Read More »
---
CONGRATULATIONS TO THE WINNERS!
Here is the final vote total: