Reviewed by Donna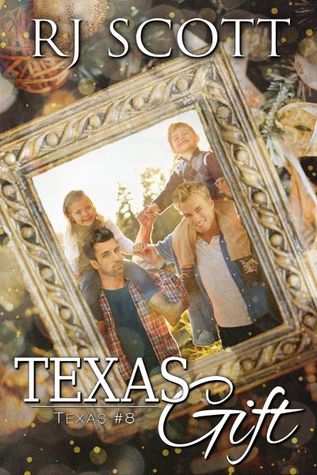 TITLE: Texas Gift
SERIES: Texas #8
AUTHOR: R.J. Scott
PUBLISHER: Love Lane Books
LENGTH: 45 000 Words
RELEASE DATE: November 12, 2017
BLURB:
A gift for every single reader who said they needed to know what happened next for Jack and Riley…
When Hayley arrived on the steps of the D, Riley and Jack knew life would never be the same.
Told through Riley and Jack's eyes, this is ten years in the life of their family and watching Hayley grow up, fall in love, and start her own life. Hurricanes, illness, babies, happiness, sadness, work, play, the barn, the office, horses, friends, enemies, and above all love.
REVIEW:
I remember the first time I read The Heart of Texas, and I thought this is the most ridiculous, unbelievable, over-the-top, made for television plot that I've ever read. I promptly bought the next two books (because that's all that was released at the time) and I still drag them out to re-read every now and again. Of course, my collection has grown to include every new book in the series, a series that I believed ended with book #7. But I'm guessing that just like her readers, R.J. Scott has trouble letting go of Riley and Jack and their whole extended adopted family.
Is this book perfect? Probably not, but without question it is the perfect ending to one of the most addictive series that I've ever read. Ms. Scott really has given us a gift, as this book takes us on a journey through the next ten years of life on the D. If you're anything like me then you always want to know what happens next. And then next. And next. And then what comes after all that? Well this book answers all of those questions for all of the characters that fans of this series adore.
Not wanting to give away any of this book's sweet surprises – but by the end of this book, Jack is about fifty years old. So we get to see all four of their children as adults, Jack and Riley as grandparents, enemies become friends and another D couple also become parents. I especially liked that the author took some time to write Jack into a situation where he gets to play hero cowboy one last time. And of course, what would a visit to the D be without a visit to Jack and Riley's barn? It doesn't matter how many years this couple has been together, their passion is still as smexy hot as it was in the beginning. The way Jack and Riley love each other is so freakin perfect that it sucks to realize that these men aren't actually real.
Any body that hasn't read this series yet should definitely not start here. This is a series that needs to be read in order from the beginning. For readers who already love this series, well, I don't need to sell this story to you. In fact, why are you even sitting here reading this review? You should already be over at Amazon (or whichever store you prefer) buying Texas Gift and indulging in the Campbell-Hayes family – just one last time.
RATING:
BUY LINK: