Reviewed by Roberta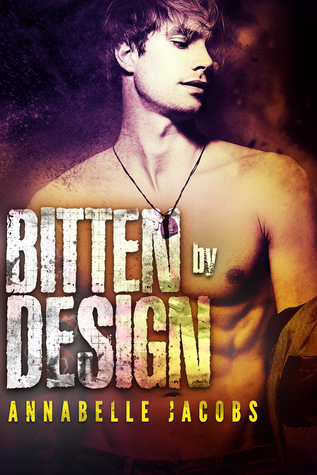 TITLE: Bitten By Design
SERIES: Regent's Park Pack Book 2
AUTHOR: Annabelle Jacobs
PUBLISHER: Self-Published
LENGTH: 351 pages
Release Date: March 28, 2017
BLURB:
When the last thing you want, is everything you need….
Seb Calloway isn't interested in shifters. After his best friend bonded with one, he avoids getting involved with them—no matter how hot they are—to prevent the same thing from happening to him. Why take the risk for a few hours of fun?
Tim Walters is the pack doctor. Considered to be mild-mannered and non-threatening by pack standards, he prides himself on being able to stay calm and maintain his control at all times. Desperate for a bond of his own, he knows his interest in Seb is an exercise in futility, but he can't seem to help himself.
When news emerges that threatens Seb's safety, he and Tim need to fake a relationship to keep Seb safe. Despite Seb's refusal to be anything other than friends with benefits, what starts out as pretend, quickly becomes more—for Tim at least. If Tim doesn't want to end up heartbroken, he needs to prove to Seb that loving a shifter doesn't mean losing himself.
REVIEW:
I really enjoyed the first book in this series, so I was kinda excited to read the next book in the series and I can say that it was a really good story and continuation of the first book. You still get to see Jared and Nathan and that was good.
Tim is such a good guy. I really liked his character in the first book and when I saw that he was getting his own book, I was pretty excited about it. He was just such a sweetheart and I really enjoyed him. I like that Tim knew who he was and what he was capable of. I like that Tim was ok with being a shifter and even though he wasn't big and bulky…he was still a shifter and knew what he was about.
Seb…now we again met him in the first book and he didn't really wow me. He more annoyed me by being the whiny Best Friend. I get why he was that way…but really…he annoyed me so much. Even after explaining himself…he still really annoyed me because of the hot and cold that he kept pulling on Tim. I really wanted to like his character…but he was just really selfish in my eyes. It was truly all about him and that just didn't work for me. For me…I really just didn't take to him and therefore, he really wasn't a good match for Tim in my eyes.
There was a really good amount of mystery/suspense going on in this story. I have to say that I liked it wasn't straight up romance. That there was a mystery as to why and what was going on and who was behind the things happening to Seb. I liked that it's part of what throws them together and forces the issue of them getting together…in theory. Again…I just didn't care for Seb and that kind of throws this out of whack for me.
I really appreciated seeing Jared and Nathan. I liked seeing how their relationship is progressing. That they arent' perfect and that they are still growing as a couple and finding their way. I liked seeing Alec again. I liked knowing that there is a different side to him that we really didn't get to know. I like meeting Tim's brother…who loved his younger brother and wants him to be happy as well. Now…I have to say that Cam really intrigues me. I really want to see more of him.
This was a really good story…please don't let my dislike of Seb color that for you. I really don't like that character type…wishy washy. They really annoy me and that makes it hard for me to look past anything that they say or do.
RATING:
BUY LINK: