Reviewed by Becca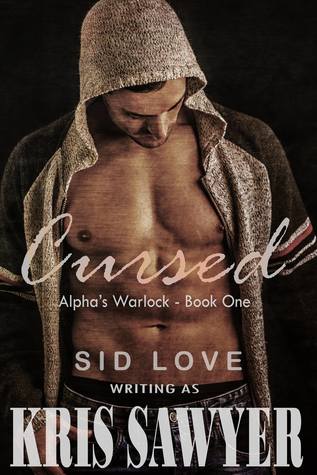 TITLE: Cursed
SERIES: Alpha's Warlock #1
AUTHOR: Kris Sawyer
PUBLISHER: Creative Minds
LENGTH: 49 Pages
RELEASE DATE:  September 5, 2017
BLURB:
Clyde Barrington is a werewolf with a curse on his head. Every night, he shifts from human to wolf and lives the life of a lonely predator, never fully accepted by his pack. When he saves a handsome stranger from a fire, everything changes.
In a world divided by the ancient feud between werewolves and warlocks, Clyde and Terry must learn to trust each other. When wolves start to disappear, their bond is tested by the fear of a pack now balanced on the edge of destruction.
Amidst a web of lies, deceits and betrayals, Clyde must decide where his loyalties lie, and choose between a forbidden love and the ties that bind him to his brothers. Is Terry an enemy to the pack, or the saviour that will lead them out of the darkness?
REVIEW:
This was a good little book to start a series. I really like it. It had action and suspense and even sweet passionate moments. And of course it had werewolves! Squee!
It starts out with Terry being asleep and caught in a fire when shifter Clyde comes to his rescue. The minute he does and Terry realizes who he is outside of his wolf, things begin to change. Terry and Clyde were taught to hate each other, but Terry has had enough. Being a warlock makes it hard but he wants to get to know Clyde better. The war between shifters and warlocks had made everyone nervous and hateful and living in fear. Terry just wants peace.
We discover some surprises in this book about Terry but I think he is the one I really like. All he wants is a man to love and to live in peace with him. He is a sweet man who wants to fish or hunt or just enjoy life. I love that about him. Even with people hating him because he is a warlock he still stays calm for the most part and does his best to prove he is not the enemy. He wants friends. He is a special man.
Clyde is a werewolf who wants love and the minute he sees Terry he is instantly attracted. But because of the wars he is very untrusting. And through everything Terry does to prove himself he still has a hard time letting those walls down to trust that Terry won't hurt him or his pack. As they get closer, Clyde has to make a decision. Will he stand up for Terry and realize that he wouldn't harm them, or stand with his pack and keeping fighting a war that has been long over? Clyde is in turmoil and it takes a strength to go against all you have been taught and believe in. I admire Clyde's quiet strength.
What a way to start this series. It was very well written and kept me in suspense and I'm very anxious to see where the next books take us. Happy reading!
RATING:
BUY LINK: