Reviewed by Chris
TITLE:  Open Net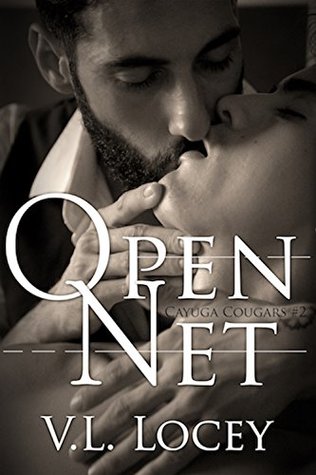 SERIES:  Cayuga Cougars #2
AUTHOR:  V.L. Locey
PUBLISHER:  Self-Published
LENGTH:  219 pages
RELEASE DATE:  August 16, 2017
BLURB:  
August Miles has the world on a string professionally.
Augie, as his friends and teammates call the unassuming young goaltender, is on the fast track to the pros. The starting goalie for the Cayuga Cougars, he has a year or two in Cayuga to hone his skills and all his career dreams will have come true. Pity his personal life isn't riding the same high. He's the only one among his group of friends without that special someone to call his own.
Until he meets Salvatore Castenada at a lakeside party. The attraction is white-hot and more than a little wonderfully overwhelming for the romantically inexperienced goalie. August quickly discovers that Sal is everything he's dreamed of in a man: mature, settled, sinfully handsome, and filled with gentle humor. Sal is also HIV positive.
Will Sal's revelation about his status end this budding relationship before it can even begin? Or will the two men be able to handle the challenges life—and a championship run for the Cougars—throws at them?
REVIEW:  
I kinda have a bad habit of not reading blurbs when I am reviewing later books in a series I've already reviewed. I knew this was about Augie–one of my favorite characters from the first book–and I knew that it was about hockey, so I was content with whatever else I was given. And while sometimes that bad habit does come back to bite me, I think I lucked out quite a bit on this one.
Augie is by far my favorite character from this series. Anyone who knows me must be aware of my penchant for oddball goalies (or, as their more commonly known: goalies). By the first page I was so totally in love with him that it could have been 200 pages of him being just his crazy self and I probably would have been happy. And then he runs into Sal at a graduation party for a friend…and, well, hello there, hot stuff! Sal may be a bit older than Augie (which Mario, doing a rather good impression of a jackass for the majority of this book, is not hesitant to point out), and certainly more experienced, but these two click like no one's business. Their interactions at the party had enough sizzle to power the grill for a week at least. Not that them getting together is easy, or anything (especially with Mario McJudgeyface), but they have a simple yet heartfelt connection from the moment they meet to the moment the books ends. It made the story very readable.
One of the things that not reading the blurb did though, much to the stories credit I think, is that I had no clue that Sal was HIV positive going into this. So when the reveal came along, I was genuinely shocked. I really liked that. I also found Augie's reaction to be rather realistic. He didn't shun Sal, but I honestly think taking some time to think about the consequences–both bad and good–of dating someone seropositive was the adult thing to do.
I honestly can't think of anything bad to say about this story. I did think that some of the conversations about HIV felt a tad bit like Things You Need to Know About HIV! in structure, but it didn't get too distracting. And while I don't think it is the book of the year, it was very well written, entertaining, and had some great characters. There is not a whole lot here that is new, but I wasn't expecting there to be. It is just a really good story and one I recommend.
RATING:  
BUY LINK: