Reviewed by Dan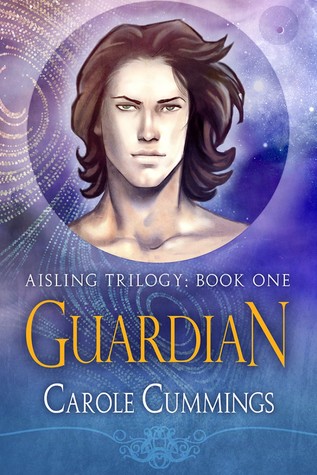 TITLE:  Guardian
SERIES:  Aisling Trilogy #1
AUTHOR:  Carole Cummings
PUBLISHER:  DSP Publications
LENGTH: 285 Pages
RELEASE DATE: August 15, 2017
BLURB:
Aisling Trilogy: Book One
As he pursues a man who is not what he seems, Constable Dallin Brayden learns the lines between enemy and ally, truth and deception, and conscience and obedience are not only blurred, but malleable.
Constable Dallin Brayden knows who he is, what he's about, and he doesn't believe in Fate. "Wilfred Calder" has no idea who he is or what he's about, and he's been running from Fate for as long as he can remember. When Wil flees after witnessing a murder, it's Dallin's job to pursue him. Along the way, he's pulled into a maelstrom of ancient myth, fanatical religion, and the delicate politics of a shaky truce between two perpetually warring countries—all of which rests on the slender shoulders of the man he knows is not Wilfred Calder.
Even Dallin's success proves a hollow victory. Wil is vengeful, rebellious, and lethal, and his tale of magic and betrayal rocks the carefully constructed foundations of Dallin's world. Suspicious and only half believing, Dallin must question not only his own integrity and his half-forgotten past, but the morality and motives of everyone around him—including those who hold his own country's fate in their hands.
2nd Edition
REVIEW:
I love when I pick out a book from our 'available to review' list and stumble on one that I really like. Guardian was one of those books. There is only one problem. It is a re-release and the next installment isn't coming out until mid-October… and I want it now!
In Guardian we meet a Constable named Dallin Brayden in a city named Putnam. Brayden has been assigned to a case involving a mysterious occurrence in an inn in the city, involving a young worker in the stable. One man is dead, and the other seems to have lost his mind. The 'witness' is the young man, but something is odd with the young man. He has a name that would tie him to the land that Brayden was born in, but physically, he can't possibly have come from there. What is he hiding? Who is he?
When the young man flees the city, and Brayden sets off to capture him and return him to Putnam, it turns out there is far more to the young man and the people looking for him than expected. I really enjoyed the story so far. It is building and as the story progresses we begin to learn some of the background of the two MCs, and get some hints of what is to come. There seems to be a lot of background in this one, which I assume will lead to greater understanding in the future installments.
So, my only real problem? The story ends on a definite cliffhanger, which those of you who read my reviews will know… I totally despise. This one was the type where you turn the page, and think Oh no, where is the rest of the story? I guess I'll have to say well played Ms. Cummings. It will definitely bring me back for more. In fact, I've already signed up for the next book.
I recommend the book to anyone who enjoys an alternate land story, with some magic and mystery. I think I might have rated it a little higher if I had had all three installments to read and review at the same time. I'll let you know once I've read those as well.
RATING:  
BUY LINKS: