Book of the Week Winners!
Here are the winners of this week's Book of the Week Poll.
Both will go through to the Book of the Month Poll!
---
The winners are:
FIRST PLACE: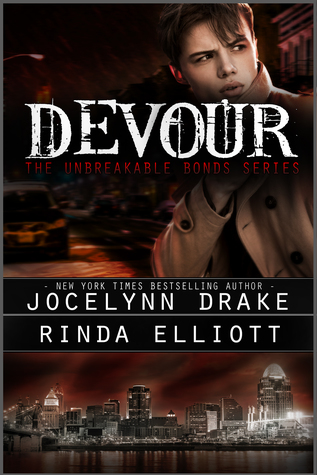 REVIEWED by Caroline and Jen B.
TITLE: Devour
SERIES: Unbreakable Bonds #4
AUTHORS: Jocelynn Drake and Rinda Elliott
PUBLISHER: Self Published
LENGTH: 249 Pages
RELEASE DATE: April 28, 2017
BLURB: 
Ian Pierce is the chef and part owner of the hottest restaurant in Cincinnati, his chosen family is full of happy relationships, and the scruffy, snarky cop who has been haunting his dreams is one step closer to being in his bed. But everything comes crashing down when the past he narrowly escaped nine years ago comes to a deadly head.
Hollis Banner was enamored of Ian at first sight. He's kept his distance, knowing the gorgeous, self-confident man is out of his league. Yet there's no standing aside when Boris Jagger escapes a raid. Jagger's world has been nearly destroyed and this time, the crime boss is coming after Ian and his friends personally.
Hollis will do whatever it takes to keep Ian safe as they escape to a safe house with a couple of Ian's overprotective friends. And Ian finds himself in a race to unlock painful memories—memories containing information that could take down the very last of Jagger's illegal operations forever….Read More »
---
SECOND PLACE:
Reviewed by Donna
TITLE: A Worthy Man
SERIES: The Men of Halfway House #5
AUTHOR: Jaime Reese
PUBLISHER: Romandeavor, Inc
LENGTH: 124,000 Words
RELEASE DATE: May 2, 2017
BLURB:
Vannguard Shaw has spent the last ten years serving a life sentence and adjusting to the ache of solitude. He accepts his fate, a sacrifice for the only man he ever loved and the one person who saw beyond his rough edges.
Drayton grew up with a trust fund and pre-planned future, but an unexpected encounter one night forces him to abandon everything and start from scratch. He is now a self-made man and developer of one of the most sought after electric exotic automobiles in the world with a fortune greater than that of his birthright. Yet, he'd surrender it all—again—for the only man who's still ever-present in his heart.
After a decade and entirely too much distance between them, Vann is suddenly released back into a world that has been nothing but cruel. Drayton never lost hope they would once again reunite and pick up where they left off, but Vann's stubborn nature and repeated encounters with a heartbreaking world prove to be a challenge.
Vann needs to tap into his fighting spirit's reservoir of strength and hope life doesn't punish him for taking a chance. Only then will he realize his own value and feel worthy enough to finally have Drayton's heart. And their chance at forever….Read More »
---
CONGRATULATIONS TO THE WINNERS!
Here is the final vote total: