Reviewed by Tammy
TITLE: Setting the Hook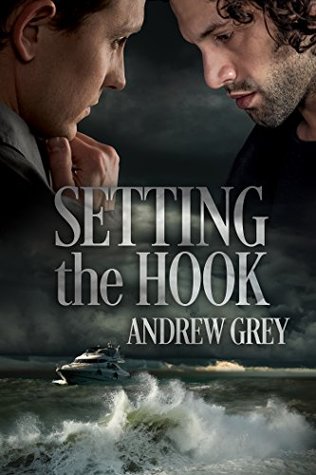 AUTHOR: Andrew Grey
PUBLISHER: Dreamspinner Press
LENGTH: 200 pages
RELEASE DATE: May 12, 2017
BLURB:
It could be the catch of a lifetime.
William Westmoreland escapes his unfulfilling Rhode Island existence by traveling to Florida twice a year and chartering Mike Jansen's fishing boat to take him out on the Gulf. The crystal-blue water and tropical scenery isn't the only view William enjoys, but he's never made his move. A vacation romance just isn't on his horizon.
Mike started his Apalachicola charter fishing service as a way to care for his daughter and mother, putting their safety and security ahead of the needs of his own heart. Denying his attraction becomes harder with each of William's visits.
William and Mike's latest fishing excursion starts with a beautiful day, but a hurricane's erratic course changes everything, stranding William. As the wind and rain rage outside, the passion the two men have been trying to resist for years' crashes over them. In the storm's wake, it leaves both men yearning to prolong what they have found. But real life pulls William back to his obligations. Can they find a way to reduce the distance between them and discover a place where their souls can meet? The journey will require rough sailing, but the bright future at the end might be worth the choppy seas.
REVIEW:
As per usual, I thoroughly enjoyed reading Setting the Hook. Andrew Grey has definitely got the touch when it comes to writing books that you can lose yourself in!
In Setting the Hook you have Mike Jansen and William Westmoreland. Mike is the owner operator of a Charter Fishing Service. Twice a year for the past four years William has hired Mike's charter boat to take him fishing for the day. It was supposed to be a one-off but when William saw Mike for the first time he couldn't help back make repeat bookings besides the intense attraction he has for Mike the twice-yearly fishing trips are about the only things that keep William sane anymore!
Where William is out to everyone, Mike isn't. Mike has a daughter Carrie from his one and only experience with a woman. Mike and his best friend Lizzie went to prom together, ended up on his father's boat, one thing led to another and Mike got Carrie out of it. Lizzie never had any intention of sticking around their hometown and nothing, not even a daughter was going to change her mind. Mike joined the Navy when he got out of high school where he met a man he could have been someone very important to him except they decided not to take it anywhere because Benny was just coming in and Mike was getting ready to leave for good, then Benny was killed in action before anything had a chance to happen anyway. Mike has lived in his little town of Apalachicola all his life and he knows that as they're in the deep south they are also very homophobic and would never accept him if he came out.
A hurricane comes through and forces William to stay at Mikes place for several days and this is when they start a relationship that Mike knows can't go any further than right now. William knows what Mike is thinking but he's decided that there has to be something more to life than working at a job he hates as well as never getting to see the man he has fallen in love with. This decision has William working on a way for him and Mike to be together. Throughout the whole book, you learn about Mike's life in a way you never would if you don't live in or near such a small town with all the bigotry that goes with that. I have to say that you all need to grab a copy of Setting the Hook, make your favourite drink, find your comfy reading spot and read til you drop!!!
RATING: 
BUY LINKS: