Welcome to the April 2017 Audio Book of the Month Poll!
Here are all our Audio Reviews from the previous month, in no particular order.  Please vote for your favorites. As with all of our Polls, you can vote for as many as you want, but you only get one visit, so make it count!
The top two will go through to the Audio of the Year Poll!
POLL SCHEDULE:
This poll will remain open until at least 6PM, Amsterdam time next Friday. The actual closing time will vary depending on blog staff schedules…
---
Reviewed by PizzyGirl
TITLE: Extrasensual Perception
SERIES: Dreamspun Desires #26
AUTHOR: Rayna Vause
NARRATOR: John Solo
PUBLISHER: Dreamspinner Press
LENGTH: 5 hours, 45 minutes
RELEASE DATE: February 22, 2017
BLURB:
If a stalker doesn't kill them, the heat between them might.
Christopher Vincent is desperate enough for a job that he accepts an offer to entertain as a psychic in a friend's nightclub. Jackson Whitman, one of the club's co-owners, is less than thrilled by the new act. To him, psychics are ridiculous and a liability. But when they come face-to-face, attraction flares to life between them.
Someone is watching Jack and Chris from the shadows. What starts as a series of creepy encounters leads to deadly attacks.
Jack and Chris must set aside their differences and work together to survive a homicidal stalker. But can they survive their explosive connection?…Read More
---
REVIEWED by Caroline
TITLE: Light From Dark
AUTHOR: Mercy Celeste
Narrator: Derrick McClain
PUBLISHER: Self Published
LENGTH: 12 Hours 37 Minutes
RELEASE DATE: February 6, 2017
BLURB:
After a year of picking up the pieces of his shattered life, former US Marshal Micah Beasley takes a job as body guard for a spoiled rich kid who can't leave his house. It's a cupcake assignment. He just needs to get back in the game. What can go wrong?
Brilliant and incredibly talented, Christopher (Kit) Auberon wears tragedy as a second skin. Kit is all that's left of a powerful family. Seemingly forgotten he's spent his entire life in seclusion and he likes it that way.
Death threats are a fact of life, but when those threats become real, Micah and Kit are forced to put their differences aside to discover who wants Kit dead. Only to discover that there are monsters in Kit's closet that should never be disturbed…Read More.
---
REVIEWED by Caroline
TITLE: Dare to Hope
SERIES: All Cocks #4
AUTHOR: TM Smith
NARRATOR: Joel Leslie
PUBLISHER: TTC Publishing
LENGTH: 6 Hours 13 Minutes
RELEASE DATE: 23 March, 2017
BLURB:
Dare to Hope
An All Cocks story book 4
Tristan is the second oldest of the Brennan brothers and the odd man out. Most of the Brennan men have careers in law enforcement, but as a psychiatrist, Tristan chooses to help people in a different way. Quiet and restrained, he is content to hover in the background of his more gregarious brothers. Then he meets two men, each broken and damaged from losses beyond their control.
Gabriel Simenson is mourning his lover's death. The random act of violence that took Gio's life has left everyone at All Cocks reeling. The only thing keeping Gabe from drowning in misery is the friendship he's forged with Micah, the newest model at All Cocks. He continues to struggle, and at the urging of his All Cocks family Gabe agrees to counseling with Tristan under one condition: Micah must go with him.
Micah Solo can relate to unbearable loss, having lost his leg and so much more in Iraq. The past two years he has been alone, adrift and vulnerable — the memories of war haunting his dreams, spilling over into his daily life. At All Cocks, Micah has found the acceptance he craves and the family he lost, but still he yearns for happiness and peace within.
The friendship between the three is instant, the mutual attraction evident. They circle each other, wanting more, yet unsure if it is truly possible. Is life the mundane reality they've each come to accept for themselves or do they dare to hope?
The All Cocks Stories is a series set within the world of online gay porn.
*Warning* Micah's PTSD is told in detail, including flashbacks to his time in Iraq…Read More.
---
Reviewed by Louisa
TITLE: Rough Edges 
NARRATOR: Kevin Chandler
AUTHOR: Cardeno C.
PUBLISHER: The Romance Authors, LLC
LENGTH: 1 hour and 52 minuets
RELEASE DATE: March 21st 2017   
BLURB:
Kyle has an unwelcome crush on his nemesis Brent. Brent has a welcome crush on his friend Kyle. As it turns out, the line between a friend and an enemy doesn't have to be a line at all.
Born on the wrong side of the tracks to the wrong family, Kyle Potter has spent his life clawing his way toward a better future. When he gets the perfect job at the perfect firm in perfect Los Angeles, Kyle is sure there are only blue skies ahead. And then he meets perfect Brent Haralson.
Born with a silver spoon to a well-established family, Brent Haralson has never been interested in leveraging his connections. Friends, success, and dates come easily to Brent and rejection isn't something he has to deal with in life. And then he meets perfect Kyle Potter.
Kyle despises his unwelcome crush on his lazy, arrogant nemesis. Brent welcomes his feelings for his stubborn, brilliant friend. As it turns out, the line between a friend and an enemy doesn't have to be a line at all…Read More.
---
REVIEWED by Caroline
TITLE: Signs of Life
SERIES: Resilient Love
AUTHOR: Melanie Hansen
NARRATOR: Robert Nieman
PUBLISHER: Dreamspinner Press
LENGTH: 8 Hours 13 Minutes
RELEASE DATE:  March 21, 2017
BLURB:
Successful lawyer Jeremy Speer has it all—a loving husband, a beautiful home, and a cherished dream that's about to become reality. He's learned not to take happiness for granted, meeting the challenges of life and love head-on with unwavering commitment and fierce devotion. A series of tragic events leave Jeremy shattered, adrift on a sea of unimaginable pain. He's able to piece his life back together, but instead of embracing it, he merely exists, using isolation and punishing physical exertion to keep the world at bay.
High school teacher Kai Daniels has a heart for at-risk kids—he was one himself, and a teenage brush with the law and some troubled years behind bars left him scarred inside and out. With courage, hard work, and the support of friends, he's built a fulfilling life that leaves no time for a relationship.
An intense encounter with Kai at a gay club ignites a spark in Jeremy that he thought was extinguished forever, but he's unwilling to destroy the fragile peace he's managed to create, and he leaves Kai humiliated and disappointed. Things should have ended there, but a bizarre occurrence brings the two together in a way neither of them expected…Read More.
---
Reviewed by PizzyGirl
TITLE: The Playmaker
AUTHOR: Andrew Grey
NARRATOR: John Solo
PUBLISHER: Dreamspinner Press
LENGTH: 6 hours, 11 minutes
RELEASE DATE: January 23, 2017
BLURB:
Professional football player Hunter Davis is learning that saying he's gay is very different from actively being in a relationship with another man – especially in the eyes of his teammates and fans. So when Hunter needs a personal assistant to keep him organized, he asks for a woman in order to prevent tongues from wagging.
Montgomery Willis badly needs to find work before he loses everything. There's just one position at the agency where he applies, but the problem is, he's not a woman. And he knows nothing about football. Still, Hunter gives him a chance, but only because Monty's desperate.
Monty soon proves his worth by saving Hunter's bacon on an important promotional shoot, and Hunter realizes he might have someone special working for him – in more ways than one. Monty's feelings come to the surface during an outing in the park when Hunter decides to teach Monty a bit about the game, and pictures surface of them in some questionable positions. Hunter is reminded that knowing he's gay and seeing evidence in the papers are two very different things for the other players, and he might have to choose between two loves: football and Monty…Read More.
---
REVIEWED by Caroline
TITLE: Chosen Pride         
SERIES: L'ange Book 3
AUTHOR: Mary Calmes
NARRATOR: Tristan James
PUBLISHER: Dreamspinner Press
LENGTH: 8 Hours 13 Minutes
RELEASE DATE: March 6, 2017
BLURB:
Jon Slade finally met his mate, but instead of it being the happiest day of his life, it became the saddest when wolf shifter Kelvin MacCurdy chose his obligations over their fated bond, leaving Jon to pick up the pieces of his shattered dreams. Lucky for him, Roman Howell, his boss and the owner of L'Ange, saw promise in the forlorn lion and put him to work so he wouldn't have time to sit around and lick his wounds while he waited for his wounded spirit to heal.
Then the wolves make an official visit to L'Ange, and Jon finds out Kelvin's pining for him is taking its toll on his position as the king's champion. Though Kelvin's training and the expectations of others steer him toward an intended mate, Jon has an unbreakable hold on his heart, and it's no longer possible for Kelvin to keep himself from where he truly belongs.
But the conclave brings more than Kelvin to the château. It also brings a challenge to jackal alpha Quade Danas, a threat that Quade and Roman, Arman and Linus, and Jon and Kelvin may have to fight in order to keep L'Ange's family intact. Jon never wanted to lead a pride, but the loyalty and devotion to one is ingrained in him. Kelvin was raised to punish anyone who questioned his king, but the calling to protect others runs through his veins just as deeply. To come out on the other side of the battle together, Jon and Kelvin will have to hold the darkness of solitary pride and broken hearts at bay—and find strength in belonging to something bigger than themselves….Read More.
---
Reviewed by PizzyGirl
TITLE: A Dandelion for Tulip
SERIES: Being(s) in Love #6
AUTHOR: R. Cooper
NARRATOR: Michael Fell
PUBLISHER: Dreamspinner Press
LENGTH: 5 hours, 41 minutes
RELEASE DATE: February 22, 2017
BLURB:
A Being(s) in Love Story
David is in love with Tulip, a kind and unusually quiet fairy in his social circle. But everyone knows Tulip doesn't date humans. David tells himself he is happy to be Tulip's friend, because he doesn't believe a fairy could love him and Tulip has never tried to "keep him" – as fairies refer to relationships with humans.
Fairies are drawn to David, describing his great "shine", but David knows only too well how quickly fairies can forget humans, and thinks he's destined to be alone. He can't see his own brilliance or understand how desperately Tulip wants him, even if Tulip believes David can do better.
But exhausted and more than a little tipsy at a Christmas party, David makes his feelings too obvious for Tulip to deny any longer. Because of a past heartbreak involving a human, Tulip is convinced someone as shiny as David could never want a "silly, stupid fairy" in his life. Now, if he wants to keep David, he'll have to be as brave as his shiny, careful human…Read More.
---
Reviewed by PizzyGirl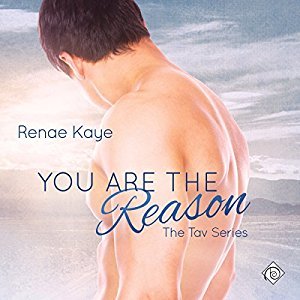 TITLE: You Are the Reason
SERIES: The Tav #2
AUTHOR: Renae Kaye
NARRATOR: Dave Gilles
PUBLISHER: Dreamspinner Press
LENGTH: 8 hours, 19 minutes
RELEASE DATE: March 1, 2017
BLURB:
A Novel in The Tav series
Davo's a pretty average guy. He has a decent job, owns his own home, and spends his weekends at the pub. He fully accepts that he's gay, but doesn't want to be one of those gays who are girly. He likes football and other masculine pursuits, and firmly avoids anything that could be seen as femme—including relationships that last beyond fifteen minutes.
Then Davo's friend and gay idol not only gets a boyfriend, but also adopts a baby girl. Davo is seriously spooked and scuttles down to the pub. That's where he meets Lee, cute from her cherry-red hair to her pretty little dress and pointy red shoes. Davo is charmed—but how is that possible? He's gay. Isn't he? Then Lee tells him he's actually a guy—he just likes to wear women's dresses occasionally. Thoroughly confused about an attraction that's out of character for him, Davo begins the long journey to where he can accept himself without caring what everyone else thinks…Read More.
---
Reviewed by PizzyGirl
TITLE: Add Love and Mix
AUTHOR: Sean Michael
NARRATOR: Steve Balderson
PUBLISHER: Dreamspinner Press
LENGTH: 6 hours, 18 minutes
RELEASE DATE: March 22, 2017
BLURB:
Firefighter Jason "Jase" Weller and EMT Scott Bronson are living the perfect life. They work together in jobs they love, they live together, and in their downtime, they still can't get enough of each other. It's been six amazing years. Then on Christmas Eve, Jase's former lover Elsa shows up with a six-year-old girl in tow. The strung-out junkie claims Kerry is Jase's daughter and it's his turn to care for her, and then she walks out.
Shocked at both the fact that Elsa is now a junkie and that he has a daughter he never knew about, Jase nonetheless steps up to the plate as her father and Scott offers his full support. Having an instant family comes with plenty of challenges, and the two men work to deal with sweeping changes in their lives and to make things right for Kerry.
It's not going to be easy, and their new circumstances test them and their relationship like nothing ever has. They'll need all the love they have for each other–and the love they discover for their daughter–to keep from breaking apart…Read More.
---
Reviewed by Tori (Vicki)
TITLE: Snow Blind 
SERIES: Dreamspun Desires #29
AUTHOR: Eli Easton
NARRATOR: John Solo
PUBLISHER: Dreamspinner Press
LENGTH: 5 hours 39 minutes
RELEASE DATE: April 5th, 2017
BLURB:
Snow, steam, and secrets.
The latest snowstorm carries something unexpected to the doorstep of Hutch's secluded Alaskan cabin: a stranger named Jude, the most beautiful man Hutch has ever seen. Jude says he's in the area for a ski trip and that he fled a domineering lover, thinking he could make it into town. But Hutch is a suspicious SOB and treats his unwanted guest warily. The problem is Jude isn't just gorgeous, he's funny and smart and flirtatious.
Two gay men snowed in for three days—things happen. Really good things. By the time the storm clears, Hutch finds himself a little too attached to Jude Devereaux, San Francisco-based male model. But is Jude what he claims to be? Or is he entangled in the secrets Hutch moved to Alaska to escape?…Read More.
---
Review by: Alexander
TITLE: Wedding Favors
SERIES:  Bluewater Bay book 7
AUTHOR:  Anne Tenino
NARRATOR: Nick J Russo
PUBLISHER:  Riptide Publishing
LENGTH: 8 hours, 14 minutes
RELEASE DATE: April 13, 2017
BLURB:
Lucas Wilder's best friend is a traitor. First, Audrey moved back to their hick-infested hometown, Bluewater Bay, and now she's marrying a local. His own brother, in fact. And as her man of honor, Lucas gets coerced into returning for an extended stay. Although, between his unfaithful ex-boyfriend and his artist's block, going home isn't the worst thing that could happen. Even if the best man is Gabriel Savage, Lucas's first crush, first hookup, and first heartbreak.
The only reason Gabe hasn't been waiting for Lucas to return to Bluewater Bay is because he never thought it'd happen. Not that it matters now that Lucas is back – Gabe's still a logger who's never been anywhere (Canada doesn't count), and Lucas is now a famous sculptor who's been everywhere twice. Plus, there's that shared past.
When Audrey asks Lucas to make her wedding favors, the only place to set up a kiln is at Gabe's tree farm. Soon, they pick up where they left off 12 years before, then blow past it, discovering why neither of them forgot the other. Now they have to choose how much of their history they'll repeat, and what future they'll make together…Read More.
---