REVIEWED by Caroline
TITLE: No Safeword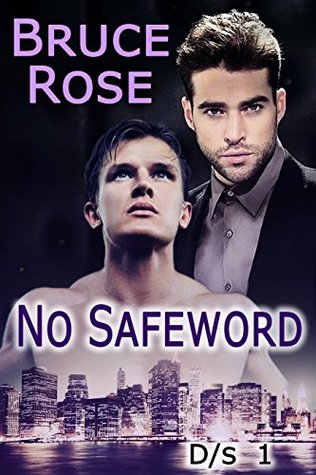 SERIES: D/s Book 1
AUTHOR: Bruce Rose
PUBLISHER: Self Published
LENGTH: 164 Pages
RELEASE DATE: October 12, 2016
BLURB:
Please be aware: this is book one of a three-book series. They must be read in order. This series contains BDSM fear play and sexual practices that may offend sensitive readers.
Deliciously dark, deceptively dangerous…
Businessman Caleb Blackthorne has it all; looks, money, power, but he's also a high-priced Dom, an extracurricular profession he must keep hidden. When one of his secret clients has a very public meltdown, Caleb retreats, suffering without an outlet for his rough needs. At the darkest moment, a man makes him a surprising offer: complete submission at any price Caleb demands.
Desperate to hire the Dom of his dreams, self-made billionaire Oliver Carrington offers himself without reservation: no safeword, no restrictions, no limits. Despite the dangers, or perhaps because of them, Oliver reaches levels of ecstasy he's never known and finds freedom from a past that has haunted his every step.
But as Oliver's need for ever-more intense fear play grows, Caleb's interest turns from professional to personal, heightening the danger of discovery. For one of them, exposure means nothing; for the other, it could mean the loss of everything—a possibility that only makes their risky liaisons all the more exhilarating.
The last thing either man expected was to fall in love…
REVIEW:
Caleb and Oliver are rich beyond your wildest dreams. They are both closeted gay men who like a bit of kink in their private lives but it is all done discreetly and strictly behind closed doors. Caleb is a very expensive Dom for hire and Oliver has the means to hire him – convincing him is not easy until he offers up the ultimate prize – no safeword and no limits. A new sub and no safeword raised all sorts of red flags for me and left me uncomfortable and worried for Oliver's safety.
There isn't a great deal of story in No Safeword, although we do learn a little about Oliver and the trauma and abuse he suffered at the hands of his family. The main thread here is sex; it is plentiful, creative and downright dirty, and I never thought I would say this, but there was just too much. If they weren't having sex they were thinking about it – there was even underwear theft and a bit of sniffing going on and really I just wanted to get to know Caleb and Oliver a bit better and not when they were naked. I think because of the lack of character development, I finished the book not really knowing much more about the men than when I started apart from the fact that they liked a lot of kinky sex and they were both rather good at it!
If you are looking for a quick and easy read with plenty of kinky times then this could be for you. Caleb's and Oliver's story continues on in No Restrictions and No Limits.
RATING:
BUY LINK: