REVIEWED by Caroline and Jen B.
TITLE: Devour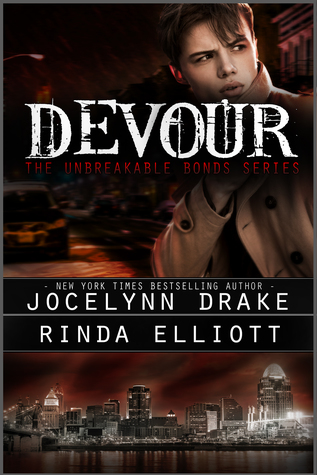 SERIES: Unbreakable Bonds #4
AUTHORS: Jocelynn Drake and Rinda Elliott
PUBLISHER: Self Published
LENGTH: 249 Pages
RELEASE DATE: April 28, 2017
BLURB:  Ian Pierce is the chef and part owner of the hottest restaurant in Cincinnati, his chosen family is full of happy relationships, and the scruffy, snarky cop who has been haunting his dreams is one step closer to being in his bed. But everything comes crashing down when the past he narrowly escaped nine years ago comes to a deadly head.
Hollis Banner was enamored of Ian at first sight. He's kept his distance, knowing the gorgeous, self-confident man is out of his league. Yet there's no standing aside when Boris Jagger escapes a raid. Jagger's world has been nearly destroyed and this time, the crime boss is coming after Ian and his friends personally.
Hollis will do whatever it takes to keep Ian safe as they escape to a safe house with a couple of Ian's overprotective friends. And Ian finds himself in a race to unlock painful memories—memories containing information that could take down the very last of Jagger's illegal operations forever.
CAROLINE'S REVIEW:
Devour is book 4 in the Unbreakable Bonds series and it finally brings us Ian's story after feeling like we were teased about it forever. This is a series that you need to read in order and from the beginning as each book and couple is pivotal to the overall storyline. Ian strikes me as the younger brother who the older brothers aka Lucas, Snow and Rowe all want to coddle and protect and he certainly needs protecting from the devious and deviant Boris Jagger. The other man in the equation though is Hollis Banner who is equally protective of Ian but wants far more than friendship.
Sparks flew between Hollis and Ian from the moment they met but the timing has never been quite right so far. In his haste to protect Ian Hollis goes undercover in his job to flush Jagger out but as you would expect things go awry, Jagger is left even angrier and nobody is safe, least of all Ian, until the man is either finally caught or dead. Catching him or killing him is not proving easy and the men decide to divide themselves in order to conquer and Ian is sent away with Hollis as his bodyguard.
There is a real sense of family in this series and between these men. They live and love hard and their partners have to understand from the beginning that if they date one they must put up with them all. Hollis fits in with the group pretty easily and always having Ian as his number one concern ingratiates him to the other men and earns him their respect.
There are some tense moments as Ian battles his past and questions his place in his friend's lives. There are some hot moments as Ian and Hollis come together. There are some sad and bleak moments as Ian is forced to remember his past to aid his future but throughout every single one of these moments Hollis stands next to him and prevents him from falling.
Devour ties this series up BUT it also leaves it wide open for more and word on the grapevine is that there will be more as well as a new series that features our favourite men once again. This one leaves everything tidy and the guys all loved up. Jocelynn and Rinda did a superb job once again and I would highly recommend the entire series.
RATING:  
This story has been a long time coming, and it was worth the wait!  Ian is the sweet guy the gang all fiercely protects due to his background.  He was one of the boys Jagger had as a pet who suffered quite a bit from that abuse.  He was saved by the guys years ago, but has never forgotten or been able to put that past truly behind him.
Hollis is the sexy cop who has been involved along the way with the various situations the gang has come across in the past few years.  He took an immediate liking to Ian, and knows most of his past, and even though Ian seems interested as well, there is a big wall of alpha males to get past in order for them to become a couple.
It seems like these guys have been chasing Jagger down forever!  Just when you think they are getting close, there is another distraction and he slips away.  When things go down this time, the guys all gather at a safehouse as they try to come up with a plan to end things with Jagger once and for all.  What fun it was watching Ian and Hollis start to kindle their relationship in a house full of protective friends!  Rowe was hilarious and the first to be on board with the couple.  The others took a bit more warming up, but it was fun to watch.
On the not so fun side, Ian was trying his hardest to remember things that might be important, things from his past that might help them save the current batch of boys in Jagger's clutches.  Ian's struggles, both past and present, are heartbreaking, but it is the bonds of these friends who make up a family that provide a support system that is definitely unbreakable.
This is a fabulous series, and I'm sorry to see it come to an end.  I am thrilled, however, that a spinoff is in the works, and I can't wait to see where that takes us and hope to see some of these wonderful characters again.
RATING:    
BUY LINK: