Reviewed by PizzyGirl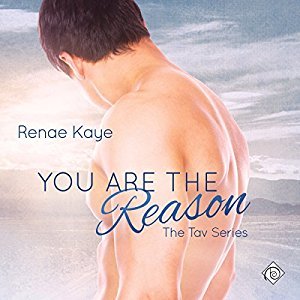 TITLE: You Are the Reason
SERIES: The Tav #2
AUTHOR: Renae Kaye
NARRATOR: Dave Gilles
PUBLISHER: Dreamspinner Press
LENGTH: 8 hours, 19 minutes
RELEASE DATE: March 1, 2017
BLURB:
A Novel in The Tav series
Davo's a pretty average guy. He has a decent job, owns his own home, and spends his weekends at the pub. He fully accepts that he's gay, but doesn't want to be one of those gays who are girly. He likes football and other masculine pursuits, and firmly avoids anything that could be seen as femme—including relationships that last beyond fifteen minutes.
Then Davo's friend and gay idol not only gets a boyfriend, but also adopts a baby girl. Davo is seriously spooked and scuttles down to the pub. That's where he meets Lee, cute from her cherry-red hair to her pretty little dress and pointy red shoes. Davo is charmed—but how is that possible? He's gay. Isn't he? Then Lee tells him he's actually a guy—he just likes to wear women's dresses occasionally. Thoroughly confused about an attraction that's out of character for him, Davo begins the long journey to where he can accept himself without caring what everyone else thinks.
STORY REVIEW:
I loved this story in ebook format and I loved it again in audio.  You are the Reason had it all. There was a homophobic gay man, with a minorly angsty backstory, who only ever wanted to fit in but instead was forced to reconsider everything he has ever thought about himself, the world around him, and being gay. There was the all knowing oracle, Mr Magic 8 Ball. There was a baby who should win the world record for nasties poo event and who stole her uncle's heart with ease. There was more Jake and Patrick and their oh so loving union. There was an understanding and wise cross dresser with fantastic negotiation skills, who brought out the best in everyone around him, especially in Dave. But most of all, there was heart and so much humor I got a fantastic ab workout. There were several times I laughed my ass off at the antics of Lee and Dave, especially the scene with the "mega-poo with bacteria strains never seen before by man, along with a stink that could never be replicated in a laboratory."
Dave and Lee were great characters. Polar opposites on the outside but perfect compliments on the inside. Their romance was fabulous.  Dave was so messed up from a childhood event that he had closed himself off to so many possibilities for happiness. He was absolutely miserable. I have to be honest and admit that for a while, I was worried that I would never grow to like Dave. Then Lee walked into his life and things started to fall into place. Lee was so insightful from the very beginning and easily discerned the source of Dave's issues. Lee then took the reins in his pretty little hands and steared Dave in the direction of love and happiness.
Lee was the star of this show as far as I was concerned because, as the title states, he was the reason. He was the reason for Dave to be the best Dave he could be. Lee was perfectly crafted for Dave and Lee was the perfect way for the author to let the reader see into Dave. Dave's internal struggles, Dave's reactions to Lee, Dave's interactions with Lee's family were all perfectly placed to not only move the story forward, but to paint a fantastic picture of Dave as a whole without having to resort to an info dump. It was a clever way to incorporate plot, characterization, and relationship together into one cohesive story.
I love Renae Kaye's imagination and writing style. The tone and flow perfectly complimented the purpose and humor of the story. This was a low angst and fun journey and the writing only helped reflect that. I loved the way this story was a mix of established gay man, yet had a vulnerable, almost "coming out" quality at times as Dave finally opened his eyes and surveyed the world around him through unfiltered glasses. It was a fantastic mix that was well done.
I loved this story. I loved Dave. I loved Lee. I loved Lee and Dave together. I loved Maxine. I loved Lee's family. I loved Dave's family. I loved the ending and the feeling of happiness I had when this story was over. I loved this book.
NARRATION REVIEW:
I have to be very honest here, I was disappointed that Jonathan Young did not reprise his role as narrator. He was perfection for the first book in the series and I was hoping for his return. However, Dave Gilles did an admirable job on his own and his narration was wonderful. He was so easy going and his narration really sounded like he was having fun with this story. He brought out the characters and emphasized all the funny parts. I enjoyed listening to his take on Davo and Lee and had he narrated the first book, I would have loved that one too.
RATING: 
BUY LINKS: