Reviewed by Amber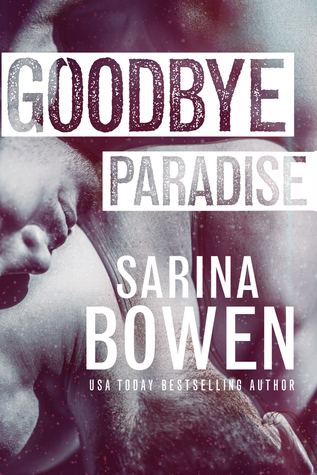 TITLE: Goodbye Paradise
SERIES: Hello Goodbye #1
AUTHOR: Sarina Bowen
PUBLISHER: Self Published
LENGTH: 266 pages
RELEASE DATE: March 21st, 2017
BLURB:
Most people called it a cult. But for twenty years, Josh and Caleb called it home.
In Paradise, there is no television. No fast food. Just long hours of farm work and prayer on a dusty Wyoming ranch, and nights in a crowded bunkhouse. The boys of the Compound are kept far from the sinners' world.
But Joshua doesn't need temptation to sin. His whole life, he's wanted his best friend, Caleb. By day they work side by side. Only when Josh closes his eyes at night can they be together the way he craves.
It can never be. And his survival depends on keeping his terrible desires secret.
Caleb has always protected Josh against the worst of the bullying at the Compound. But he has secrets of his own, and a plan to get away — until it all backfires.
Josh finds himself homeless in a world that doesn't want him. Can Caleb find him in time? And will they find a place of safety, where he can admit to Josh how he really feels?
REVIEW:
This was quite frankly one of the most beautiful romance stories I've read in quite some time. This took innocent, young love and showcased it perfectly. I adored these two men together. Both so incredibly innocent brought up in an unbelievably backward reality but their faith and love in one another pushes them to get out and live their lives for themselves. I adored it. There was so much that really moved me. The side characters were just as amazing as Josh and Caleb. The unmitigated kindness in the people they met along their journey was so moving. All the little things in this story really pushed it over into phenomenal.
Josh and Caleb have only ever really known the extremely exclusive polygamist cult they were born into. Circumstances arise that have both Caleb and Josh on their own trying to survive in a world they know nothing about. Armed with a solid plan and the good heart of a complete stranger Caleb and Josh make their way across the country to what they hope is a new beginning and sanctuary.
Out of the cult Caleb and Josh are able to live their lives how they want to. And they are free to love who they want.
Josh has always known he wanted Caleb but he always thought Caleb wanted to be with a woman. Both men are awakened to a life where they can be together and love each other out in the open.
Safe, happy, and in love both Caleb and Josh have to learn how to banish the brainwashing of the cult and be secure in their life.
Like I mentioned there are so many absolutely perfect things about this story. I loved that Josh and Caleb felt comfortable enough to explore their love and the intimacy….killed me. It's so sweet and hot and perfect.
Absolutely amazing story…can't wait to read book 2….RECOMMEND.
RATING: 
BUY LINK: