Reviewed by Sarina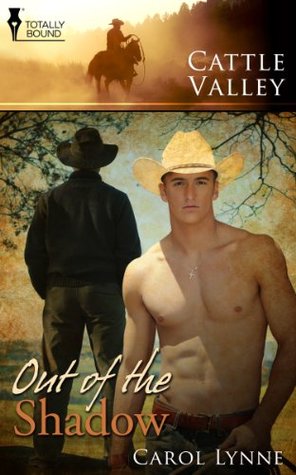 TITLE: Out of the Shadow
SERIES: Cattle Valley #6
AUTHOR: Carol Lynne
PUBLISHER: Pride Publishing
LENGTH: 97 pages
RELEASE DATE: August 25, 2008
BLURB:
Book six in the Cattle Valley Series When Shepard Black left the rodeo circuit, he thought his days of lusting after young cowboys were over. Now owner of the Backbreaker Ranch, Shep raises mean spirited bulls like the ones that used to toss him around the arena. It's a challenge, but he never imagined his best friend's son, Jeremy, would prove to be his toughest one yet. Watching Jeremy's long legs wrap around a bucking bull gives Shep too many ideas for comfort. Even worse, Jeremy seems to know exactly the affect he's having on his boss and teacher.
When Jeremy asks Shep to help him train for the upcoming Cattle Valley Rodeo Days, he has two goals in mind. To spend time with the man he's lusted after since he was a teenager and to beat his father. He's been through hell as the son of the reigning National Champion, and he wants his dad to have a taste of his own medicine. He might just get a taste of what he's longed for all this time, too.
REVIEW:
After the angst of the previous book, this latest installment was a nice break from the emotional turmoil. Shepard Black may not be on the rodeo circuit anymore but that hasn't stopped his appreciation for the younger cowboys. Well, it hasn't stopped in regards to one cowboy in particular. The problem? The young man in question is his best friend's son and is seventeen years his junior. Determined to keep his thoughts and hands to himself, Shep attempts to put distance between them but when the object of his desire asks him for help, he can't say no. Jeremy has lusted after Shep from the moment the sixteen year old got a look at the man and at twenty-one, that lust has only grown and changed into love. With the Cattle Valley Rodeo Days coming up, this seems like the perfect opportunity to spend time with the one man he's never been able to forget and if he plays his cards right, maybe he'll more than just a chance to compete.
This was a fairly easy going book; both characters were in love with each other but Shep was held back by the age difference and the fact that he felt guilty over his attraction while Jeremy isn't sure he can get past the space Shep has put between them. There was a bit of side story involving Jeremy and his father that added a little extra something to the book in general but I felt it acted more as a way to show how Jeremy has grown up than anything else while giving the two main characters a way to spend more time together. There were a couple of small cameos from familiar characters while some new ones were introduced that I'm looking forward to reading about in the future.
Overall this was just a nice pleasant read with minimal angsting that was a good way to spend a little bit of my afternoon. Filled with cowboys in a familiar setting, anyone who either has enjoyed this series so far or is a particular fan of may-december pairings should like this one.
RATING:
BUY LINKS: