Reviewed by Louisa
TITLE:  Unconditionally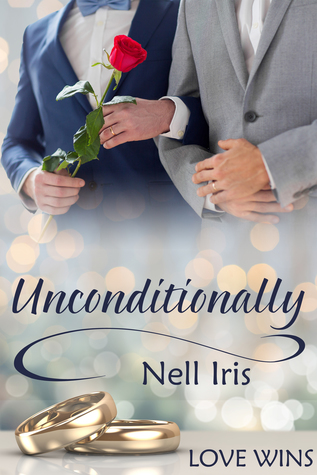 AUTHOR: Nell Iris
PUBLISHER: JMS Books LLC
LENGTH: 50 pages
RELEASE DATE:  March 4th 2017
BLURB:
Flamboyant book café owner Luca Moretti and geeky doctor Gus Hansen have been together for six years when the Supreme Court ruling makes same-sex marriage legal in all states. On June 26, 2015, Gus gets down on one knee and Luca screams yes.
On their wedding day, shortly before the ceremony, Luca's mother explodes in anger, calling him a freak. The reason? He's wearing a white veil, sprinkled with crystals.
Their relationship has been strained for a long time, and her words trigger traumatic memories. Instead of walking down the aisle, Luca runs.
Away from his mother. Away from Gus.
Gus counts down the minutes when Luca's mother comes knocking. He realizes something's wrong, but when he goes to talk to Luca, his husband-to-be is nowhere to be found.
Can Gus find Luca in time and manage to convince him to come back and get married?
REVIEW:
Unconditionally by Nell Iris is undoubtedly cute and sweet. And from the second chapter it is a really nice easy read, full of happy feelings. So I will let you know the two things I didn't like before jumping into the things that really worked for me in this book.
My biggest issue with this book is that the first chapter is when Luca and Gus meet. It doesn't meld with the rest of the book for me. There is absolutely nothing between them meeting in chapter one and their wedding day in chapter 2. You do learn that they have been together for years, but they leave the bar and get married in the book's sequencing.
My next issue is Luca and his mum. Their relationship annoyed me for the whole book. She is the cause of the tension in the book and therefore serves her purpose. But for me, it was like Luca ordered a side of hateful bigot and was then shocked when that's what he got.
Things I loved: Gus. He was a great character. Full of love and acceptance without the need to change Luca. He is the perfect man, a sweet geeky doctor. I am sure everyone is looking for the person in their life who loves them, no questions asked. And that is Gus. I really like his relationship with his mother. She is also a very good character. Her helpful nature and love works for this book.
Luca is a wonderful character. He is who he is. Luca, I believe, proves that a character in a book doesn't need to be all one thing. He isn't wearing a dress or a skirt, all he wants is the veil. And that really works. It is nice to see Luca being portrayed the way he is. A bit dramatic, but still a business man. He has history that affects him, but at the end of the day he still has his happily ever after.
Nell Iris has given us a very sweet happy read. This is the perfect story for a Friday night with a glass of wine after a long week at work. It is a Happily Ever After that at the end of the book makes you feel warm and fuzzy. I would recommend this book if you are looking for something light and happy.
RATING:
BUY LINKS: