REVIEWED by Caroline
TITLE: Exposed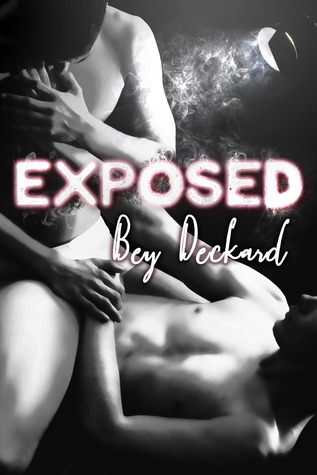 AUTHOR: Bey Deckard
PUBLISHER: Self Published
LENGTH: 264 Pages
RELEASE DATE: March 15, 2017
BLURB:
With middle-age looming, Greg offsets his boring day job with what truly feeds his soul: photography. The camera is an extension of himself where he exposes his passion for the intersect of pleasure and pain. However, the lens also acts as a barrier, protecting his subjects from the shameful mistakes of his past, and Greg is left isolated and lonely.
Emyr stands on the cusp of fame, but adulation and abuse are both eroding his confidence, and one night, at the river's edge, he seeks solace in the rain, hoping to hide his tears.
The photographer and the virgin rock star share an accidental connection on that dark, drizzly night. When Greg invites Emyr back to his hotel room, no strings attached, the young man should have bolted. Instead, an odd sense of trust allows him to follow Greg's lead.
When the camera comes out, Emyr learns the stage isn't the only place he loves to perform as Greg touches something inside him that rarely awakens. Faced with a beautiful, talented boy whose soul is as lonely as his own, will Greg be able to face his past and come to terms with it, or will he run from the connection he so desperately desires?
REVIEW:
Exposed is actually quite a gentle love story with a lot of hidden extras thrown in – as you would expect from Bey.
Emyr is a young up and coming rock star teetering on the edge of fame. From the moment I met him and saw his tears I wanted what was best for him. What Emyr lacks in experience he makes up in tenacity and from the start he is determined not to give into his nerves. He embraces everything including his new relationship which many people would call unconventional. Greg is 20 years older than Emyr. He works in IT but his life has become predictable. Burned badly in his previous relationship he has been celibate for the last five years. When he meets Emyr on a wet evening something immediately draws him to the young man. A job offer and a dose of bravery is about to change their lives and shake things up.
I loved the pacing of this story. I loved the blushes, the embarrassing moments, the discovery and the kink. The words flowed as Greg and Emyr each made discoveries about themselves and each other. I'm glad Greg wasn't such a sadist as he had been with his previous partners as that really wasn't what Emyr needed. They grew together and they helped each other heal their hurts. They were also off the charts hot together and they moved seamlessly into a relationship that they each made a priority. Lastly I loved the eroticism of the photo sessions and the way it became integral to the way they communicated – it started with honesty and brought them love.  I would highly recommend Exposed.
"cwtch daddy"
RATING: 
BUY LINK: