Book of the Week Poll
Welcome to the Love Bytes Book of the Week Poll!
Here are the books which achieved a 4.5 or 5.0 review last week from our reviewers. 
As a reminder, the top two books from each week's poll will roll into our Book of the Month poll at month's end. Happy Voting!
Please scroll to the very bottom for the voting section.
POLL SCHEDULE:
This poll will remain open until at least 6PM, Amsterdam time next Friday. The actual closing time will vary depending on blog staff schedules…
---
Reviewed by Dan
TITLE: Could You Love An Apple?
SERIES: Love Stories Book 2
AUTHOR: Becky Jerams
PUBLISHER: Self-Published
LENGTH: 546 Pages
RELEASE DATE:  February 20, 2017
BLURB:
Taylor Raven is starting over.
After a few difficult college years, he has decided to finally move away from Havensdale (and away from his father) to take a tennis coaching course in the tiny village of Westerfield.
The peaceful country life is exactly what Taylor needs to get away from it all. However, it is also incredibly lonely living by himself in the middle of nowhere. And no matter how far he runs, Taylor just can't seem to escape the mistakes of his past.
As he struggles to find any kind of meaningful connection, he comes across a place on the outskirts of the village that will soon change everything. The Apple Inn – a pub run by a curious, slightly eccentric family who welcome Taylor into their world with open arms.
Soon Taylor finds his guard dropping, particularly around the kind and fun-loving son of the family, Benjamin Apple. But the closer Taylor gets, the more he feels compelled to pull away…
Can Taylor ever fall in love again when the one obstacle in his way… is himself?…Read More »
---
Reviewed by Kat
TITLE: My Paradise Is You
SERIES: World of Love | Bermuda
AUTHOR: Lucie Archer
PUBLISHER: Dreamspinner Press
LENGTH: 97 pages
RELEASE DATE: March 1, 2017
BLURB:
When two very different men are stranded on a deserted island, will opposites attract, or will they end up killing each other—if the elements don't get them first?
Marc Reed is an expert scuba diver and leads underwater tours of the infamous shipwrecks scattered around Bermuda. When a robbery forces him and his boss's son—a man he despises on principle—to take shelter on an uncharted island, he might have to reassess his opinion of the spoiled snob.
Ian Blythe-Darcy II lives a life most would envy. He's a trust-fund kid being groomed to take over his father's empire of hotels and resorts. But it's not a life that matches what's in his heart. He's in the closet and engaged to a socialite he doesn't love, but he's about to get a crash course in being true to himself—and maybe learn money can't buy happiness after all.
---
Reviewed by Dee
TITLE: Change of Heart
SERIES: Hours of the Night
AUTHOR: Liv Rancourt
PUBLISHER: Self Published
LENGTH: 68 Pages
RELEASE DATE: March 01, 2017
BLURB:         
Preacher always said New Orleans was a den of sin, so of course Clarabelle had to see for herself…
Momma says a body reaps what they sow, and Clarabelle's planted the seeds of trouble. The year is 1933, and not much else is growing in the Oklahoma dirt. Clarabelle's gone and fallen in love with her best friend, so she figures it's time to go out and see the world.
If she's lucky, she'll find the kind of girl who'll kiss her back.
Clarabelle heads for New Orleans, and that's where she meets Vaughn. Now, Vaughn's as pretty as can be, but she's hiding something. When she gets jumped by a pair of hoodlums, Clarabelle comes to her rescue and accidentally discovers her secret. She has to decide whether Vaughn is really the kind of girl for her, and though Clarabelle started out a dirt-farming Okie, Vaughn teaches her just what it means to be a lady.
Change of Heart is a distant prequel to the other Hours of the Night novels, and can be read as a stand-alone…Read More »
---
Reviewed by Tammy
TITLE: Fallen Angel
SERIES: An Angel of 13th Street #2
AUTHOR: Eden Winters
PUBLISHER: Rocky Ridge Books
LENGTH: 239 pages            
RELEASE DATE:  February 27, 2017
BLURB:
2nd Edition
Who can save the rescuer of lost souls?
For ten years, ex-rent boy Noah Everett has fought the good fight, offering second chances to those still in the life. Now he's cracking under the stress. What began as a two-man mission is now going corporate, meaning rules, regulations and inexperienced volunteers needing guidance in a field Noah makes up as he goes along. Who can he turn to when his mentor's strength is all but gone and his lover is leaving for college—possibly for good?
Four years at State with a full ride scholarship will launch Jeremy Kincaid's future, but his present includes Noah, Doc, and the closest he's ever had to a family. And a meth addict who's become Jeremy's own personal mission.
An attack sends Noah spinning out of control. Jeremy has to find the way to reach Noah before the man he knows and loves disappears forever….Read More »
---
Reviewed by Marieke
TITLE: Until You
SERIES: At First Sight #3
AUTHOR: TJ Klune
PUBLISHER: Dreamspinner Press
LENGTH: 149 pages
RELEASE DATE: February 27, 2017
BLURB:
Together with their families and friends, Paul Auster and Vincent Taylor request the honor of your company at the celebration of their marriage.
Paul Auster and Vince Taylor just want to have a simple wedding. Really, is that too much to ask?
As the big day approaches, they struggle to keep everything from spiraling out of control. From meddling friends and intrusive family, to a certain drag queen's idea as to what constitutes a normal bachelor party, Paul and Vince have their work cut out for them….Read More »
---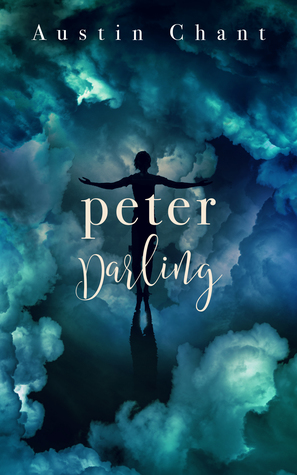 Reviewed by Chris
TITLE:  Peter Darling
AUTHOR:  Austin Chant
PUBLISHER:  Less Than Three Press
LENGTH:  164 pages
RELEASE DATE:  February 15, 2017
BLURB:  
Ten years ago, Peter Pan left Neverland to grow up, leaving behind his adolescent dreams of boyhood and resigning himself to life as Wendy Darling. Growing up, however, has only made him realize how inescapable his identity as a man is.
But when he returns to Neverland, everything has changed: the Lost Boys have become men, and the war games they once played are now real and deadly. Even more shocking is the attraction Peter never knew he could feel for his old rival, Captain Hook—and the realization that he no longer knows which of them is the real villain….Read More »
---
Reviewed by Tammy
TITLE: The Escort
AUTHOR: Jeff Erno
PUBLISHER: Sea to Sky Books
LENGTH: 265 pages
RELEASE DATE: January 30, 2017
BLURB:
At twenty-five, Travis Sheppard knows all about taking care of himself. He's been on his own since the age of seventeen, and he learned long ago how to use his assets and natural-born talent to get what he needs…and wants. Travis is a hustler, a male escort, and he caters to men of means who like to shower him with gifts and cash in exchange for his affection—sometimes for his mere presence.
When Travis accepts an overnight gig with a new client, he's surprised by the fact the customer has pre-paid. When Travis arrives at the gentleman's surprisingly modest home, he learns that his client is an accomplished, best-selling author. Darren, otherwise known as DJ Torrent, makes Travis a proposal. He wants Travis to accompany him to a gay literature conference. The catch is that for their five days together, Travis is to be more to Darren than just his escort. Darren wants Travis to pose as his husband….Read More »
---
Reviewed by Sarina
TITLE: Rough Ride           
SERIES: Cattle Valley #4
AUTHOR: Carol Lynne
PUBLISHER: Pride Publishing
LENGTH: 105 pages
RELEASE DATE: April 28, 2008
BLURB:
For rancher, Ezra James, life is pretty simple. He wakes before dawn and spends his day working with the cattle he loves. For twenty years, the EZ Does It ranch has been enough to drown out his loneliness and guilt. To the world, he appears impervious to everything. The only chink in his armour – the man who owns the clothing store in town.
Palmer 'Wyn' Wynfield caught Ezra's eye the first time the rancher stepped foot in the store. Though Ezra knew his large size intimidated others, his little self-confidence was shattered when Palmer backed away in apparent fear. In a moment of self-preservation, he referred to Wyn as Mr. Fancy Pants. That was six years ago, and he's never been forgiven.
An early morning phone call changes all that. Though the line is scratchy, Ezra definitely hears the words he's been waiting to hear for years. "I need you."…Read More »
---
Reviewed by Dan
TITLE: Brobots
AUTHOR: Trevor Barton
PUBLISHER: Self-Published
LENGTH:  269 pages
RELEASE DATE:  December 20, 2016
BLURB:
Artificial intelligence can't be programmed. It has to be grown. Some machines are learning who they are, and humans could do with a bit of that, too.
Jared takes home a cute man he finds in a dumpster and then gets drawn into a world of robots, parenting and conspiracy….Read More »
---
Reviewed by Danielle
TITLE: The Real Thing
AUTHOR: B.G. Thomas
PUBLISHER: Dreamspinner Press
LENGTH: 52 Pages
RELEASE DATE: March 1, 2017
BLURB:
2nd Edition
Bryan Mills has fantasized about cowboys all his life. Real cowboys, that is. He even dresses in what his roommate calls "cowboy drag" when he visits his favorite bar, in the hope of attracting the attentions of a genuine cowboy. But all he usually finds are posers and guys his own age.
Then one night, to his surprise, Curtis Hansen buys him a beer, and Bryan has no doubt this is the real thing. Curtis is a rugged, gorgeous man who is every bit a cowboy. He even owns his own ranch. What follows is about the most amazing night of Bryan's young life.
But can they move beyond a night of incredible sex when Bryan admits to Curtis that the only horse he's ever ridden was a birthday party pony? And that he's nothing but a poser himself? Maybe, just maybe, Curtis can find the real cowboy inside Bryan, and they can ride off into the sunset together!…Read More »
---
Reviewed by Sarina
TITLE: The Tyro
SERIES: The Dreamwalkers of Larreta Book 1
AUTHOR: Carol Holland March
PUBLISHER: Ellysian Press
LENGTH: 207 pages
RELEASE DATE: September 19, 2016
BLURB:
Larreta, home of the dreamwalkers, is being torn apart.
Rifts are forming and swallowing everything in their path. People, structures, entire villages, are disappearing. No one knows where the rifts come from or how to stop them. And they are getting worse.
Leo, a Senior Dreamwalker, is recalled from Earth, where he fled rather than face his failures. His heightened ability to connect with the past is crucial to combat the rifts. He's drafted to train a handsome new dreamwalker, Jesse: a young man whose own talents are part of the solution to stopping the destruction.
Together, the two must form a complicated passage through time and space, and they can only succeed with mutual trust. First, Leo needs to overcome his personal demons in order to make the necessary connection. But getting closer is not something he wants to do, in spite of his attraction to Jesse. However, the fate of more than one world rests on their success. And time is running out….Read More »
---
Reviewed by Tammy
TITLE: Admissible Behavior
SERIES: Marked Men #2
AUTHOR: Jenna Byrnes
PUBLISHER: Pride Publishing
LENGTH: 181 pages            
RELEASE DATE: February 28, 2017
BLURB:
Take one smart, sexy lawyer with tattoos covering his body. Add a macho, handsome Texan with a liquid-gold accent and enough hang-ups to drive a lawyer to commit a crime.
When Alex West told his parents he was gay they said, "Okay. What do you want for supper?" He grew into a happy, well-adjusted man and a sharp-as-a-tack lawyer. He has it all—except someone to call his own. Meeting Kyle Harbor for the first time, lots of thoughts run through his mind. Most of them dirty. Finally, someone sexy and available, and what a catch.
Kyle Harbor grew up with a homophobic father who spent years convincing him what 'real men' did and didn't do. They definitely didn't fool around with one another, and Kyle got a summer at Bible Camp to convince him. Married for nearly twenty years, he finally decided his beautiful wife deserved better and divorced her. Now he's looking for love in all the wrong places when he stumbles upon Alex and sparks fly. Can he battle his demons from the past, or is their relationship doomed before it even gets a chance?
Reader Advisory: This book contains references to homophobically motivated physical child abuse, some brief references to drug use, one brief reference to gang rape, and implications of a 'gay conversion program' in backstory.…Read More »
---
Duo Review by Cinnamon & Jen B.

TITLE: Between These Sheets

AUTHORS: Devon McCormack

PUBLISHER: Self-Published
LENGTH:  310 Pages
RELEASE DATE: February 20, 2017
BLURB:
"I fought one war on the battlefield. Now I fight another in my mind."
Jay is always on the run—always looking for the next place to start a new life. But no matter how much he moves, he can't escape the painful memories that haunt him. As he settles into his latest job in the warehouse at a glass bottle factory, he finds himself the target of his co-workers' teasing. When he takes a stand against one of the bullies, a fight breaks out. His boss, a war vet named Reese, steps in, and Jay accidentally shoves him to the ground, revealing Reese's prosthetic leg. Jay's sure he's gonna lose his job, but he's blown away when he's given another shot.
Reese is annoyed by the new guy. Jay is reckless and temper prone. Maybe Reese shouldn't have given him a second chance, but his attitude reminds him of his war buddy—a guy who he cared deeply for and who he lost under tragic circumstances. He just hopes Jay doesn't let him down….Read More »
---
Reviewed by Dee
TITLE: In Cold Blood
SERIES: Urban Wolf
AUTHOR: Naomi Clark
PUBLISHER: Evernight Publishing
LENGTH: 157 Pages
RELEASE DATE: February 02, 2017
BLURB:         
Phoebe Fairley wanted to be a librarian. Somehow, she's become a vampire hunter. Women are dying across the country and the police are baffled. Phoebe's just supposed to be gathering information on the deaths, but as the body count mounts, she can't help but break the rules and get involved. She knows what the killer is – and catching and containing it is vital. If she can persuade the police to believe her, and keep her secretive bosses happy, she stands a chance of capturing a very real, very deadly vampire. Not bad for a werewolf who can't shapeshift.
Aisling is happy living as a feral wolf. She's got no time for human affairs, until a mysterious creature attacks her and leaves her in human hands. Now, if she wants her life back, she'll have to join Phoebe's hunt. There are just a couple of snags. One, she hates humans. And two, she's falling hard for Phoebe. With a monster to catch and her own past to protect, will Aisling trust her head or her heart?…Read More »
---
Reviewed by Sarina
TITLE: Love Tokens
AUTHOR: Megan Derr
PUBLISHER: Less Than Three Press
LENGTH: 13,000 words (approx. 43 pages)
RELEASE DATE: February 22, 2017
BLURB:
Chanda is the Lord of Honey Flower House, which caters to those who have a taste for the paranormal between the sheets. Being an incubus makes him all the better at the job, even if it also leaves him lonely. Then a demon appears on his doorstep in search of a missing person, and Chanda is quickly reminded why he prefers the relatively quiet life as master of a pleasure house—but also reminds him of a bitter past he's tried to leave behind, and dreams he gave up on a long time ago….Read More »
---