Reviewed by Sarina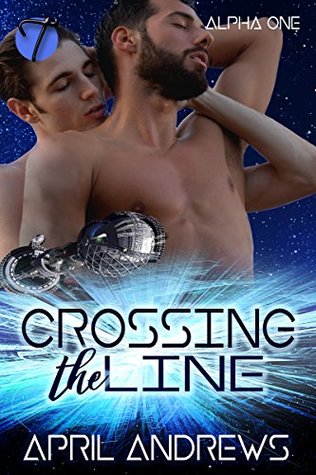 TITLE: Crossing the Line
SERIES: Alpha One Book 1
AUTHOR: April Andrews
PUBLISHER: Twisted E-Publishing
LENGTH: 163 pages
RELEASE DATE: February 12, 2017
BLURB:
In the year 2152 the last of humanity lives on a series of generational spaceships. Twice a year, on the ship known as Alpha One, five scouts are chosen to head out into deep space and find places where Alpha One can re-stock its supplies.
Tobias Hark, newly qualified pilot, is one of those scouts but Tobias isn't being sent on his mission alone. He has been paired with his commanding officer, Javier De Santos. Javier also happens to be the one man that Tobias has been crushing on ever since he joined the pilot unit. But there are rules on Alpha One and those rules mean that Tobias can never let his superior officer know how he feels.
Javier has been following those rules too, despite the fact that he has lusted after Tobias from the day they met. But when their ship lands on a strange planet, and they have to make some drastic decisions in order to survive, Javier soon realizes that if there is ever a time to break those rules it is now. Because protecting Tobias has just become his priority and the only way that Javier can do that is by crossing the line.
REVIEW:
Living in space can be hard but living with the forbidden object of your affection makes everything else look like a cake walk. Tobias has been in love with his commanding officer, Javier, ever since he met the other man and despite his best efforts, he can't make himself feel any other way. When he's selected for a special scout mission on his first rotation, Tobias is understandably thrilled but when he finds he'll be accompanied by Javier, and that they'll be stuck together for weeks…well. Being physically tortured would probably be kinder. Despite the awkwardness between the two men, they work well together but when their mission unexpectedly pear shaped, Tobias and Javier will have to rely on each other more than ever if they want to make it back home. Sometimes the best way to hold the line is by crossing it.
For an introduction to this author (who was new to me) this was a pretty darn good way to say hello. 😀 I always love getting into a new sci-fi because there is just so much that can be done with that genre and I never know what to expect. I liked the overall concept of the story, not only because I found it interesting, but because it allowed for quite a bit of one on one time between Tobias and Javier to ratchet up all that wonderful UST. I will admit, there was a greater focus on the emotions and feelings between the two main characters than I was expecting, probably because I usually read sci-fi stories that are more focused on the plot, but I enjoyed that change from what I'm used to. The story itself was fairly easy going until you really get into the mission that Tobias and Javier were sent out on and then things got really interesting; not only did that signal a change in their relationship but it led to a situation so unexpected that I was caught completely by surprise. (I loved that)
The story, while not overly dramatic, was entertaining enough to grab and hold my attention and I plowed through it in less than two hours because I was so engrossed in it. I would've really liked to have seen more of life aboard Alpha One and was a little disappointed that I didn't get that level of detail but this was an overall enjoyable read that opened up the way for a lot of different scenarios in the following books. I'm looking forward to seeing where the author takes this series and I will certainly continue reading it. If you enjoy sci-fi but want something a little relationship driven, I'd totally recommend checking this one out.
RATING:
BUY LINKS: