Reviewed by Amber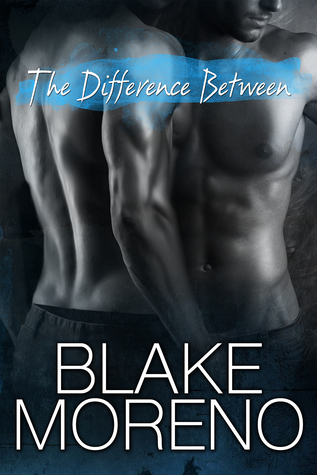 TITLE: The Difference Between
AUTHOR: Blake Moreno
PUBLISHER: Dark Ink
LENGTH: 242 pages
RELEASE DATE: January 17th, 2017
BLURB:
Wade Maguire and Russ Paulson are in love. After a year of passion and happiness, they're buying a home and moving in together. Everything is rosy for them—until a jealous and insane ex from Wade's past puts all of that to the test.
After being kidnapped and tortured by his deranged former lover, Wade loses his ability to engage with his own sexuality or with Russ. With the help of a psychologist, EMDR therapy, and a sex plan, they work together to overcome the damage inflicted. In the process, they discover wells of love they've never known before.
As passion is reborn and their sex life reignited, Wade realizes a need to re-experience certain events in Russ's loving arms. For Wade, the difference between pain and pleasure is love, and the difference between rape and rough sex is consent.
Dark, and yet ultimately hopeful, this book contains many emotional and graphic sex scenes, as well as some scenes of torture. This book deals with rape and rape recovery. Proceed with care.
Stand-alone with a happy ending.
REVIEW:
This book comes with intense TRIGGER WARNINGS, please heed them!!
I really don't know where to start with this book. When I say this is an unbelievably intense book, I'm not joking. There were parts that I actually had to put the book down. The author had an amazing foresight when planning out this story. You can actually skip the most horrific chapters and not really feel like you missed out on anything. I read the whole thing though and it is just about as horrible as you can imagine. This story is so well thought out, so well told. You can't help but get sucked into the lives of these characters and despite all the pain this is a love story. A story about overcoming to unimaginable horrors, survival, recovery, and what happens next.
Wade and Russ thought they were getting their "happily ever after." What started as hot hookups quickly turned into love which led Wade and Russ to start building their future together.
Wanting to mend a friendship in his past results in Wade being kidnapped, raped and tortured. After surviving unimaginable horrors and back safely with Russ Wade has to figure up how to pick up the pieces and build a new life with the man he loves.
I think an aspect of this story that I found remarkable was Russ's love for Wade. It is the epitome of unconditional. His patience, his resilience, his understanding was beautiful and I also love how Wade never gave up. So many times he could have thrown in the towel but he didn't. He kept fighting…he fought for Russ, his friends, his family but mostly he fought for himself and for the life he deserves.
This book is painful there's no way around it but it's also so beautiful and hopeful. I loved it.
Recommend.
RATING: 
BUY LINK: