Reviewed by Amber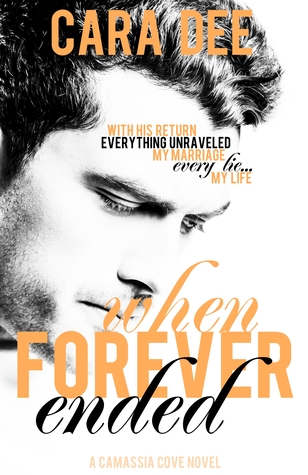 TITLE: When Forever Ended
SERIES: Camassia Cove #2
AUTHOR: Cara Dee
PUBLISHER: Self Published
LENGTH: 183 pages
RELEASE DATE: November 30th, 2016
BLURB:
At ten years old, Kelly and I were two rambunctious boys who carved our initials into a tree in the forest. We promised to be best friends forever and bumped our fists to seal the deal. I never should've kissed him that summer before college. It was a day that buried me in shame, a day I spent the next twenty-four years regretting, a day I never told anyone about.
At forty-three, depression was suffocating me. Not even my wife and two children could lift the heavy fog. I was riddled with guilt and self-hatred, and I was starting to realize that I would slowly fade away until nothing remained. Then one day, Kelly was back in town.
REVIEW:
First and foremost I absolutely LOVE this author. Her books reach into my soul, every single one that I've read has impacted me and I love that about her writing.
When Forever Ended speaks on mood disorders like depression, anxiety, and panic attacks like no other book I've read before. The sadness in this book is all consuming, almost to the point where it was bringing me down with the characters. To me, that's a testament to the amazing gift Cara Dee has. The ability to inspire these emotions in her readers is amazing to me. And this book made me feel all kinds of things. It was quite remarkable.
Essentially homophobia and shame tore William and Kelly apart at a very young age. Driven by deep seeded shame both men buried years of intense friendship under new relationships and built new lives.
William was never the same after losing his friendship with Kelly. He tried years later…he's married and has a family but depression and anxiety always played a factor in his life.
During a pretty intense bout of depression he learns his childhood best friend is back, to stay and it throws him for a loop.
Kelly too tried to build a life. He has a son and wants to rebuild what he lost so long ago.
William and Kelly learn the love they had is still present and stronger than ever. But there are hurdles that need to be overcome.
This story is an intense emotional rollercoaster. Like I mentioned this author makes you feel everything these characters go through and more.
If you couldn't tell I loved this one. If you're new to the Camassia series this is definitely a stand alone as well as book 2.
Absolutely recommend.
RATING: 
BUY LINK: