Reviewed by Kat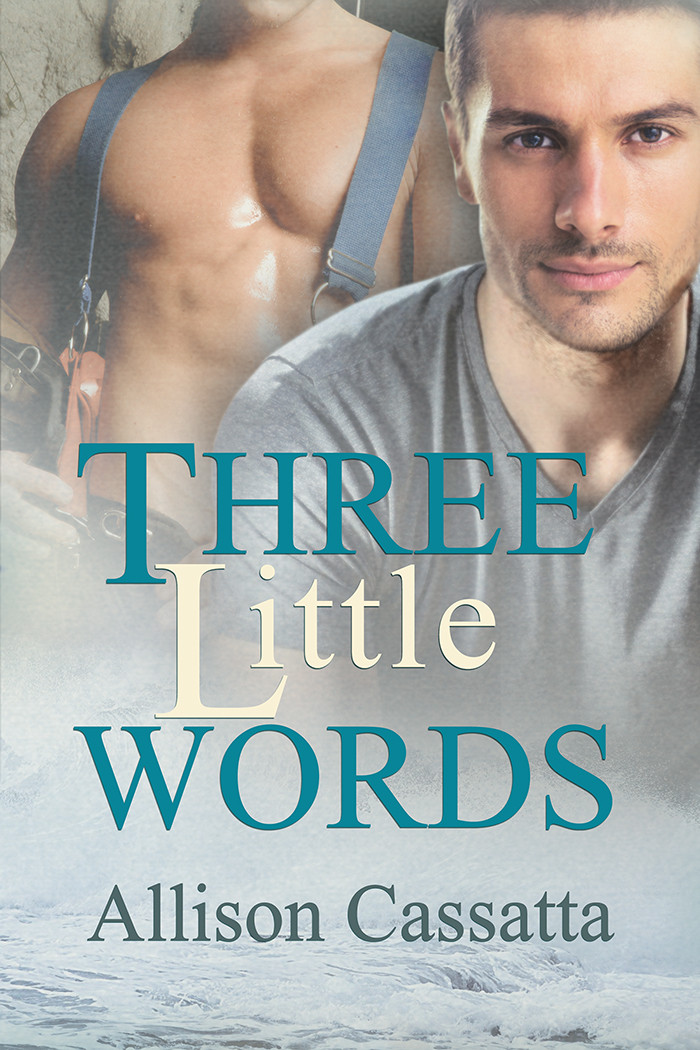 TITLE: Three Little Words 
AUTHOR: Allison Cassatta 
PUBLISHER: Dreamspinner Press 
LENGTH: 202 pages 
RELEASE DATE: August 26, 2016 
BLURB: 
Is it better to keep some secrets locked away?
Matt thought his life was perfect, but he learns there's no such thing when the man he planned to marry breaks his heart and leaves him holding the pieces. Needing to escape and lick his wounds, Matt heads to New England to spend time on his brother's lobster boat. A one-night stand proves to him that empty sex does nothing to mend old hurt, and neither does running away.
So when Matt's best friend, Luke, a firefighter, is seriously injured, Matt steps up, even if it means facing bigotry and ignorance. Luke has been hiding his feelings from Matt all their lives, and  revealing them after so many years won't make life easier for either of them. But nothing worth having ever comes easily….
2nd Edition 
REVIEW:
This is a fast paced novel about a man that has hidden his true self from everyone his entire life for fear of what will happen when that truth is exposed to his homophobic parents.
Matt thought he had the perfect life. A partner in Brandon that he adored and was waiting for "just the right moment" to propose to. Matt returns home to Memphis from a three week business trip where he went in and repaired a whole neighborhood after a natural disaster hit for a fair and reasonable rate instead of gouging people in their time of need. It's hard work but he wants the nicest things for his partner and it takes hard work to earn them. When he winds up taking a cab home from the airport after waiting three hours because Brandon fails to pick him up, he is confused to walk into his home and find no Brandon. He is devastated when he finds a "Dear John" letter instead of his lover to greet him.
In steps Luke, his best friend since high school, who is a local fire fighter. Luke steps up to comfort his grieving and baffled friend. Only he winds up confusing Matt even more when he kisses him. Matt had always thought that Luke was straight. Matt confesses that he is totally blindsided but has always wished he could be with Luke. Then Matt drops the bombshell that he has told his older brother he would come up and lobster fish on his commercial boat in New England for awhile to get his head straight. While up in New England, Matt has decided he wants to know if this could work between the two best friends without ruining their friendship. But, he has a commitment he has to fulfill with his brother. Matt goes out on the trip and when he returns and gets off the boat he discovers that Luke has been gravely injured in a fire. He rushes to his best friends side. "Three Little Words" is the story of what happens when friends risk everything to take a chance on each other.
Matt is a good guy and a provider. He will do anything to make sure that his lover is well taken care of and living the life he believes he should have. Luke, who is either a bit of a klutz or just incredibly unlucky, cares deeply for his best friend. More deeply than Matt ever realized. Twenty years is a really long time to keep something this big a secret but the opportunity never presented at the right time before. Brandon, Matt's ex is a total schmuck! Matt gave him everything on a silver platter and he devastated his trust.
I can understand both Matt and Luke. Matt has just been blindsided by his partner of five years that up and left with only a "Dear John" letter left behind. How cold-hearted and cowardly can a person be. And I totally get where Luke was at also. He had longed in his heart for Matt but couldn't tell him because he was always "with someone" in a relationship and he also feared what his homophobic conservative Christian parents would think if they truly knew about their only son.
"Three Little Words" is a short, sweet romance of friends-to-lovers. It, at times, seemed a bit rushed and could have benefited from a longer, more complex story.
BUY LINKS: