Reviewed by Chris
TITLE:  His Royal Favorite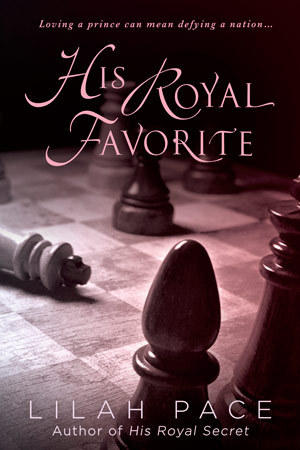 SERIES:  His Royal Secret #2
AUTHOR:  Lilah Pace
PUBLISHER:  InterMix
LENGTH:  245 pages
RELEASE DATE:  August 16, 2016
BLURB:  
The conclusion of Lilah Pace's racy, romantic male/male duology following His Royal Secret…
James, Prince of Wales, is making history. He's decided to come out to his subjects—and the world. However, telling the truth means exposing his relationship with lone-wolf reporter Benjamin Dahan. Although Ben never wanted commitment, the unexpected depth of his feelings leads him to join James in the media's harsh spotlight.
When the news story explodes across the globe, Ben can endure the mockery and dirty jokes. But after his tragic past is cruelly revealed, his life begins to implode. Can even his love for James be worth this?
James has it no easier. His revelation divides the country and sparks turmoil within the royal family. He must struggle to defend not only himself and Ben, but also his younger sister, who hovers on the brink of a breakdown that could endanger her life.
Is Ben strong enough to survive the onslaught and stand by James' side? And will James have to make a choice between Ben and the crown?
REVIEW:  
I am in a romantic relationship with Prince James, currently Prince Regent and head of state for the United Kingdom.
He loves me, and I love him. I'm in love the way I thought only fools and children could ever be. I spent my whole life being the most cynical bastard in the world, and I never believed in fairy tales, so of course an actual, literal Prince Charming came along.
Oh, and by the way, the next king of England is gay. Might want to assign someone to write a piece on that. His coming out will probably be the biggest news story of the year.
Deciding to stay with his lover James is a cakewalk compared with actually doing it. Because no matter how much Ben may love James there is just no getting around the fact that James is Heir to the throne of England and currently Regent because of his grandfather's health. While coming out might be stressful for James, it is Ben who gets all the flack. The press hound him, the country as a whole seems to hate him, and he never envisioned a life where everything he did was scrutinized, picked apart, and trashed in every newspaper and news broadcast. Ben is finding out that while he may love James, he might not be able to live a life with him. Some people were not made for the spotlight, and this taciturn writer seem to be one of them.
His Royal Favorite picks up right after the ending of the first book, His Royal Secret. It is pretty much imperative that you read the first book before starting this one. The story is basically split in two between the books. On the bright side, book one is really good, and now that book two is out you can read the story the whole way thru and not even need to stop.
I found myself totally smitten with this story and these characters. While Favorite tends to get a bit more angsty than Secret there is no denying that every page was well worth the uncertainty.
I loved how it did not downplay Ben's issues with his sudden and infamous popularity and how that all affected his relationship with James. While Prince Charming sweeping off his love to a castle and living happily-ever-after works great in fairy tales, in real life nothing's that easy. Even if the dude is actually a prince. Ben is really not made for that kind of life, and has no way to even imagine how bad it could get. And when it exceeds his expectations he is forced to realize that HEAs are damn hard work…and sometimes not even possible despite the love that sparked them. His struggle to find himself and find a place where he can exist inside of the expectations of a nation and his new role, made me appreciate the ending all the more. It also made me wish there was a book three. Because damn that would be awesome.
Some of the other high points in this book include James' relationship with his sister Indigo, and Indigo's struggle with depression and self-harm. This was handled really well in this book (if not always by her family) and I'm glad the author did not just leave this thread to disappear under the sheer weight of all the other plotlines. A lot of James' actions are in direct relation to Indigo's problems, and I liked that it didn't simply get fixed with James coming out. But mostly I like Indigo as a flawed, but entirely interesting character, that adds a bit of heart and depth to this story. The crown becomes something more than just a responsibility to James, a duty he has to perform. It makes it so that every decision has an impact that can be seen in real life. Not just some poll numbers or newspaper circulation counts.
I really cannot recommend this series and this book enough. It is incredibly well written and the characters really pull you in and never let go. It is witty and fun, but also has a serious edge that keeps you in suspense till the last chapter.
RATING:  
BUY LINKS: