Reviewed by Tammy
TITLE:  Caged Angel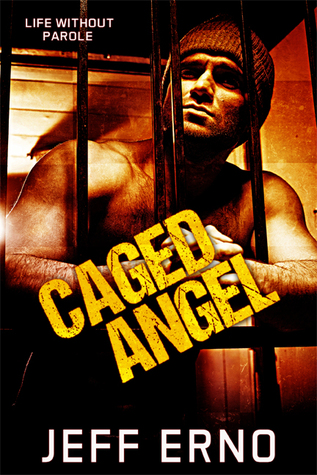 SERIES:  Life Without Parole, #2
AUTHOR: Jeff Erno           
PUBLISHER: eXtasy Books     
LENGTH: 92 Pages 
RELEASE DATE: July 29, 2016
BLURB:
Love can bloom in places least expected and can thrive even in the darkest corners.
Jeremy Banks did not at first hit it off with his assigned cellmate Trey Palmer, but somehow the two manage to form a bond that develops into something special, something beyond anything Jeremy could have ever hoped or dreamed. He begins to really settle into his new life behind bars and volunteers as a trainer of rescued greyhound dogs. He and Trey grow closer and their relationship becomes physical, until unexpected tragedy strikes.
REVIEW:
In this instalment Jeremy has signed up for the Second Chances program. Second Chances gives abused greyhounds a second chance at life and the prisoners feel that they've also been given a second chance to love and care for another being. Jeremy loves Shadow so much he feeds him table scraps, lets him sleep on his lap and generally spoils him rotten.
Trey has another visit from his new step-father James. James is a lawyer who has looked into Trey's case and has realised there are ample grounds for and appeal. Trey can't let go of his guilt over what happened and refuses to believe he should be released. Besides that, things are going so well with Jeremy, Trey can't believe they've fallen in love with other. The more time they spend together the deeper their relationship gets.
This is the time where Trey and Jeremy start a physical relationship. Because of where they are they have to maintain the "just friends" façade so they don't become targets of the other prisoners. They now take any opportunity to find time to be intimate, at times it's seems easy for them to forget that they're both in prison for life without parole the something will happen and it all comes crashing back down on top of them, mainly Jeremy.
We also find out a bit more about one of the CO's Rick Slater, if you remember Rick is the new CO who raped Jeremy after he first arrived at the prison. Rick became a corrections officer because he realised he wouldn't hold up to the scrutiny that a police officer is constantly under. We also learn that whilst at high school Rick was labelled as having sociopathic behaviour by one of his teachers! We also learn about Danny Ingram, a convenience store worker who has to take high dosages of pain medication because of injuries he suffered the night he graduated high school when he was in a fatal car crash where he suffered critical injuries. Danny knows of Rick through his work, Rick stops to get his coffee from there and has unfortunately caught Ricks eye.
Everything is going great with his dog and the program until Jeremy and his dog Shadow are blindsided by Draco, a homophobic, racist inmate who decides Jeremy is too close to a black inmate just because he was going to speak to one of the other Second Chance inmates. To teach Jeremy a lesson he kicks Shadow so hard he almost breaks his ribs. Needless to say Jeremy is removed from the program! Needless to say when Trey comes across the altercation he goes ballistic, beats the crap out of Draco and ends up in solitary. This is where James finds him to let him know he's moving to county to await the start of his appeal.
All in all, Caged Angel is a very intense look at life in prison for not just Trey and Jeremy but some of the CO's and some secondary characters outside of the prison. The love story between Trey and Jeremy is both heart-warming and heart breaking at the same time because you know they can have a true relationship within the confines of the prison but you also realise that in order for them to survive their prison terms they need the closeness of another human.
RATING: 
BUY LINKS: