Reviewed by Sarina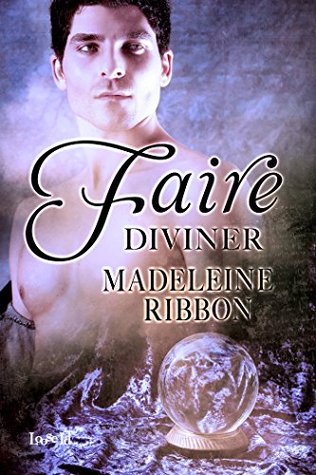 TITLE:  Faire Diviner
SERIES:  The Faire Folk #3
AUTHOR:  Madeline Ribbon
PUBLISHER: Loose Id
LENGTH:   234 pages
RELEASE DATE:  July 14, 2015
BLURB:
Rosewood, the magical Renaissance Faire's psychic and one of the business partners, has been single for over ten years—ever since he accidentally revealed his psychic abilities to the love of his life and lost him. He has devoted himself to the Faire and the magic within ever since. The last thing he expects when hiring a new business manager is for Oscar—the "one who got away"—to walk back into his life as the most qualified applicant.
While Rosewood tries to deal with Oscar as his new business partner, his abilities start going haywire. He senses danger coming, and it's somehow tied to Oscar's dark past. They will have to work together to recover Rosewood's abilities, help Oscar heal, and save the Faire itself.
And if they can do that, then maybe, possibly, the "one who got away" will become his greatest catch.
REVIEW:
When Rosewood was sixteen, he ran away from home to keep from being institutionalized for his gifts.  When he was twenty-two, he was rejected by the man he loved and, heartbroken, he packed his things and left again.  Now, eleven years later, Rosewood has made his home, and fully settled into his role as a psychic at the Faire; while he isn't absurdly happy with his life, he has a good one and he's satisfied.  When a shadow from his past comes walking into his tent, however, Rosewood finds himself being forced to face the things he's been running away from.  Battered on all sides with things he's tried hard not to think about, a gift that's suddenly not working, and an unknown threat on the horizon, Rosewood will have to battle through the pain of the past if he, and everyone else that calls the Faire home, want to have a future.
The hits just keep on coming with this series and I just love it!  Rosewood is the closest to the magic of the Faire and has quite frequently acted as a direct conduit between the magic and the people that call the Faire home.  The residents have learned to heed his words as Rosewood often finds himself warning of impending trouble to the Faire or someone who lives there and this time is no different.  An important part of the previous two books, I was thrilled that Rosewood finally got a book of his own and man, it was a doozy.  While entertaining, this installment was, at times, a little difficult to get through.  There's a lot of emotional impact between parts of Rosewood's past, such as Oscar coming back into his life, and the extreme stress he finds himself under when his gifts begin failing him and, by extension, the others.  There are also mentions of someone committing suicide (nothing is shown and it isn't a character that's ever known in any of the books), mention of thoughts of suicide, and a near crippling amount of depression.  While I didn't have an issue with any of these things, if these are in anyway a trigger for you, please be aware of your limits.
Now, emotionally this was a very satisfying read; there are a lot of things that both Rosewood and Oscar needed to face and deal with and I thought the author handled it well.  It was nice seeing both main characters trying to rebuild, in some way, what they had before the broke up even though it would never be the same.  Rosewood was great at making Oscar deal with the problems he was trying to run from while Oscar encouraged Rosewood to deal with his own demons and offered support when everything seemed to be failing him.  Both men fit together like to broken pieces of mirror: jagged and capable of hurting others but perfectly matched when put together.  The most impact in the story came from the sense of disaster that Rosewood had been struggling with the entire book.  The scope of the problem was massive, and shocking, and reading through it packed one hell of a punch.
I loved this; the series just keeps getting better and better and I found myself glued to the pages.  I'm really looking forward to the next book, especially since there will be a lot to deal with and fix after the ending of this one, but I'm mostly looking forward to seeing all my favorite characters again.  I'm pretty much at the point of just recommending all the books in the series to everyone because I just enjoy them that much.  If you especially enjoy magical elements in your stories, however, and you haven't checked The Faire Folk out yet, I can only ask 'What are you waiting for?'
RATING:
BUY LINKS: