Reviewed by Dee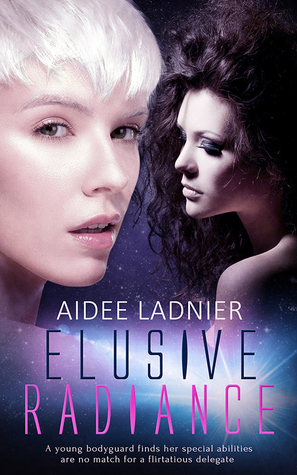 TITLE: Elusive Radiance
AUTHOR: Aidee Ladnier
PUBLISHER: Pride Publishing
LENGTH: 34 pages
RELEASE DATE: June 07, 2016
BLURB:         
A young bodyguard finds her special abilities are no match for a flirtatious delegate willing to gamble everything on the galaxy trade talks.
Assigned to guard a diplomat at the galaxy trade talks, Security Officer Anais wants to shine during her first solo mission for the Chezeray Palace Conglomerate. An Elusive with the ability to make herself invisible, Anais knows her modified genes designate her servant class, but she yearns to be more than simply a protector to the beautiful delegate.
Savea Blackmun arrives alone to the trade talks with the weight of her planet's future resting on her slim shoulders. Flirting with her pretty bodyguard reveals Anais' knowledge of the colony markets and Savea realizes there's much more to her protector than meets the eye.
As their attraction grows, will the diplomat and the bodyguard reject society's rules to give in to desire instead?
REVIEW:      
Short stories can be tricky to pull off. Elusive Radiance goes to show it can be done, and done well. Within the first few pages, the characters and setting come to life. I had a vivid image of who was who and their surroundings. The perfect amount of detail was given.
Anais and Savea are delightful characters. The plot took some unexpected twists and turns that kept me flicking the pages, and in away, made me pleased the story was short and concise. Patience is not my strong point when a plot becomes bogged down with unnecessary details.
The fact Office Anais blends (becomes invisible) when distressed or embarrassed proved helpful and at times somewhat humorous. The heat in the book was perfect, sexy, erotic and again not overdone.
My heart was in my throat as the story neared a nail biting conclusion. I honestly didn't know which direction it was going to go in. I can say, I turned the last page with a smile on my face.
Finally, I ummed and ahhed about picking up this story when I saw it was sci-fi. I'm so pleased I took a chance as I really can't say enough good things about it. Well done indeed, Aidee. I sincerely hope the author has another lesbian romance in the pipeline. *Hint. Hint*
RATING: 
BUY LINKS: