Reviewed by Dan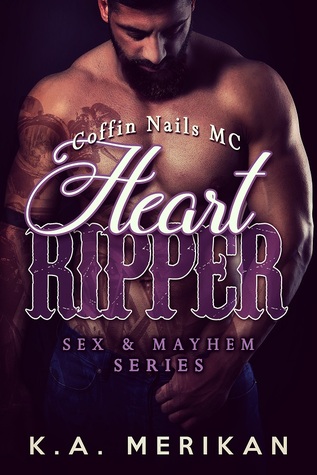 TITLE:  Heart Ripper – Coffin Nails MC
SERIES:   Sex & Mayhem Book 9
AUTHOR:     K.A. Merikan
PUBLISHER:     Acerbi & Villani Ltd.
LENGTH:     303 Pages
RELEASE DATE:  June 15, 2016
BLURB:
David. Catholic. Gay. Set on keeping his purity ring.
Raja. Biker. Manwhore. Never refuses a bet.
David has always tried to be the best son his parents could dream of.
Always at church on Sunday.
Always eager to help with the garden.
Always trying his best at school.
Prim, proper, innocent, and kind.
But deep inside of him, there is a yearning planted by the devil himself, and when a cocky, foul-mouthed biker pulls him a step too far, David doesn't fall into the abyss. He leaps.
Raja is all he's ever dreamed of, yet didn't dare voice. Older, dangerous, a wall of muscle with a grip so strong David can't resist him no matter how hard he tries.
As a freshly appointed president of a motorcycle club on the verge of ruin, Raja has a lot to live up to. Being gay doesn't do him any favors in terms of commanding the respect of his men. He has his way of compensating though.
Always first in a fight.
Always bragging about his sexual conquests.
Always up for a bet.
Daring, tattooed, sexy, and unapologetic.
After he boasts he can have any man he wants, he gets challenged to hook up with the preppy guy wallflowering at a party. Raja can't wait to pop the innocent cutie's cherry. But when he finds out the guy is his friend's younger brother, life gets a whole lot messier.
Why is the one guy who should be off-limits always the most tempting?
REVIEW:
Raja is the new President of the Toledo Chapter of the Coffin Nails.  Following the death of the former President and VP, there was a vacuum in leadership, and Raja was chosen to take the lead.  When Raja announced to his brothers in the club that he was gay, several homophobic members of the club left to go elsewhere, and now they are down to only five members in the Chapter.
At a party hosted by the Detroit Chapter, one of Raja's club brothers bets Raja that he can't get any gay man he wants at the party, and they select a shy young preppy kid as the intended "victim".
After convincing the kid to have very dirty oral sex, to the tune of gagging the kid with his dick in the upstairs bathroom, Raja returns downstairs to the party, only to be introduced by the host, Hunter (a close friend of Raja) to the host's younger brother.  You guessed it, the kid from the bathroom.  And the kid, David, is only just barely eighteen, not even sure he is gay, a devout Catholic, and the child of some totally homophobic and bigoted parents!
There begins a tale that will wind through misunderstandings, mistrust and betrayal on the way to the story's conclusion.
As always, these ladies can write.  Their sex is hot.  The characters are well written, and the story is plausible and believable.
So why am I giving this one a 4.0, instead of my usual 4.5 or 5.0 on the other books in this series?  Let me explain.  I've been reading this series since the beginning, and have loved them all.  The only exceptions were Book Three which was hetero, and Book Eight, which I tried to read but felt icky about the particular fetish in that one and gave up for another reviewer to review.  My problem is…I think I've read too many of them.  Between the Guns N' Boys Series and this one, I've come to know the authors' writing styles so well that they are starting to sound too familiar, and to me…just a little bit stale.  But others might disagree.  It could just be me.
I'm still rating it a 4.0 and recommending it, because it is well written, with well written characters, and a believable story.  It is a standalone, and you don't have to read anything else by the ladies before you read it.  I think many of you will love it, and I recommend you give it a try.  As for this disenchanted old reviewer, maybe I'll break down and stop being so greedy and let some of our other reviewers have the next book from this fantastic team of writers!
RATING:
BUY LINK: