Reviewed by Dan
This is a Series Review of Ripples in the Status Quo (Books 1-4)
AUTHOR:  R. Phoenix
PUBLISHER:   Phoenix Publications 
SERIES BLURB: 
This might or might not be the Series artwork, but it was on the author's Amazon page and I thought it definitely needed to be included here!  Love it.
There also of course isn't really a Series Blurb, but I thought this line from the bottom of the blurb on the first book in the series summed up the series in my eyes. 
"This dark erotica novella series caters to those who cheer on the villains as they pursue their goals…no matter what it takes to get there. This includes Very Bad Things as well as Very Sexy Things. 
Those with sensibilities will likely be offended and want to attack the author with flaming pitchforks. If this applies to you, save an author. Step away from the button. 
Lightheartedness aside, this is dark erotica. It contains graphic depravity and cruelty that will be offensive and potentially triggering to some readers. Please proceed with caution or skip this read.)"
REVIEW:  
In the Ripples in the Status Quo series, Ms. Phoenix has created a world that she self-describes on her Amazon page as:
"If she had it her way, she would describe the books in her "Ripples in the Status Quo" world as: "Supernatural creatures take over the world and turn humans into pets and food. There's some sex between guys. And… um… effed up things happen." 
And that kind of describes it in a nutshell.  She has created an alternate world.  A world where the supernatural species have taken over the world a decade before, subjugating humans, turning them into slaves, pets, and food.  The humans can be hunted, killed, or taken into slavery at will.  Humans have zero rights under the new order, and are forced to live in huge slums.  During the takeover, all assets were seized from anyone who was a human, so they scrape by on scraps. It isn't a pleasant time to be a human!
I really enjoyed the four installments in this series review, and there is a fifth installment due out on July 1st.  I can't wait to continue the story!  
SERIES RATING:  
---
TITLE:  Bought
LENGTH:     Originally 69 Pages, but now expanded.
RELEASE DATE:   TBD
BLURB:
When he agreed to take the fall for his pack leader's failed attempts to help the Rebellion, Jace knew he wouldn't live long enough to regret it. However, instead of the noble end he envisioned for himself, the werewolf finds himself at the mercy of a witch and his depraved games. Though he clings to his conviction that he can withstand anything his new master can dish out, it isn't long before he realizes pride has no place in his life as the pet of the controlling Elias Ivers.
REVIEW:
I read this one twice.  First the original free version on Amazon, and then the newly revised and expanded one that the author sent over for my review.  I have to say, the expansion was very welcome.  Questions I had originally were filled in, and having gone ahead and read book two before the new version of Bought came in, I can tell you it sets us up perfectly for the tie to that installment.
Jace is a patsy.  And not only is he a patsy, he volunteered for the position!
We don't hear the entire story, but we get snippets along the way.  Jace volunteered through some sort of shady deal to step up and take the fall for a failed attempt by the werewolves to help the Rebellion against the Council of the supernatural species now in power.  Jace wasn't involved in the incident at all, but it turns out if you read between the lines that his partner, Spencer, was.  Now to me, Spencer sounds like a piece of work.  A shy, has trouble shifting, werewolf by day, but a spouse abuser by night.
The tale is a classic abuser/abused backstory.  Jace seems to feel he deserved when Spencer hit him, so naturally he volunteered to take the fall if it would protect Spencer.  What the heck was he thinking?
Now Jace has been sold as a slave to a very powerful witch, named Elias Ivers.  The witch only wants him for his sex toy, and to completely dominate him to show others just how powerful he really is.  What follows is a tale of the attempted "breaking" of Jace by Elias.  There is some non-consensual activity with a "tail" butt plug, and some general all around humiliation, but nothing that should be too difficult for anyone to handle.  Heck, some of you might find it titillating!  (You know who you are!)
RATING:  
BUY LINK: 
---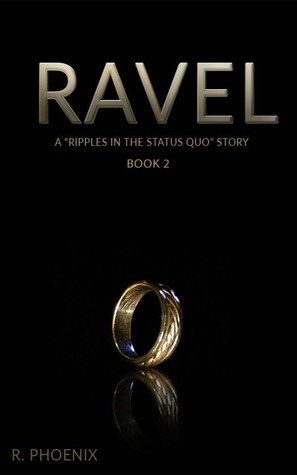 TITLE:  Ravel
LENGTH:     83 Pages
RELEASE DATE:   April 1, 2016
BLURB:
For the past few years, Reese has hidden away in his home, refusing to venture out where he might have to face what reminds him of all that he's lost. When Ashton, a human thief, breaks into his home one night, he doesn't have a choice but to face the harsh truths of the world he's turned his back on. He knows he supports the society monsters of myth and lore built upon the backs of humans through his silence, but the new leaders don't tolerate sympathizers.
If a werewolf can't act against the status quo without facing severe consequences, a human with Ashton's cunning and experience circumventing supernatural predators certainly can't risk drawing their attention. Their chance encounter leaves them both shaken and questioning whether they are living life as they were intended–or if surviving is really living at all.
REVIEW:
This is the second book I've read in this alternate world that the author has created, and I'm enjoying that world.  Yes humans are sex slaves, food, and the prey in hunts, but it is a good story!
In Ravel, we meet a young human named Ashton.  Ashton is a human on a mission.  His childhood best friend, Leo, is very ill and needs care, but humans aren't allowed in hospitals, aren't allowed any sort of care actually.  So Ashton is desperate.  He needs to steal something to pay for some sort of treatment to try to save Leo.  Ash has been scoping out a house that is always dark and appears unoccupied over the invisible line between the slum he lives in and the affluent supernatural neighborhoods.  When he slips into the home, one thing leads to another, and his squeaky step and rumbling stomach are heard by the huge werewolf who resides in the house.
Ashton thinks he is dead, but this werewolf, Reese, is much different from the status quo supernatural community.  He seems to actually have feelings.
I enjoyed this one.  I was really angry at Ash when he screws up mid story and gets sent back to the slums.  Talk about biting the hand that feeds you…or in this case the hand of the being who could eat you!  I can't wait for future installments which will tie back to these characters. At the end of he revised version of Bought, there was a scene with a vampire who it turned out was looking for his human son, named Ashton.  That character didn't show up in this installment, so I'm looking forward to where the story goes now and how it will eventually all tie together!
RATING:  
BUY LINK: 
---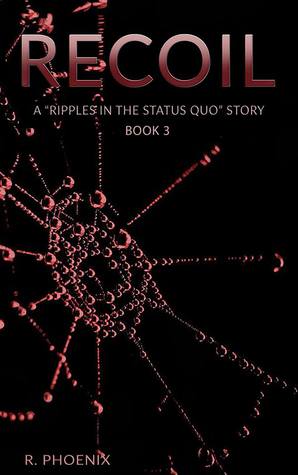 TITLE:  Recoil
LENGTH:     98 Pages
RELEASE DATE:  April 8, 2016
BLURB:
Over the past decade, Khaz has watched as supernatural creatures like himself have turned the world into their own personal playground. Unlike the others, he didn't benefit from the Takeover, and every time he sells himself to keep a roof over his head, he's keenly aware of that fact. His landlord, a renowned slaver, offers him the chance to catch up on his rent by breaking a human.
Groomed to fight, Noah has survived by giving himself over to his hatred of those who took everything away from humanity. When the werewolf can't break him, he's given to the vampire instead-and he's sure this will be no different. The problem is that even the harsh lessons the Rebellion taught him couldn't prepare him for someone like Khaz…who always has an ace up his sleeve.
REVIEW:
I'm enjoying this series, or serial installments, or whatever you want to call this one, even more with each new story I read.  In Recoil, we're introduced to a vampire named Khaz.  Khaz has been around for four centuries and has had a hard time ever since his sire was killed, but the last decade, since the great unveiling by the supernaturals which led to the Takeover, hasn't been a benefit to him at all.   He was formerly a consort to the extremely wealthy, but has been forced by circumstances into working as a street prostitute, selling his body to anyone with cash in order to make enough to support himself.  Now he has agreed to a contract with his landlord, a werewolf slaver to break a human who was working for the Rebellion.
Noah is a twenty-four year old human.  Old enough to remember the pre-Takeover days when the vampires, witches and werewolves were thought to be myths, he has been fighting alongside his father ever since the takeover.  He has had it beaten into him that fighting is the only option, and told repeatedly about the evils of the supernaturals and also the evils of homosexuality.  Now he is trapped.  It took a bunch of werewolves to bring him down, but he has been branded a slave.  The werewolf slaver that owns him tried to break him and failed.  Now he has been turned over to a leech, or vampire as the creature refers to himself.
Trapped alone in a windowless apartment, the two men will battle wills.  Who will win?  You'll have to read it to find out.  I liked that Reese and Ashton from the second installment had a cameo in this one, and I've a feeling that there is more to come.
RATING:  
BUY LINK: 
---
TITLE:  Owned 
LENGTH:     123 Pages 
RELEASE DATE:  April 29, 2016 
BLURB: 
Elias Ivers was promised a slave recently captured from the Rebellion, and it would have only been a matter of time before the witch broke a mere human. His new pet would have been a beautiful match to his already enslaved werewolf, and the potential information gain was not something he was willing to pass up. However, when Malkhaz takes what should have rightfully been his in a single hasty decision, Elias is determined to make the vampire pay. No one denies an Ivers witch what he wants-especially not someone who's little more than dirt beneath his expensive shoes. 
REVIEW: 
I've really liked my trip through these first four installments in this series.  Owned, which is the fourth installment, tied into the end of the third installment like a flipped page, which I was happy to see, because installment three ended quite abruptly.
We are back to the story of Malkahz, or as we know him Kahz, and Noah.  They've made it through the event at the end of Recoil, and now must face the consequences.  Noah was promised to Elias Ivers, the witch we met back in the first installment, who looked forward to owning and subjugating Noah like he has done with Jace.
There is no going back, and as things stand right now, it probably isn't possible for Elias to own Noah.  But that doesn't mean he can't get some evil revenge in on both men.  Noah doesn't remember what happened, and Kahz isn't telling him.  What will happen when his memory comes back?
I enjoyed this installment.  It continued the story and brought us to another abrupt ending!  But obviously there is more to come, and as I stated above, it is due on July 1st, and already up for pre-buy on Amazon!
BUY LINK: