Reviewed by Amber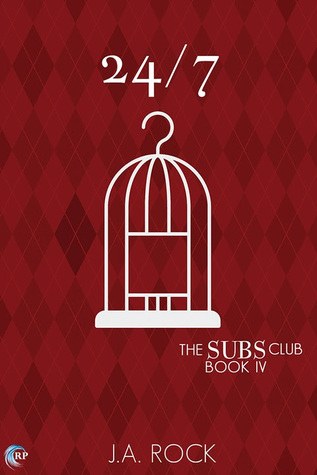 TITLE: 24/7
SERIES: The Subs Club #4
AUTHOR: J.A. Rock
PUBLISHER: Riptide Publishing
LENGTH: 283 pages
RELEASE DATE: June 4th, 2016
BLURB: 
We started the Subs Club to make the kink community safer for subs. Except now the others are so busy chasing their happy endings, it's like they've forgotten what Bill did to Hal and the fact that he got away with it. They used to think I was betraying Hal's memory by hooking up with the owners of the club where he died. Now they don't seem to care about any of it anymore.
Maybe I am sometimes angry with GK and Kel for giving Bill a second chance, but they've been mentoring me for a year now, and whatever else they've done, they make me feel incredibly safe. So I want to try something: I want to offer them my complete submission, 24/7. To serve the people who forgave Bill. That's the way I want to hurt.
Except I'm starting to care about them in a way I never meant to—and I think they feel the same way. But after Hal, I don't know if I want to be in love again. Because what I really need, more than anything, is to see Bill brought to justice. Even if I have to do it myself. Even if it means losing GK and Kel.
—Gould
REVIEW:
Gould's book….oh my goodness this was intense….(I also want to make note…this is M/M/F with the M/M part taking a back seat to the M/F part…which surprisingly didn't bother me too much…)
A person like Gould is the reason why therapy exists. Throughout the whole book he's tormented with the whys/whats/hows of his ex-boyfriends untimely death. On top of that he is exploring his kink limits realizing he wants to push himself to extremes. This book was difficult to read at times. There are some hardcore M/s elements happening in this story. Gould wants to be humiliated to an extreme extent. What I found remarkable was how Kel balanced Gould's radical submission with Greg's mild submission. This threesome just really worked. Two completely different ends of the spectrum with Kel balancing them out, it all seems to just work.
For me this part of the series was a lot more intense than the others. Basically the culmination of all parts leading up to learning more about Gould and subsequently more about Hal and how Gould needs to forgive Hal and himself to truly be able to move on.
Kel and Gk, a married couple, want nothing more than to have Gould be a part of their relationship. But Gould wants certain extremes and then he fails to communicate his feelings properly so it creates a push/pull effect on the relationship.
Like I mentioned this is a super intense part of the series. But there was serious healing that needed to happen. There's a lot of pain here as well. Things Gould needed to experience to move on. Kel and GK are perfect for him. I had my doubts and even along the way you kind of scratch your head thinking, how's this going to work? But it just does. These three work together and it's beautiful to watch.
This author is truly amazing. I laughed, my stomach was in knots, I was on the edge of my seat, I was uncomfortable, turned on, turned off, and throughout it all I couldn't get enough.
This whole series is remarkable. I can't recommend it enough.
RATING: 
BUY LINK:
ARe