Reviewed by Donna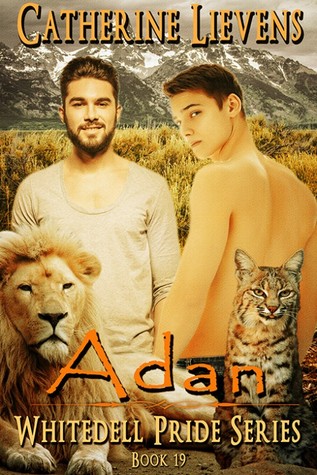 TITLE: Adan
SERIES: Whitedell Pride #19
AUTHOR: Catherine Lievens
PUBLISHER: Extasy Books
LENGTH: 112 Pages
RELEASE DATE: April 1, 2016
BLURB:
Adan has been in a catatonic state ever since the pride rescued him from one of Glass' labs—or at least that's what everyone thinks, even the doctors. Jared has tried to find a solution for a year, but Adan isn't getting better. Jared's last resource is finding Adan's mate, and when he finally does, things start changing.
Yanis has been asked to check if he's Adan's mate, and when he finds out he is, he's scared. He wants his mate to be better, but he has no idea how to help. Adan seems to be breaking down, though, so Yanis spends time with him, until something happens.
Adan has locked himself in his own mind, scared of what he'd do if he didn't. He already hurt two men, and the last thing he wants is a repeat of that, but his mate's presence by his side is making staying in his mind hard. Still, Adan has every intention of doing just that, but the power he's been trying to suppress flares out, and Yanis is hit.
When Adan finally comes out of his self-imposed isolation, he's immediately put to work. Time is running out to find the mole, and Adan helps as well as he can, but will it be enough?
REVIEW:
Adan has made appearances in a number of Whitedell Pride books, despite the poor shifter living in a catatonic state since being rescued from the Glass Research labs. In the last Whitedell installment Adan's mate, Yanis, recognized the little bobcat as belonging to him, but it wasn't until this book that Adan finally allows himself to awaken and become part of the world again.
This installment was kinda awesome. I guess because we've seen Adan being looked after in previous books, I had formed an assumption that he was going to need looking after in this book too. But once our cute little bobcat wakes up he shows that he really doesn't need anyone to look after him. He's got spunk. I loved his personality and his interactions with the other members of the pride. As usual Keenan and Nysys attempted to steel the show, but these two MCs managed to hold their own in some very entertaining exchanges.
There were a few twists and turns packed into this story that I just didn't see coming, and for the first time I found myself dissatisfied with the length of a book in this series. It's not that it needed to be longer; if you read this series then you know that many of the storylines carry on throughout each book. But I needed it to be longer because I wasn't ready to stop reading the action that was happening on page.
I liked the way that the author dealt with Adan's "sudden recovery". Deciding that Adan should suddenly awaken from a coma just because his mate turns up would have been the easy and obvious route to take, and would have been totally acceptable within the bounds of this series. But instead Ms. Lievens chose to throw us a curve ball I didn't see coming and I enjoyed where she took this story.
We also finally have the identity of the traitor confirmed (I think we all saw that one coming) but again that did not play out the way I was expecting. I can't wait to see how that doozy of a twist plays out in the next few stories.
I now feel like I'd begun cruising through this series, though enjoying it for sure, and this story just jolted me back to excitement and wanting more.
And once again – the Whitedell Pride series must be read in order starting with Jamie.
RATING: 
BUY LINKS: