Reviewed by Dan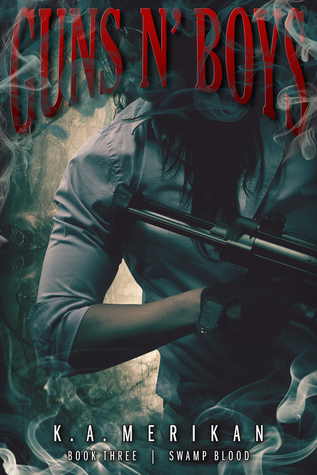 TITLE:    Guns n' Boys: Swamp Blood
SERIES:   Guns n' Boys #3
AUTHOR:     K. A. Merikan
PUBLISHER:  Acerbi & Villani, Ltd
LENGTH:     342 Pages
BLURB:
— Faking their own death was the easy part. —
After months of recovering from his injuries, Seth struggles with who he has become. Afloat in a reality he never planned, he tries to find the lost pieces of himself again. Find the purpose, motivation, and strength to get back into shape. He is sick and tired of being a burden for Domenico, who seems to have it all together. When Domenico's jealousy pushes them into the spotlight of a biker gang with connections to their former mafia family, Seth decides to step up, and make his own decisions, no matter what risks they might entail.
Domenico Acerbi can't trust anyone. Nightmares of Seth's torture are still haunting his dreams, and if he and Seth are to leave the country quietly and disappear off the mafia's radar, he needs to stay in charge and keep everyone under control. What he doesn't need is Seth giving him attitude, keeping secrets, and distancing himself for no reason. And as if Domenico didn't have enough on his plate already, Seth forces him to help some hooker. Being stuck in the swamp with a kid hunted by a bunch of bikers is not Domenico's idea of laying low.
REVIEW:
Kat and Agnes have done it again! Another great chapter in the history of Seth and Dom. As any of you who follow my reviews will know, I love K. A. Merikan books, and this latest is no exception.
After book two in the series, when everything went to hell for the guys and they faked their own deaths, they have retreated to the swamps of Louisiana. Here they've been living with Dana from book two, in a small house on the outskirts of a very small town. They've managed to keep their heads down, but that is about to change.
When the guys stumble onto a biker trying to force a kid to have sex with him in an abandoned rest area, we meet a new main character of this book, Mark, plus we meet one of the main characters of the next Coffin Nails book, Jed.
Seth has been withdrawn and secretive since his run in with his brother in book two. Who wouldn't be? I mean his brother cut off his nipples for God's sake! And did other horrible things to him which he is still recovering from. But why does he make so many "store" runs? When Dom follows him and finds him in a gym with a muscled stud "spotting" him, he becomes enraged. Big problem, the guy he hits turns out to be another member of the Coffin Nails.
Things don't look good for the guys. They have an enraged motorcycle club, and they can't reveal their true identities.   They also have a very horny sixteen year old running around that they need to keep tabs on as well. What will happen when the motorcycle club asks for a favor in lieu of an apology? What will happen when the favor leads them to a nest of human traffickers?
I really enjoyed this book. To be honest, I thought the first half was a little slow in places, but once I got past that, the rest of the book was a non-stop read right up to the last page! I highly recommend the book. The human trafficking piece of the book captured me the most. Would you know if it was happening down the road from you right now?
If you haven't read the first two books (well three if you count book one's two parts), I recommend you do so before reading this one. As always from these authors, the editing is spot on and the character development and story building were first rate.
Now I have to wait a month for the release of the next Coffin Nails book which will focus on two of the characters from this book!
RATING:
BUY LINK: