Reviewed by Amber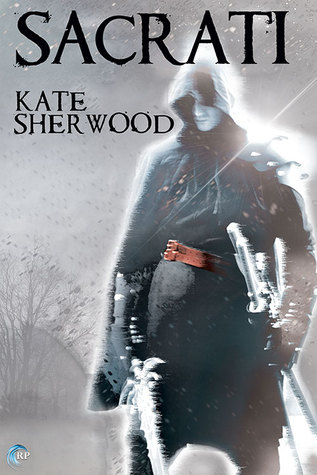 TITLE: Sacrati
AUTHOR: Kate Sherwood
PUBLISHER: Riptide Publishing
LENGTH: 407 pages
BLURB:
As an elite Sacrati fighter in the mighty Torian military, Theos is blessed with a city full of women who want to bear his children, and a barracks full of men proud to fight at his side and share his bed. He has everything he needs—until he captures Finnvid on a raid.
Finnvid is on a secret mission to prevent the Torian invasion of his homeland Elkat. Being enslaved by Torian soldiers wasn't in his plans. Neither is his horrified fascination with the casual promiscuity of the Sacrati warriors. Men should not lie with other men—and he should not be so intrigued when they do. He definitely should not be most intrigued by the leader of the soldiers who captured him and plan to invade his home.
For Theos, everything would have been easier if the infuriating, lying, bewildering Elkati had never come into his life, but he can't stay away. When betrayal and treachery threaten both their nations, they must work together to stop a war that could destroy their homes forever—even as they begin to question everything they're fighting for.
REVIEW:
I'm just going to let this be known right from the start. This is so far out of my usual reading genre. I like my stories to have cell phones, electricity, and indoor plumbing so this was way different than my usual.  I am contemporary to the max, but there is no doubt that this story hooked me and never let me go. This book was like the movie 300 but set in a blizzard wilderness conditions that included ancient cities and simple structures. The Sacrati are the ultimate warriors. They are without a doubt the best of the best and they believe themselves to be better than most. I loved everything about this elite force. Like the Spartans in the movie 300, the Sacrati's beliefs along with their physical excellence reinforced every action they made and that was unbelievably enthralling.
Theos is a Sacrati leader. From birth he has been molded to be the perfect soldier. He knows his duties are to protect Torians, first and foremost and accept any and all visitations to the city to procreate. But Torian's view things differently than others, they willingly and gladly find their pleasure with whoever is willing, male or female doesn't matter. But with Torian warriors, they are around men more so more often than not their sexual partners are other men. They don't get hung up on things like gender. Sex is sex. Attraction is attraction. Pleasure is pleasure. That's all that matters.
Finnvid of the Elkati has been raised the complete opposite of the Torians. His people believe one man and one woman. They believe seeking pleasure from one of the same sex is unnatural. So, Finnvid has had these beliefs drilled into him for quite some time.
While on patrol with other Elkati patrollers they along with Finnvid are taken captive by the much superior Sacrati. Right off Finnvid is attracted the Sacrati leader, Theos but he knows his feelings are wrong, so he fights it. He's left wondering, however when the Sacrati show compassion, respect and understanding. This behavior only leads Finnvid more and more into confusion.
This story is very convoluted, but not in a bad way. This author puts so many hooks into you that you gladly go along for the ride and that's exactly what I did with Theos and Finnvid. The ride was pretty rough though. There were betrayals, hinting flirtation, heated kisses, but things didn't really get intense until well after the 50% mark. I was appreciative and frustrated throughout these interactions. It was so painful at times when you just wanted them to tear each other apart sexually but it never happened.
I loved and hated the buildup. Knowing Theos's lifestyle I figured a future, a Finnvid future between these two would be hard coming if not impossible.
Overall, this book is way beyond good. These two unlikely partners were able convincingly build something that truly felt real. This author made the world, characters, and situations so unbelievably entertaining and good. I'm still so intrigued but the Sacrati and the Elkati. I truly hope there is more.
P.S. I really like the cover!! I think it is crazy different and crazy perfect for this story!!
RATING:  
BUY LINKS: