Reviewed by Tori (Vicki)
TITLE: Bobby Green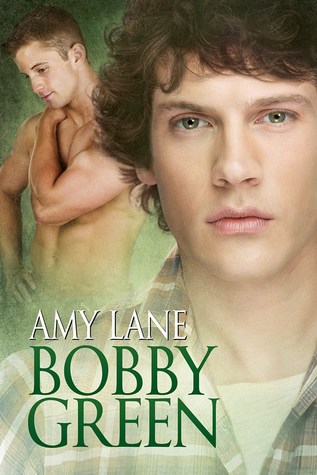 SERIES: Johnnies #5
AUTHOR: Amy Lane
PUBLISHER: Dreamspinner Press
LENGTH: 350 pages
RELEASE DATE: February 6, 2018
BLURB:
Vern Roberts couldn't wait to turn eighteen and get the hell out of Dogpatch, California. But city living is expensive, and he's damned desperate when Dex from Johnnies spots him bussing tables.
As "Bobby," he's a natural at gay porn. Soon he's surrounded by hot guys and sex for the taking, but it's not just his girlfriend back in Dogpatch—or her blackmailing brother—that keeps him from taking it. It's the sweet guy who held the lights for his first solo scene, who showed him decency, kindness, and a smile.
Reg Williams likes to think he's too stupid to realize what a shitty hand life dealt him, but Bobby knows better. What Reg lacks in family, opportunity, education, and money, he makes up for in heart. One fumbling step at a time, they connect, not just in their hearts but in their bodies, where sex that's not on camera, casual, or meaningless, becomes the most important thing in the world.
But Reg is hampered by an inescapable family burden, and he and Bobby will never fly unless he can find a way to manage it. Can he break the painful link to his unrealized childhood and grow into the love Bobby wants to give?
REVIEW:
Wow. I don't even know where to start with this book! Let's see….
Brief background: This is the fifth (sixth if you include a short prequel) book in the Johnnies series, following the lives of a group of porn models who work for Johnnies. Each of these books features one couple, and each contains massive amounts of emotional angst. The books run along side each other, so you see things from inside the relationship or story as it happens, then later may see it from a different man's perspective. The original owner of the company is John, but he ended up bringing on Dex, one of his models as a co-owner. The two have focused on building a stable company, with excellent benefits and opportunities for their employees, mostly male models, but recently female as well. Both have also had their own issues, and their own drama, and act as parents as often as employers. So that brings us up to this book.
Now we get Bobby and Reg, and their personal drama…
Reg has been a model for Johnnies for ten years, as this story begins. He processes things a little slowly, and has always just put his head down and done his job, happy that he can make this much money without using his brain. He has loads of family drama, dad is long gone, mom had mental issues and left when he was 16, leaving him and his older sister on their own. Veronica has a long list of mental health issues, including schizophrenia. She conned Reg into signing papers leaving her care to him, to avoid going to a mental institution for her, and foster care for him. Reg has provided for her ever since, between his Johnnies income and her Social Security, plus the insurance he gets from Johnnies. She's barely ok when medicated, but goes off her meds frequently. She paranoid, homophobic, hateful, and abusive, but Reg loves her. So he works at Johnnies, sticks close to home, and occasionally forces pills down her throat. He identifies as straight, doing gay porn only for the money, but seems pretty comfy having comfort sex with the Johnnies guys off camera as well. He'd like to settle down with a wife, maybe have some kids, but none of his girlfriends have stuck around after meeting Veronica.
Then we have Vern/Bobby. We start off knowing him as Vern, from the small town of Dogpatch California. Vern and his mom are just barely keeping themselves housed and fed, and Vern is desperate to get out of town and hopefully take his mom with him. He has a girlfriend, but has been trading blowjobs with his best friend, who turns out to be a douche, blackmailing Vern into continuing even though he's not comfortable with it any longer. Vern gets the opportunity to leave after graduation, taking a skeezy construction job in Sacramento. It turns out to be worse than he thought, and he's fired. Vern is left searching for a job in a city he's not familiar with, sleeping in his car. He does land a job at a juice bar, which is frequented by a bunch of really fit men…. one of which suggests he might have a job for him, after checking out Vern's well endowed crotch! By this point Vern is desperate enough to check it out.
Vern makes his way to the office at Johnnies where he meets Dex and John, jacks off in front of a camera, is comforted by Reg, and offered a job and a place to crash! Bam! Just what he needs. He picks his porn name, always hating the name Vern anyway, going with Bobby since his last name is Roberts.
Then we watch Bobby settle in to life as a straight man doing some straight porn, and more and more gay porn. He settles in to a flophouse full of porn models, occasionally visits home, sends money to his mom, continues to work at the juice bar, and starts to build a friendship with Reg. He soon begins to realize he may not be as straight as he though. Same with Reg… Bobby visits Reg and gets tangled up in his household drama, witnessing Veronica at her worst, and seeing the deteriorated house they live in. He helps care for Veronica a bit, and works on the house, a little at a time. While all of this is happening, we see the other Johnnies men going through their own drama and meltdowns, and coming out the other side.
So much happens in this book, I don't want to give it all away! Lot and lots of drama, Veronica is horrible, Reg gets hurt, Bobby gets hurt, they move closer together, then farther away. Bobby helps out some of the other guys with some serious issues, and grows in to a wonderful caring man. Bobby is able to help his mom, and she ends up being a helpful addition to the Johnnies family, which made me giggle! Reg and Bobby do eventually get what they both need, and we get a fantastic ending.
I am a HUGE fan of this series, I just finished listening to Black John a couple of days ago in anticipation of this book. Between reading and audio I've been through them three times, and I absolutely love these guys. I love the drama, the details, the bonds, the sex, every damn thing about every book. And I loved 99% of this book just as much as the others. The 1% is totally a personal issue. There is a cop in this book that behaves in a way that a cop shouldn't, and I dislike it when cops are portrayed in a negative light. Even in books I would prefer to see LEO's portrayed in a positive way. The beginning of the interaction was realistic given the circumstances, but the words from the cop directed at Bobby and Reg would be unusual. Yes, I understand that they do have their personal political issues (homophobia, racism, etc.), but I would think that most would keep that to themselves, especially in a hospital setting with other people around. (steps off my mom of a cop soap box….) Again, a personal issue, and most readers probably won't even think about it. Otherwise, I LOVED this book! I loved Bobby's strength and determination to make a better life for himself. I loved Reg's loyalty to his sister, even though it was misplaced. He's also very loyal to Johnnies, and the other models. I loved seeing their relationship start as friends then move on from there. I loved the chaos caused by Veronica, even though I hated her. I loved seeing the other Johnnies men through the eyes of Bobby and Reg. We also saw some new men I'd love to see get their own story….
This book was exactly what I expect from Amy Lane. I was all over the place emotionally, as were Bobby and Reg actually… Lots of drama, a dose of humor now and then, and some naughty sex scenes. Incredible characters with lots of issues, and a damn fine ending! As always, strong skillful writing from the Queen of Angst!
This is not the type of book you can read without having read the whole series. Go get Super Sock Man, it's the little short story that actually starts off the series, and read them as fast as you can. So worth it!
RATING: 
BUY LINKS: