Welcome to the Love Bytes 2017 Audio Book of the Year Poll!
This year we have some fantastic audio books up for your votes!  Remember, you can vote for as many as you would like, but you only get one visit!  So make it count!
Here they are…in month order.  Please click on the audio book titles to see the reviews in case you missed any.  The voting poll is at the very bottom of the page and is in no particular order.  
The poll will close at Midnight (Amsterdam time zone) next Friday night, January 19th, so don't delay!  Happy voting!
---
January
---
---
February
---
Reviewed by Christie
TITLE: Borrowing Blue
SERIES: Made Marian, Book 1
AUTHOR: Lucy Lennox
NARRATOR: Michael Pauley
PUBLISHER: Self Published
LENGTH: 8h 55m
RELEASE DATE: January 10, 2017
RATING:
BLURB:
Blue: When my ex walks into the resort bar with his new husband on his arm, I want nothing more than to prove to him that I've moved on. Thankfully, the sexy stranger sitting next to me is more than willing to share a few kisses in the name of revenge. It gets even better when those scorching kisses turn into a night of fiery passion. The only problem? Turns out the stranger's brother is marrying my sister later this week. Tristan: I have one rule: no messing with the guests at my vineyard resort. Of course the one exception I make turns out to be the brother of the woman my brother's about to marry. Now we're stuck together for a week of wedding activities, and there's no avoiding the heat burning between us. So fine, we make a deal: one week. One week to enjoy each other's bodies and get it out of our system. Once the bride and groom say I do and we become family, it'll all be over between us. Right?…Read More
---
March
---
---
April
---
Reviewed by PizzyGirl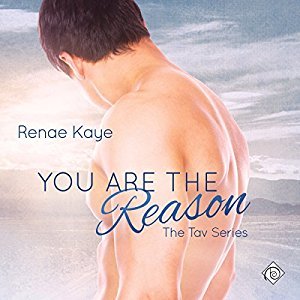 TITLE: You Are the Reason
SERIES: The Tav #2
AUTHOR: Renae Kaye
NARRATOR: Dave Gilles
PUBLISHER: Dreamspinner Press
LENGTH: 8 hours, 19 minutes
RELEASE DATE: March 1, 2017
BLURB:
A Novel in The Tav series
Davo's a pretty average guy. He has a decent job, owns his own home, and spends his weekends at the pub. He fully accepts that he's gay, but doesn't want to be one of those gays who are girly. He likes football and other masculine pursuits, and firmly avoids anything that could be seen as femme—including relationships that last beyond fifteen minutes.
Then Davo's friend and gay idol not only gets a boyfriend, but also adopts a baby girl. Davo is seriously spooked and scuttles down to the pub. That's where he meets Lee, cute from her cherry-red hair to her pretty little dress and pointy red shoes. Davo is charmed—but how is that possible? He's gay. Isn't he? Then Lee tells him he's actually a guy—he just likes to wear women's dresses occasionally. Thoroughly confused about an attraction that's out of character for him, Davo begins the long journey to where he can accept himself without caring what everyone else thinks…Read More.
---
May
---
---
June
Until You (At First Sight #3) by TJ Klune (Author) & Michael Lesley (Narrator)
---
There's This Guy by Rhys Ford (Author) & Greg Tremblay (Narrator)
---
July
Retribution (The Protectors #3) by Sloan Kennedy (Author) & Joel Leslie (Narrator)
---
Delivering Dante (Made Marian #6) by Lucy Lennox (Author) & Michael Pauley (Narrator)
Moving Maverick by Lucy Lennox (Author) & Michael Pauley (Narrator)
---
August
Lost and Found by Lucy Lennox & Sloane Kennedy (Authors) & Michael Pauley (Narrator)
---
Cronin's Key (Cronin's Key #1) by N.R. Walker (Author) & Joel Leslie (Narrator)
---
September
---
---
October
---
---
November
---
---
December
---