Reviewed by Becca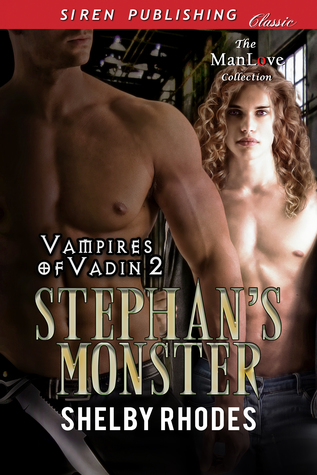 TITLE: Stephan's Monster
SERIES: Vampires of Vadin #2
AUTHOR: Shelby Rhodes
PUBLISHER: Siren Publishing
LENGTH: 175 pages
RELEASE DATE:  December 13, 2017
BLURB:
Jayden knows he's a monster. The people he killed were horrible, but it didn't change what he was. And being taken in by Stephan Everwood at fifteen hadn't changed his homicidal tendencies. Yet ten years later he finds himself struggling to be someone he's not. Then, despite thinking he lost most of his emotions years ago, Jayden discovers that not only is he not as empty inside as he thought, but that his monster is more present than ever before.
Stephan freely admits he has some issues. His self-doubts could be unrelenting and Stephan's need to fix things tended to go too far. It blinded him to Jayden's struggles. In the end his refusal to listen to what Jayden was trying to tell him has unfortunate results. When Stephan finally accepts who Jayden is, he must also face all that he had locked away inside.
Their difficulties brought them together. Their love healed them. And when the past tries to tear them apart, their darkness saved them.
REVIEW:
This was so good! It just keeps getting better and I hope there will be a book 3. This one has a way of really, really getting to you. At least for me it did. With being well written, it had a way of drawing you in. And even though this is considered a romance, it has its dark moments. And it just adds so much depth. I hope that makes sense.
Anyway, at the end of book one, we got to meet these two main characters, Stephan and Jayden. Jayden is a very dark person. So dark in fact, that it has changed his eye color to black. And because of the darkness radiating off of him, most are scared of him. But Jayden isn't really an evil dark. Yes he commits homicides, but the people he kills are more than deserving. His past has made him want to rid the world of the vermin in it. One fateful night, Stephan went to check on a building he owned and ran into Jayden on one of his kills. Stephan took him in, worked on educating him and has been doing everything he can to help Jayden rid himself of the anger and hate that control him and make him want to kill. The problem is Jayden has tried, but he really does have a monster in him. So instead of trying to rid Jayden of it, he puts him in a place where he can use it for good, so to speak. With all the time they have been together, they have fallen so in love, and have learned to accept each others darkness and are learning to heal.
Both Stephan and Jayden have pasts that haunt them. And both in similar ways. With Stephan, he raged, but it turned to fear of anyone being near him or even touching him to a point. Jayden just turned to rage and anger. Both have never gotten over their pasts and to be honest, I don't know how they ever would. Stephan, though, has learned there are still ways he can love. There are still ways for him to be happy. Jayden didn't think himself capable of any emotion. Until Stephan. Stephan brought out the softer side of Jayden. He taught him how to love and care. In the same way, Jayden taught Stephan that there are people that can love him and not hurt him. Someone that is patient with him, despite his fears. Someone that can touch him and show him pleasure. These two, for me, are just beautiful. With all they had been through in their lives, they took a chance on each other. And the love there is magical. It's healing. And I fell in love with the both of them, because they show you that it's ok to move on and risk love. It's ok to let go. And if you keep fighting, the rewards are usually worth the risks.
RATING: 
BUY LINKS: