Reviewed by Becca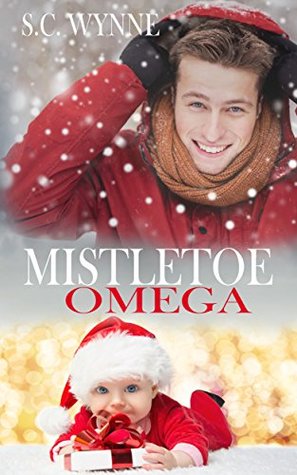 TITLE: Mistletoe Omega
AUTHOR: S.C. Wynne
PUBLISHER: Wynne Wynne Publishing
LENGTH: 106 pages
RELEASE DATE:  December 12, 2017
BLURB:
Sam Styles is having a horrible holiday season. He's just found out he's pregnant, and his alpha has bolted, leaving him stranded. Sam hides his pregnancy because a pregnant omega without an alpha isn't popular in his omega/alpha society.
Graham Peters is an alpha who is fifteen years older than Sam. While Graham doesn't realize Sam is pregnant, something about the younger omega tugs at his heart. He wants to help the down on his luck omega.
The two men grow close when Graham opens his home to Sam. But Sam is guarded and afraid of what might happen if Graham discovers he's is pregnant with another alpha's baby.
REVIEW:
What a sweet holiday story. And of course I'm happy because it's an alpha/omega. I really enjoy S.C. Wynne's books and was not disappointed with this one.
Sweet little omega Sam has had just about all the bad luck he can handle. His missed the last bus to get him home, or to his crappy little motel room. But at least it was something. He just wishes he could get to it, but in the bad snowstorm it's too cold to walk. And his so called boyfriend just dumped him because he got pregnant. He was all alone. Until a regular customer takes pity on him and offers him a ride home. Only to find all his stuff has been packed and sitting outside the door. Homeless, pregnant, cold, broke, and barely hanging on, Sam has had enough. But Graham, the regular customer, can't just leave him there. Something about Sam calls to him and he feels like he needs to take care of him. He packs Sam up and takes him home. Over the weeks, Graham is really enjoying Sam being there. It's not quite so lonely anymore and he is really beginning to feel something. Sam feels the same attraction, but has yet to mention his pregnancy. He is so scared Graham will tell him to go, and he really doesn't want to leave anymore. He wants to stay and have a life with Graham. But not knowing how Graham will react to another man's baby is leaving him so frightened.
Like any omega, Sam just got to my heart. I don't know what it is, but omegas always call to me. They have such a strength despite the hardships they endure. They always seem so vulnerable and I can't help but want to just take them and wrap them up in so much care and protection. Sam was no different. He just cannot seem to catch a break. And because of how his family is, he is so scared he won't be a good father. But the thought of terminating the baby just isn't possible to him. When Graham comes along to his aid, he stays so closed off. He's afraid to trust, even though he is so attracted to Graham and his alpha is calling to Sam's omega. And I love how brave Graham is too. Having gone through a traumatic event himself, he doesn't want to open himself up to another partner, but something about Sam draws him. These two want each other so much and have to learn to let go and allow themselves to take a chance. But it's hard. And learning to trust is a big deal. With a little hope and a touch of bourbon and some mistletoe, things seem to change for the better and they learn to make a family of their own. And I couldn't be happier.
RATING: 
BUY LINK: