Reviewed by Cinnamon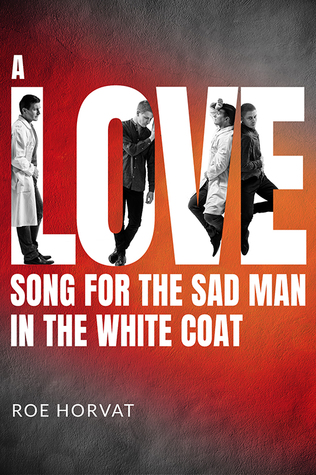 TITLE: A Love Song for the Sad Man in the White Coat

AUTHOR: Roe Horvat
PUBLISHER: Beaten Track Publishing
LENGTH: 230 pages
RELEASE DATE:  December 15, 2017
BLURB:
Simon had always expected love to feel different than this. Whether it was his Catholic upbringing or the poetry he'd read – Simon had thought that true love would be uplifting, fulfilling, that it would give a meaning to his loitering, and add joy to his leisure. But not this kind of love. This love was a flesh-eating monster, sharp-clawed and evil-eyed, ravishing his mind with medieval cruelty.
Dr Simon Mráz is a respected specialist and lecturer at the Charles University in Prague. He is a serious man, responsible. His students call him The Cruel Doctor Frost not because he's unkind, but because of his unwavering, ice-cold composure. As a psychiatrist, he values sanity. And sanity can be found in work, restraint, and self-control.
Not many know of that one time in the past when The Cruel Doctor Frost lost his cool. His ill-advised, secret affair with a student left Simon deeply wounded. Since that day, every minute of Simon's life has been a struggle to remain sane, functioning. He's managed so far – as long as he is needed, as long as his work makes a difference, Simon can scrape together enough strength to get up in the morning and run off the nightmares. But when his friends begin drifting away, his beloved protégé becomes independent, and the man who bereaved Simon of his precious sanity might return… Simon's mind and body stop responding to his impressive willpower.
REVIEW:
WHAT A STORY!!! Now I am sitting here with tears dried on my cheeks and I am trying to find out how to put all my feels and thoughts into words about one of the best love stories I have read in my whole life…
This story is true poetry at its best manifested in the form of a novel. The language used is music to our eyes. Some scenes will make you think, think back to your past loves, people you lost, people you left, some will make you catch your breath, and tear up at times. This is literature pure and simple.
See, I have a very strange kind of taste. I love Heathcliff from Wuthering Heights,  I love Valmount from Dangerous affairs, I love unique, out of the ordinary love stories. What Roe Horvat has given us is exactly that and I can't be more grateful to him. A Love Song for the Sad Man in the White Coat is a unique, rare gem of a love story I will never forget.
The kind of love we experience here doesn't come from big confessions, lengthy, detailed sex scenes, grand gestures. Nope. The love here comes from all the pain, all the heartache we experience, all the emotions the writer's beautiful words elicit in us. And we feel!!! We feel the love, we feel the loss, we feel all the emotions possible when someone finds then loses the love of their life.
The writing is very powerful and the brilliance of it comes from the fact that most things are not spelled out,  nothing is overexplained. You just read and feel. You feel everything even if you don't want to. Your heart will get some serious crossfit workout and will be totally exhausted for a while. Not to mention the level of book hangover I am nursing at the moment.
On the other hand the writing tells you all. The writer has an amazing way with words and no wonder he quotes Rimbaud and Verlaine, the writing is true poetry at times. The portrayal of this wonderful love between Simon and Matej is magical. I have no words to describe my feelings. You must simply read and see for yourself.
The structure of the plot is beautifully put together enhancing the overall feels and the build up of the events deepens feelings  and heightens your senses,  making this reading experience unforgettable.
The characters be main or secondary are all real, lifelike and complex. All of them add to the story to make it whole and memorable. Growing up in Eastern Europe, this story and all the references to that area make this book much closer to my heart.
Simon… Simon is real. Honest, sad, loving, caring, lonely… His inner monologues, struggles made him  one of my all time favorite characters and I love him to pieces. His journey is very emotional and a definite must read if you want a real love story with raw emotions, heartbreaking moments and the most magical love connection imaginable. I hope you enjoy it as much as I did. Highly recommended.
RATING:
BUY LINKS: