Like the last few years we at Love Bytes are reviewing the whole dsp advent calender
There will be a review posted each day throughout the month of December.
Let us know what you think of the reviews and the stories and have a chance to win a fabulous giveaway.
First Prize: 10 Dreamspinner Press ebooks (winner's choice)
Second Prize: 5 Dreamspinner Press ebooks (winner's choice)
Third Prize: 3 Dreamspinner Press ebooks (winner's choice)
Day 13
Reviewed by Kat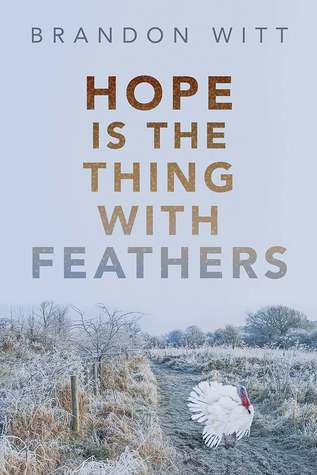 TITLE: Hope Is the Thing with Feathers
SERIES: 2017 Advent Calendar Daily | Stocking Stuffers
AUTHOR: Brandon Witt
PUBLISHER: Dreamspinner Press
LENGTH: 48 pages
RELEASE DATE: December 1, 2017
BLURB:
Fifty-six-year-old Samuel Phillips is all alone on his small farm in the Ozarks, with nothing but a menagerie of chickens, pheasants, turkeys, and other birds as company—which is just the way he likes it. In fact, if Samuel had his way, he'd tear down his neighbor's house so his solitude could be absolute. One day Faloola, his favorite turkey, escapes, forcing Samuel to make the trek next door. When Raymond Webber—sixty-seven—answers the door as naked as the day he was born, Samuel doesn't know whether he's more annoyed… or attracted. The two men are opposites in every way—Samuel is serious, while Raymond believes in free love and herbal relaxation. The weeks leading up to Christmas are rocky to say the least, but some holiday spirit might help them get past their differences….
REVIEW:
This was a quick, fast read that covers the entire holiday season from Thanksgiving to Christmas!
Samuel has moved back to his childhood home to escape the big city and all its trappings. Little did he know that the new neighbor would throw his perfectly ordered and routine life into complete chaos. He has found solace with his menagerie of turkeys, chickens and cattle. They are his life and he has embraced it. But when his pet turkey, the wandering Faloola, disappeared he knows he has to go find her on that cold winter's night. What he didn't expect was his bare naked new neighbor to answer his door with the scent of fresh roasted turkey filling the air. How does one go about trying to forget that his new neighbor is both a turkey murderer and the object of his desires…desires that have laid dormant for many, many years?
I must say that I am usually the fan of the base main character in most books I read but I was rooting for Raymond from the moment he opened the door. This is a man that embraces life and lives it to its fullest. I was thrilled to see him shake up Samuel's world, although the pet turkey might have been a bit much, he totally had my heart by Christmas! I also loved that he was all for alternative energy resources. Solar power is the future and using natural resources is great. Go Raymond! Also, I can say with certainty that I learned more about turkeys and chickens than I ever knew before. I didn't even know there were even show varieties!
Because this is a very short story, under fifty pages, you don't usually get the characters depth. However I never felt the least bit cheated with these two men and their story. Would I love to see where these two are when Valentine's Day and Easter come around…sure I would but I also felt the author did their story justice. I also appreciated that an author gave someone of age a chance at love again. I have begged, at book conferences, for authors to give us characters of substance and some life under their belt. I got that in spades and loved it! Highly recommend this wonderful story.
RATING:
BUY LINKS: