IT IS THAT TIME AGAIN!
Welcome to our Book of the Month Poll for November 2017!
Here are your voter chosen top two from each week in no particular order.  Please vote for your favorites and you can vote for as many as you want, but as with our Book of the Week Poll you only get one visit, so make it count!  
Remember, the top two go through to the Book of the Year Poll!
POLL SCHEDULE:
This poll will remain open until at least 6PM, Amsterdam time next Friday. The actual closing time will vary depending on blog staff schedules…
---
Reviewed by Becca
TITLE: Embrace the Fire
SERIES: Through Hell and Back #3
AUTHOR: Felice Stevens
PUBLISHER: Self Published
LENGTH: 390 Pages
RELEASE DATE:  March 24, 2017
BLURB:
Brandon Gilbert has spent years in hiding, but he's finally accomplished his dream of working as a public school teacher. When offered the chance to help bullied children, there was no way he could say no. Not to mention that meeting Dr. Tash Weber, the psychiatrist who helps them, a sad yet sexy older man, ignited a spark inside Brandon he'd never had before.
Though five years have passed since the death of his lover, Dr. Sebastian "Tash" Weber has no interest in relationships or love. But young, enigmatic Brandon awakens his heart and his desire. Despite Tash's best efforts to push him away, Brandon unlocks the passion for life Tash thought he'd lost forever.
Falling in love wasn't part of the plan for either Brandon or Tash, but neither family disapproval nor self-doubts can stop them from embracing the fire that burns between them. And when Brandon returns home to fight for a future he never imagined possible, he and Tash discover that the one thing worth fighting for has been with them all along. Read More »
---
Reviewed by Kat
TITLE: Denver's Calling
SERIES: Cooper's Ridge (book 1)
AUTHOR: J. J. Harper
PUBLISHER: Self Published
LENGTH: 305 pages
RELEASE DATE: October 17, 2017
BLURB:
When Denver's long-term partner breaks up with him, he flees his life, his career, and his bright future as one of the country's leading trauma surgeons. Ditching everything but his dog, Denver returns to the quiet town of Cooper's Ridge and his parents' ranch.
Leaving twelve years earlier, Denver knew he would never be accepted as a gay man in an unaccepting town. So, when he meets Kes—an old school friend—in the bar he owns, he is shocked to find him in an openly gay relationship. Something he never thought would happen here.
What surprises him even more is the instant, mutual attraction the three men have. Accepting a job in Kes' bar, they dance around each other, wanting them but not believing he would ever fit in with a couple so obviously in love. But, they want him. And they are not prepared to let him go.
Denver takes a risk and accepts their offer of a night out, finding a side of himself he never knew existed. Not trusting himself to be enough for the two men, the desire blooming in him is unprecedented and he can't deny it: he wants them as much.
He finds his life falling into place, all because of two men. Is it possible he found his forever in a place he never expected it? Read More »
---
Reviewed by Caroline
TITLE: Take A Chance On Me
SERIES: Firsts and Forever Book 15
AUTHOR: Alexa Land
PUBLISHER: Self Published
LENGTH: 369 Pages
RELEASE DATE: October 29, 2017
BLURB:
Free-spirited ballet dancer Quinn is sure he made a terrible mistake by agreeing to be Duke's roommate. The big cop is the most uptight person Quinn's ever met, and both men begin driving each other crazy from day one.
Before long though, an undeniable spark of attraction ignites between them. But do opposites really attract? Or will their differences prove to be more than either of them can handle?
This gay romance is the fifteenth book in Alexa Land's best-selling Firsts and Forever Series, but each novel is written to stand alone, so jump in anywhere. Note: contains adult language and graphic sex and is only intended for adults. Read More »
---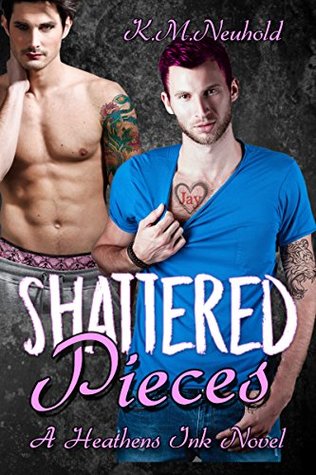 Reviewed by Caroline
TITLE: Shattered Pieces
SERIES: Heathens Ink Book 4
AUTHOR: K M Neuhold
PUBLISHER: Self Published
LENGTH: 181 Pages
RELEASE DATE: October 31, 2017
BLURB:
"I was sure my heart had withered away years ago, but then you smiled at me, and I felt it beat again." ~Gage
Years ago, I fell in love with my best friend's little brother. Then, he took his own life, leaving me shattered and unable to piece my heart back together. I've been a zombie for nine long years. Until a crazy, gorgeous man walked into Heathens Ink and injected color back into my world of gray. No matter how hard I try to resist Beck, he just won't give up on me. I would need steel willpower to withstand his gorgeous long legs in those high heels and his drawer full of lacy lingerie. But is this just a kinky hook up or does it have the possibility for more?
"We're both broken, but our jagged edges fit together well" ~ Beck
When you're half of a whole you never contemplate what life would be like without your matching piece. Since my twin sister, Brianna, died last year, nothing I do seems to quiet my soul. I know there has to be some way for me to feel happy and whole again. And, when I look into the pained eyes of the tattoo artist at Heathens Ink, I feel like I have a purpose. I can't explain it, but I feel like I have to find a way to put him back together. Read More »
---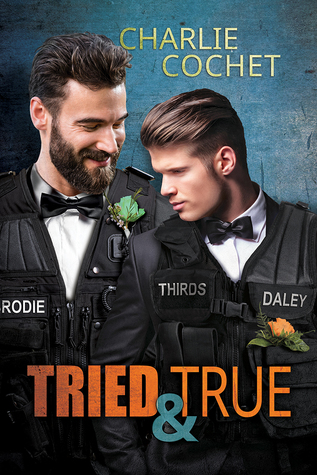 Reviewed by Roberta
TITLE: Tried & True
SERIES: THIRDS Book 10
AUTHOR: Charlie Cochet
PUBLISHER: Dreamspinner Press
LENGTH: 254 Pages
Release Date: Nov 24, 2017
BLURB:
Sequel to Darkest Hour Before Dawn
THIRDS Book Ten
When THIRDS agent Dexter J. Daley met Team Leader Sloane Brodie, he couldn't have imagined how slamming into his new partner—literally—would shake both their worlds. Now four years later, they've faced dangers, fought battles both personal and professional… and fallen deeply in love. Now their big moment is finally in sight, and they're ready to stand up together and make it official. Unfortunately, as the countdown to their big day begins, an enemy declares war on the THIRDS….
With their family in danger, Dex and Sloane are put to the test on how far into darkness they'll walk to save those they love. As secrets are unearthed, a deadly betrayal is revealed, and Dex and Sloane must call on their Destructive Delta family for one last hurrah to put an end to the secret organization responsible for so much devastation.
Dex and Sloane will have plenty of bullets to dodge on the way to the altar, but with happiness within their grasp, they are determined to get there come hell or high water…. Read More »
---
Reviewed by Cinnamon
TITLE: Desperately Seeking Santa

AUTHOR: Eli Easton

PUBLISHER: Self Published

LENGTH: 50000 words 

RELEASE DATE:  November 22, 2017
BLURB:
Journalism student Gabe Martin gets his first professional assignment—to write about a Christmas charity dinner that benefits a children's home. It sounds like a total snooze-fest until Gabe learns that the event's Santa is a mystery man. He shows up in costume and no one has a clue who he is. Uncovering Santa's identity sounds like the perfect angle to turn a fluff piece into serious journalism.
Mack "The Mountain" McDonall, at 6'10", is University of Wisconsin-Madison's enormous star wrestler. When Gabe first claps eyes on him at a wrestling match, it's lust at first sight. Gabe's friend, Jordan, sets up the pair on a date. But when Gabe chatters on about his plans for outing Santa, Mack goes cold, and their first meeting becomes an epic fail.
As Gabe researches the children's home, he learns that Mack has secrets a guy famous for being a brute wouldn't want the world to know. Can Gabe find his holiday spirit, write a killer article, win the heart of a surly giant, and give everyone a very merry Christmas? Read More »
---
Reviewed by Cinnamon
TITLE: Snow Falling

AUTHOR: Davidson King

PUBLISHER: Self Published

LENGTH: 166 pages

RELEASE DATE: November 28, 2017
BLURB:
After running from a past destined to kill him, Snow has been hiding on the streets.
Tell nobody your name.
Tell nobody your secrets.
Trust nobody!
These are the rules of the streets.
His entire life changes when he saves an eight-year-old boy from a violent end.
Christopher Manos is one of the most powerful crime bosses in the country.
Don't ask anyone to do something you aren't willing to do yourself.
Secrets can get you killed.
Trust nobody!
These are the rules he lives by.
When his eight-year-old nephew disappears, he never expects the boy's savior to end up being his own.
A man with a dangerous past and a man with a dangerous future find love amidst murder and mayhem. But with Snow's life being threatened at every turn, will Christopher's best be enough to prevent Snow Falling? Read More »
---
Reviewed by Chris
TITLE:  The Remaking of Corbin Wale
AUTHOR:  Roan Parrish
PUBLISHER:  Riptide Publishing
LENGTH:  226 pages
RELEASE DATE:  November 27, 2017
BLURB:  
Last month, Alex Barrow's whole life imploded—partner, home, job, all gone in forty-eight hours. But sometimes when everything falls apart, better things appear almost like magic. Now, he's back in his Michigan hometown, finally opening the bakery he's always dreamed of. But the pleasure of opening day is nothing compared to the lonely and beautiful man who bewitches Alex before he even orders.
Corbin Wale is a weirdo. At least, that's what he's heard his whole life. He knows he's often in a fantasy world, but the things he feels are very real. And so is the reason why he can never, ever be with Alex Barrow. Even if Alex is everything he's always fantasized about. Even if maybe, just maybe, Corbin is Alex's fantasy too.
When Corbin begins working at the bakery, he and Alex can't deny their connection any longer. As the holiday season works its magic, Alex yearns for the man who seems out of reach. But to be with Alex, Corbin will have to challenge every truth he's ever known. If his holiday risk pays off, two men from different worlds will get the love they've always longed for. Read More »
---