Book of the Week Winners!
Here are the winners of this week's Book of the Week Poll.
Both will go through to the Book of the Month Poll!
---
The winners are:
FIRST PLACE: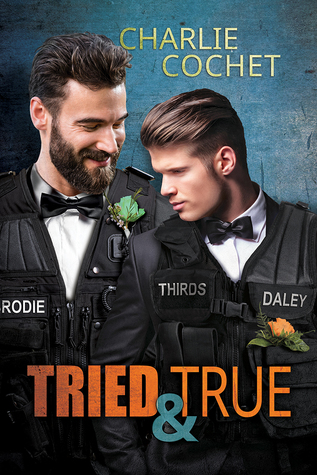 Reviewed by Roberta
TITLE: Tried & True
SERIES: THIRDS Book 10
AUTHOR: Charlie Cochet
PUBLISHER: Dreamspinner Press
LENGTH: 254 Pages
Release Date: Nov 24, 2017
BLURB:
Sequel to Darkest Hour Before Dawn
THIRDS Book Ten
When THIRDS agent Dexter J. Daley met Team Leader Sloane Brodie, he couldn't have imagined how slamming into his new partner—literally—would shake both their worlds. Now four years later, they've faced dangers, fought battles both personal and professional… and fallen deeply in love. Now their big moment is finally in sight, and they're ready to stand up together and make it official. Unfortunately, as the countdown to their big day begins, an enemy declares war on the THIRDS….
With their family in danger, Dex and Sloane are put to the test on how far into darkness they'll walk to save those they love. As secrets are unearthed, a deadly betrayal is revealed, and Dex and Sloane must call on their Destructive Delta family for one last hurrah to put an end to the secret organization responsible for so much devastation.
Dex and Sloane will have plenty of bullets to dodge on the way to the altar, but with happiness within their grasp, they are determined to get there come hell or high water…. Read More »
---
SECOND PLACE:
Reviewed by Cinnamon
TITLE: Desperately Seeking Santa

AUTHOR: Eli Easton

PUBLISHER: Self Published

LENGTH: 50000 words 

RELEASE DATE:  November 22, 2017
BLURB:
Journalism student Gabe Martin gets his first professional assignment—to write about a Christmas charity dinner that benefits a children's home. It sounds like a total snooze-fest until Gabe learns that the event's Santa is a mystery man. He shows up in costume and no one has a clue who he is. Uncovering Santa's identity sounds like the perfect angle to turn a fluff piece into serious journalism.
Mack "The Mountain" McDonall, at 6'10", is University of Wisconsin-Madison's enormous star wrestler. When Gabe first claps eyes on him at a wrestling match, it's lust at first sight. Gabe's friend, Jordan, sets up the pair on a date. But when Gabe chatters on about his plans for outing Santa, Mack goes cold, and their first meeting becomes an epic fail.
As Gabe researches the children's home, he learns that Mack has secrets a guy famous for being a brute wouldn't want the world to know. Can Gabe find his holiday spirit, write a killer article, win the heart of a surly giant, and give everyone a very merry Christmas? Read More »
---
CONGRATULATIONS TO THE WINNERS!
Here is the final vote total: