Reviewed by Caroline
TITLE: Archangel's Assassin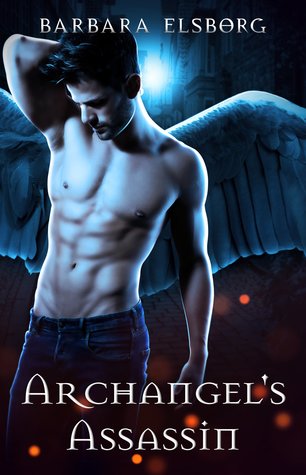 AUTHOR: Barbara Elsborg
PUBLISHER: Self Published
LENGTH: 209 Pages
RELEASE DATE: November 28, 2017
BLURB:
He wants to forget
West is an archangel's assassin delivering justice to supernatural creatures who break the law. Not a straightforward job because he also has to absorb the memories of those he kills. Even worse, West is breaking the law himself in an attempt to free his brother from hell. If he doesn't succeed before his archangel boss finds out, West will be joining his sibling.
He wants to remember
A young guy wakes in a London park with his memories gone. He has no idea who he is, or where he comes from. A bracelet engraved with the single word Tao is the only clue to his identity. With no sign of his memory returning, he drifts into a life on the streets. Begging is his only way to survive.
Two worlds collide
When Tao returns West's stolen wallet, West offers to buy him a coffee. Tao delights in the chance to sit down with a good-looking guy until his instincts tell him to run away. Fast. West is surprised when Tao flees, considering how much he'd been mentally urging him to stay. Is he losing his touch or is Tao more than a scruffy young man down on his luck?
Only one way to find out.
REVIEW:
If you have enjoyed Barbara Elsborg's previous paranormal books then this one will also suit.
The first few chapters are slow but stick with it as the pace does pick up and I found myself wishing I could read faster just to find out how it was all going to work out. It begins with the mystery of Tao who woke in a park with absolutely no idea of who he was or where he came from. It's literally like he is starting with a blank page, a new life almost, and a life that is unkind and full of hardship. Even at his lowest Tao is honest and kind and it is an act of kindness, returning a stolen wallet, that introduces him to West who is an Archangel with attitude.
West is not a quickly or easily likeable character. He is broody, which I kind of liked, but he is also arrogant, rude and thinks he is better than everyone else. On closer inspection he hasn't and still doesn't have an easy life and for some reason he is strangely affected by Tao and the goodness that permeates from his very soul.
Gradually West softens especially towards Tao but they mystery of who he is and where he came from is soon the cause of misery in both their lives as we learn who or more importantly what he is. I liked the twists and turns this one took and was surprised at how emotionally charged it became towards the end.
This is definitely another hit from Barbara Elsborg for me and I hope you all enjoy it too.
RATING:  
BUY LINK: