Reviewed by Roberta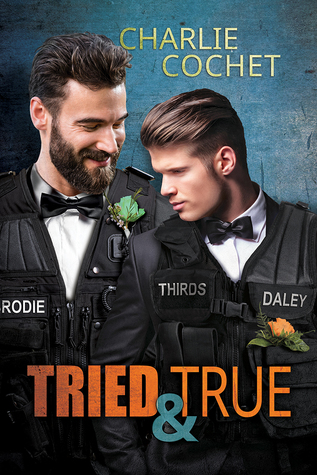 TITLE: Tried & True
SERIES: THIRDS Book 10
AUTHOR: Charlie Cochet
PUBLISHER: Dreamspinner Press
LENGTH: 254 Pages
Release Date: Nov 24, 2017
BLURB:
Sequel to Darkest Hour Before Dawn
THIRDS Book Ten
When THIRDS agent Dexter J. Daley met Team Leader Sloane Brodie, he couldn't have imagined how slamming into his new partner—literally—would shake both their worlds. Now four years later, they've faced dangers, fought battles both personal and professional… and fallen deeply in love. Now their big moment is finally in sight, and they're ready to stand up together and make it official. Unfortunately, as the countdown to their big day begins, an enemy declares war on the THIRDS….
With their family in danger, Dex and Sloane are put to the test on how far into darkness they'll walk to save those they love. As secrets are unearthed, a deadly betrayal is revealed, and Dex and Sloane must call on their Destructive Delta family for one last hurrah to put an end to the secret organization responsible for so much devastation.
Dex and Sloane will have plenty of bullets to dodge on the way to the altar, but with happiness within their grasp, they are determined to get there come hell or high water….
REVIEW:
I don't even know where to start. This book had me on so many damn emotions that I'm still trying to process and trying to put my thoughts into words…it's tough. This book starts off so damn sweet and really…sexy times ensued…but then shit gets real and it gets real so damn fast and then it's go time until the very end of the book.
Dex…can I just say how Wonderful it was to see him get his HEA…for real this time…I mean his wedding to Sloane. Just…getting there was such a bitch!! I mean, Holy Hannah, Charlie…Dex had to WORK to get his wedding to Sloane!! I swear, I don't know how Dex does it…the depth of personal strength that he pulls from in order to get the things done that has to be done. I like that Dex has grown into an even better character than he was when the books first started. How he questioned himself regarding the things that he's done and will be asked to do…it was such a heartbreaking and yet, it was a revelation to watch Dex come to grips with the choices that he's made. Dex has come a long way and I have to say just how proud I am of him.
Sloane…Broody Bear…Golly…this man has come such a HUMONGOUS way from the man that we met in Hell & High Water. He's way more settled into himself. He's more at ease than we've ever seen. I love that he's grown into so much more than what he was previously. A dark, brooding man who felt that he was broken into this pillar of strength and happiness and so much love to give. Sloane just feels like the same man and yet…he's more. I don't really know how to explain it without sounding silly…but I feel like this man has changed into this complete person who knows that sometimes life throws so much at you and yet, there is still so much good in the world. That the love that Sloane has for Dex has allowed him to grow into a better, stronger, more resilient person who knows that he can do anything as long as he has Dex there to be there.
You know that Charlie has some of the very best secondary characters around!! Ash, Cael, Cal, Hobbs, Letty, Rosa, Tony, etc., The Gang Is All Here!!! I have to say that these characters have made this series one of the best that I've ever read. I've watched them grow as individuals and as a team. I've watched them fall in love and I've watched deal with their own struggles and pull thru them. I have loved them as much as I possibly could and to see them go thru all that they've gone thru, especially all of the crazy that happened in this book and realize that no matter the new series…this was the last THIRDS book the way we met them.
I have to say that I have really have a HUGE CRUSH on Wolf. Every time that character comes on screen…my heart beats a bit faster and I get some strong butterflies in my tummy wondering what he's going to say or do that will have me falling for him even more than I already do. I laughed and asked my roomie why I love him so much and he told me…that just you. You love the guy who is bad, really bad and yet…something draws you to him and makes you really want to be his friend. You're contrary and that just works for you.
This story was just…geez…I don't even know what to say about this story. The story started out cute and sweet and then…BAM…Charlie hits you with so much action and emotion…you don't even know what is happening. It was go and go and go and I was caught up…this ride was one that I never wanted to end and yet, I wanted Dex and Sloane to get their wedding. I was so emotional about this book…I did have some tears flowing…multiple times.
Dammit… Just…we've learned so much about the characters…that reading this book…it felt like an end…even knowing that the gang will go on…this was the beginning and this portion of the story is now over. Don't get me wrong…this series has been mine from the first moment I picked up the first book to read and review until this moment. It seems as if I'm saying goodbye to some really great friends who have been a part of my life for so long now and that they're moving on and I'm left with all of the memories to carry with me.
I have to say, Thank You, Charlie…Thank You…for writing this series and for the wonderful characters that you've shared with me (us the readers). You have allowed us into this wonderful world and these characters and have been privy to watch them stumble and falter and grow. I feel like I've been so damn blessed to have gone on this journey with these guys and I'm happy for them…don't get me wrong…I really am…but the door is closing on this chapter and for that…I'm a bit sad.
I hope that you have all enjoyed this journey with me with these characters and I hope that you feel the same way that I do…blessed to have been a part of their lives. I'm intrigued to see where their story goes, as I'm sure you all are.
RATING:  
BUY LINKS: