Reviewed by Caroline
TITLE: Shattered Pieces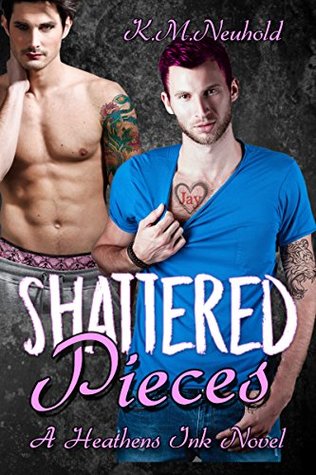 SERIES: Heathens Ink Book 4
AUTHOR: K M Neuhold
PUBLISHER: Self Published
LENGTH: 181 Pages
RELEASE DATE: October 31, 2017
BLURB:
"I was sure my heart had withered away years ago, but then you smiled at me, and I felt it beat again." ~Gage
Years ago, I fell in love with my best friend's little brother. Then, he took his own life, leaving me shattered and unable to piece my heart back together. I've been a zombie for nine long years. Until a crazy, gorgeous man walked into Heathens Ink and injected color back into my world of gray. No matter how hard I try to resist Beck, he just won't give up on me. I would need steel willpower to withstand his gorgeous long legs in those high heels and his drawer full of lacy lingerie. But is this just a kinky hook up or does it have the possibility for more?
"We're both broken, but our jagged edges fit together well" ~ Beck
When you're half of a whole you never contemplate what life would be like without your matching piece. Since my twin sister, Brianna, died last year, nothing I do seems to quiet my soul. I know there has to be some way for me to feel happy and whole again. And, when I look into the pained eyes of the tattoo artist at Heathens Ink, I feel like I have a purpose. I can't explain it, but I feel like I have to find a way to put him back together.
**Shattered Pieces is the fourth book in the Heathens Ink series, each book in the series CAN be read as a standalone.
REVIEW:
I have been quietly waiting for Gage to get his own book and for a chance to hear his story and after reading Shattered Pieces I was not left disappointed. This is a real hurt/comfort story but there is a whole lot more hurt initially as you learn just how raw Gage is and how much guilt he places on himself for past events. If anyone has even an inkling of what Gage's grief feels like it is Beck, who lives with his own sadness, but who is determined to carry on living and even more determined to drag Gage with him. Beck is a whirlwind of energy with his lace, heels and makeup and he knows that somehow he has to help Gage start living again.
Shattered Pieces is told in 1st person POV which is not always my favourite but it worked really well here and made you feel like you were part of the story. It also switches POV often and again this really added to the story – both these men were hurting and you needed to see how their grief was affecting themselves and each other. As friends they worked well but as lovers they were almost perfect together and the author wrote some very hot scenes into this one.
I really like this series and all the world building the author has done around this group of men. There isn't drama for the sake of drama and the beginning and end of each story is well thought out and realistic. Gage and Beck have a long way to go when their story begins but by the end they have everything to play for as they put their nightmares to sleep for good.
RATING: 
BUY LINK: