REVIEWED BY CINDY
TITLE: Hell and Back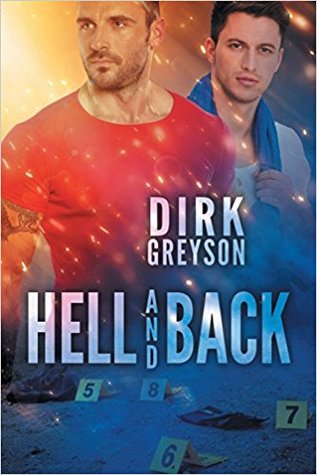 AUTHOR: Dirk Greyson
PUBLISHER: Dreamspinner Press
LENGTH: 176 Pages
RELEASE DATE: October 27, 2017
BLURB:
Seventeen years ago, Forge Reynolds fell in love… and had his heart broken. When Staff Sergeant Gage Livingston was brought into Forge's Army field hospital, temporarily paralyzed, Forge sat with him, read his letters, answered his mail, and formed a connection he thought would last. But Gage was sent home, Forge transferred to a new post, and his letters to Gage went unanswered.
Now in the middle of a bitter divorce, Forge is sick and tired of his husband's manipulation. He's almost ready to make any sacrifice to get closure—then he finds Granger murdered execution-style in their home. Forge had no idea about Granger's illicit activities, but the killers don't believe that. They think Forge has something they want, and they're coming after him.
When Forge's lawyer arranges for professional protection, the last face Forge expects to see is Gage's. Can he even contemplate a second chance for them after almost two decades, or will hoping only lead to more heartache? Before they can explore the possibilities, they must figure out what information Granger had—that others are willing to kill for—or that possible heartache could become a certainty.
REVIEW:
Forge and Gage are two men who found…and lost each other years ago and then through a quirk of fate, find each other again.
Forge is a man who has been drifting through life since the breakdown of his marriage. He's jolted back into it when his husband is murdered and it become apparent that his own life is in danger.
Gage has been doing his best to make a good life for himself after being injured in the line of duty and recovering. But something was always missing and when Forge reappears, it's obvious that he's what was lost.
I wanted to love this story. I love a good thriller and this author's name popping up always makes me jump for the chance to read the latest story, but this one just fell flat for me.
This story should have had some heart-pounding anticipation and the feeling of danger around every corner but I just never felt it. Every anxious situation is resolved quickly with very little time for stress and fear to build. I should have been obsessively turning every page because I couldn't bear to wait any longer to see what was going to happen, but it took me a while to power through it.
The main characters are interesting men with backgrounds that are the reason I was drawn to this book. But everything just seemed to happen along the way and there was no "punch" at all. The side characters were barely mentioned, little blips of people who really added nothing to the story, with Gage's parent's being the most fleshed out. But even they barely appeared for more than a minute.
The villains were basically cardboard cutouts, standard "insert villain here" characters and there was really no twist or turn to distract us from where the story was going.
The author does write good dialogue though. The interactions between Forge and Gage were sweet and earnest and the sex is definitely good.
If you like a low-angst thriller with very few "triggers", then this will be the story for you. I liked the guys and I did want them to have their happy ending (which was never in doubt) but it's probably not a story I will visit again.
RATING: 
BUY LINKS:
Dreamspinner Press